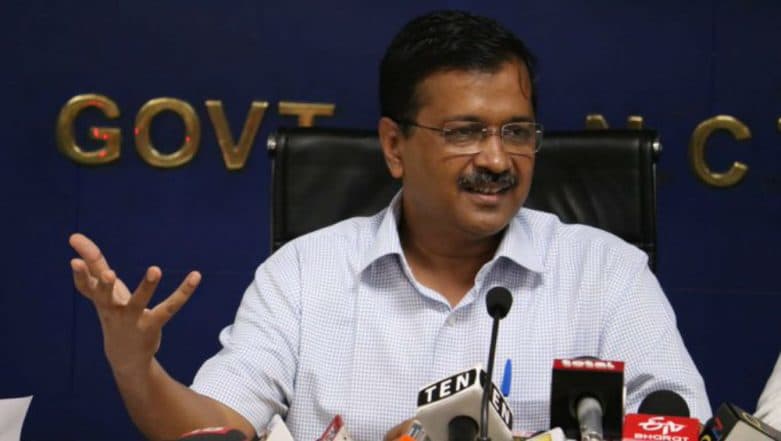 New Delhi, September 3: The Delhi government on Tuesday announced to extend the benefits of 'Jai Bhim Mukhyamantri Yojana' to students of Other Backward Class or OBC category and Economically Weaker Sections (EWS) in the general category. The 'Jai Bhim Mukhyamantri Yojana' was only for the scheduled caste category students under which financial assistance of up to Rs 40,000 would be provided. Arvind Kejriwal Launches #10Hafte10Baje10Minute Twitter Campaign Against Dengue, Checks Standing Clean Water in House.
"Delhi government's Jai Bhim Mukhyamantri Yojana providing financial assistance to SC category, will now be expanded for OBC and EWS among general category," Chief Minister Arvind Kejriwal told a press conference on Tuesday. The Aam Aadmi Party government also announced to enhance financial assistance under the scheme from Rs 40,000 to Rs one lakh for coaching for various competitive exams. Delhi CM Arvind Kejriwal Announces One-time Waiver on Water Bill Arrears.
Kejriwal said an applicant whose annual family income is less than Rs eight lakh will be able to avail the scheme. The student should have to be from Delhi and he or she should have passed out from class 10 and class 12 from Delhi, the chief minister added. The move comes at a time when only a few months are left for the Delhi Assembly elections scheduled to be held early next year.
Earlier today, Kejriwal directed the law department to expedite implementation of welfare schemes for advocates. "My govt is committed to the welfare of advocates. We have set aside Rs 50 cr for various welfare schemes of advocates in this year's budget. I have directed the Law dept to expedite its implementation," he tweeted.
The AAP government had earlier announced a scheme to waive arrears on water bills which will cover domestic as well as commercial connections. Consumers with commercial connections can get 100 per cent waiver by paying the principal amount of the bills till March 31 this year.