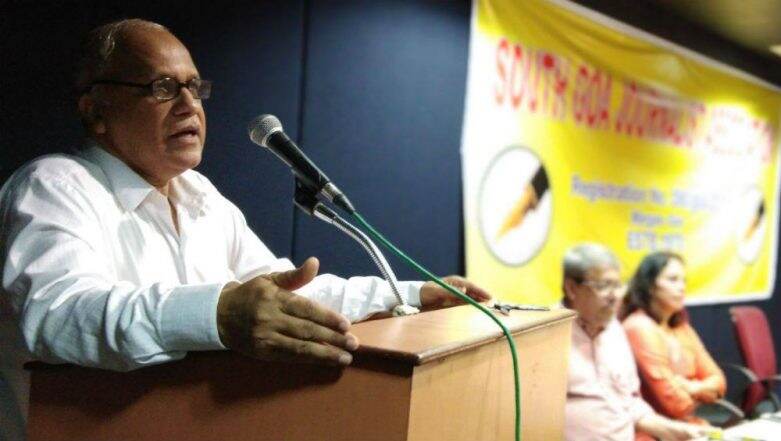 Panaji, March 17: Congress MLA and former Chief Minister of Goa, Digambar Kamat, is likely to join the Bharatiya Janata Party (BJP). The political development assumes significance as, according to reports, Digambar Kamat may replace Manohar Parrikar as Goa CM after joining the BJP. The health condition of Parrikar, who was diagnosed with advanced pancreatic cancer in February 2018, has worsened over the last few days.
Kamat, who held the Chief Minister's post from June 2007 to March 2012, was en route to Delhi where he is likely to meet senior leaders of the BJP. Since the news of Parrikar's health condition having worsened emerged, the BJP has begun its search for a new CM candidate. "Last evening, at BJP MLAs meeting, a discussion was held over Digambar Kamat joining BJP. The decision on whether he will be the CM will be taken by central leadership," Deputy Speaker Michael Lobo told news agency ANI.
Earlier today, Goa BJP's core committee met to discuss a succession plan in view of ailing Parrikar's failing health. "We will also be discussing that... If Manohar Parrikar was well, there would be no need to change the leader. But because his health is critical now and there is day to day deterioration (in his condition) the party has to take a call," BJP leader Dayanand Mandrekar said when asked whether the core committee discussed on a change in leadership. Manohar Parrikar Health Update: Goa CM 'Very Critical Now', BJP Top Brass Must Take a Call, Says Dayanand Mandrekar.
The strength of the Goa Assembly has reduced from 40 to 37 after the death of BJP lawmaker and resignation of two MLAs -Subhash Shirodkar and Dayanand Sopte. Currently, the Congress party has 14 MLAs, while the BJP has 13 MLAs. The BJP also has the support of three legislators of Maharashtrawadi Gomantak Party and Goa Forward Party each and three independents.
On Saturday, Congress staked claim to form the government in the coastal state. In a letter addressed to Goa Governor Mridula Sinha, Leader of Opposition Chandrakant Kavlekar said that the Parrikar-led coalition government is in a minority and its numbers may "dwindle".