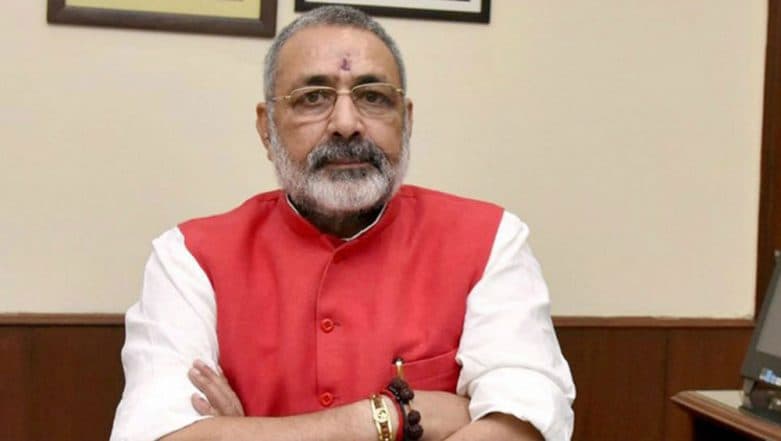 New Delhi, May 12: The Election Commission on Sunday, May 12, issued show cause notice to Union Minister and Bharatiya Janata Party (BJP) Lok Sabha candidate from Bihar's Begusarai constituency, Giriraj Singh, for violation of model code of conduct. The notice is in connection to a speech he made in an election rally in April, 2019. Giriraj Singh Booked for Poll Code Violation over His Controversial 'green Flags' Remarks.
The Election Commission's order dates May 12 to BJP leader Giriraj Singh, among other things, informs him that he has violated the model code of conduct and advises him to be careful in the future and abstain from making "religious" comments, like the one he made at the rally in question.
Read the ANI Tweet Below
Election Commission issues show cause notice to Giriraj Singh, Union Minister & BJP LS candidate from Bihar's Begusarai, for violation of model code of conduct, for a controversial speech he made in Begusarai on April 24 pic.twitter.com/8EXhQJIejl

— ANI (@ANI) May 12, 2019
Singh had made a veiled attack on Muslims at an election rally, saying those who need three-arm's-length of land for burial don't chant 'Vande Mataram'. 'Vande Mataram For Burial Land': Giriraj Singh Booked For Violating Model Code of Conduct.
"I would like to say, Giriraj Singh's ancestors died and were cremated. You need a yard of land even after you die, for burial of your mortal remains. If you say you cannot chant Vande Mataram, this nation will never forget you," Singh was quoted as saying. "
In Begusarai too, many can be seen spewing venom wearing bade bhai ka kurta and chhote bhai ka pyjama," he said referring to the long shirts and short trousers that are usually associated with devout Muslims.
BJP national president Amit Shah was also present when Singh made the controversial remarks. An FIR had been registered against Singh for violating model code of conduct by making controversial remarks against the Muslim community.