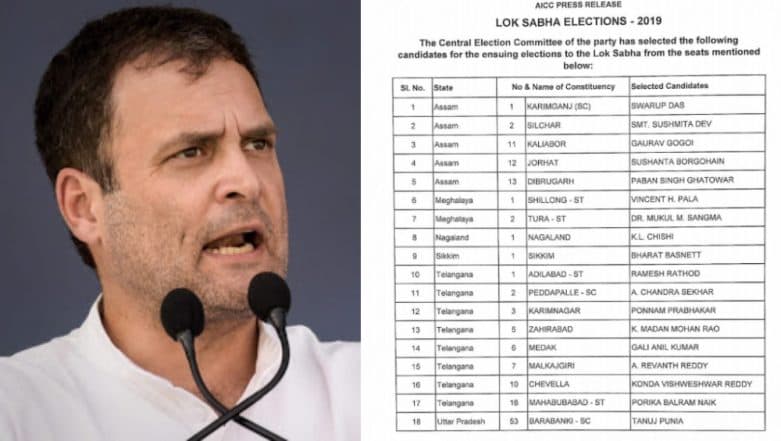 New Delhi, March 16: Days after releasing the first list of candidates for the upcoming Lok Sabha Elections, Congress on Friday released their second list of candidates. In the latest list, Congress had listed eight candidates for Telangana, five for Assam, two for Meghalaya and one each for Sikkim, Nagaland and Uttar Pradesh.
According to the press release, published on Congress's official Twitter page, Congress has fielded former CM Tarun Gogoi's son Gaurav from Kaliabor seat in Assam, while Swarup Das from Karimganj (SC) constituency. Along with that Sushmita Dev from Silchar, Sushanto Borgohain from Jorhat and Paban Singh Ghatowar would contest from Dibrugarh seat respectively. Lok Sabha Elections 2019 Schedule: Voting In 7 Phases From April 11 to May 19, Counting And Results On May 23; Check All Dates For General Elections.
Also, Vincent H Pala and Dr Mukul M Sangma would be representing Congress from Shillong and Tura – both ST seat – in Meghalaya. While KL Chishi and Bharat Basnett would be the face of the party in Nagaland and Sikkim. Also, in the third list, Tanuj Punia will represent Barabanki (SC) seat in Uttar Pradesh.
The Congress Central Election Committee announces the third list of candidates for the ensuing elections to the Lok Sabha. pic.twitter.com/h65DyWmcZH

— Congress (@INCIndia) March 15, 2019
Congress Second List of Candidates for Lok Sabha Elections 2019
Sl No 
State
PC no. 
Constinuency 
Candidate
1
Assam
1
Karimganj (SC)
Swarup Das
2
Assam
2
Silchar
Sushmita Dev
3
Assam
11
Kaliabor
Gaurav Gogoi
4
Assam
12
Jorhat
Sushanta Borgohain
5
Assam
13
Dibrugarh
Paban Singh Ghatowar
6
Meghalaya
1
Shillong (ST)
Vincent H Pala
7
Meghalaya
2
Tura (ST)
Dr. Mukul M Sangma
8
Nagaland
1
Nagaland
KL Chishi
9
Sikkim
1
Sikkim
Bharat Basnett
10
Telangana
1
Adilabad (ST)
Ramesh Rathod
11
Telangana
2
Peddapalle (SC)
A Chandra Shekhar
12
Telangana
3
Karimnagar
Ponnam Prabhakar
13
Telangana
5
Zahirabad
K Madan Mohan Rao
14
Telangana
6
Medak
Gali Anil Kumar
15
Telangana
7
Malkajgiri
A Revanth Reddy
16
Telangana
10
Chevella
Konda Vishweshwar Reddy
17
Telangana
16
Mahabubabad (ST)
Porika Balram Naik
18
Uttar Pradesh
53
Barabanki (SC)
Tanuj Punia
Considering the fact that Congress is contesting the Lok Sabha elections with an alliance in Telangana, eight candidates' name has also featured in the third list. They include – Ramesh Rathod (Adilabad – ST), A Chandra Shekhar (Peddapalle - SC), Ponnam Prabhakar (Karimnagar), K Madan Mohan Rao (Zahirabad), Gali Anil Kumar (Medak), A Revanth Reddy (Malkajgiri), Konda Vishweshwar Reddy (Chevella), Porika Balram Naik (Mahabubabad - ST).