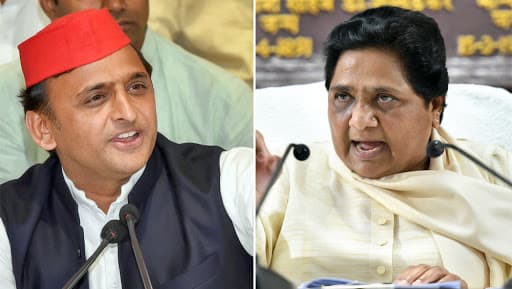 Lucknow, January 12: Bahujan Samaj Party supremo Mayawati and Samajwadi Party chief Akhilesh Yadav on Saturday are going to make a formal announcement of the most significant alliance, ahead of the Lok Sabha elections, in a joint presser in Lucknow. This is considered to be the biggest political alliance of the decade which has the potential to shake the entire arithmetic of national parties' eyes for the top post – Prime Minister.
This is the first time that both the party chiefs are making an alliance in a decade and considering the voting base in of these parties in Uttar Pradesh – which sends 80 representatives to Lok Sabha – national parties like BJP and Congress have already started their homework for the General election, scheduled in April-May, 2019. Uttar Pradesh: SP-BSP Alliance Will Knock Out BJP in Lok Sabha Elections 2019, Says Akhilesh Yadav, Watch Video.
Faced with a defeat in 2017 Assembly elections in Uttar Pradesh, former chief minister and SP president Akhilesh Yadav had opined that he – combined with Mayawati – would wipe out BJP from the state. Briefing the press conference on Friday, he had said that though he was 'hesitant earlier', but now he has found the 'glue' after the successful trial and tested formula of alliance with BSP in the Gorakhpur and Phulpur Lok Sabha bypolls.
Reacting to a question on BJP's barb that the SP-BSP alliance was a result of fear, Yadav had said, as reported by India Today, "This is not an alliance due to fear of anyone or any compulsion. It's an alliance to bring the poor who are feeling cheated closer to power. And we have learnt the art of alliance from PM Modi and BJP. They tied up with many parties and prominent leaders to win."
During the press conference, the SP chief had launched a scathing attack on Prime Minister Narendra Modi and Uttar Pradesh Chief Minister Yogi Adityanath, alleging that both the leaders neglected the interest of the lower sections of the society and failed to fulfil the promises made before the 2014 Lok Sabha elections.
It is expected that both SP and BSP would contest on all the 80 seats and the sharing would be done on a 50-50 basis, each contesting 40 Lok Sabha seats. However, there is no confirmation of alliance with Congress as of yet.