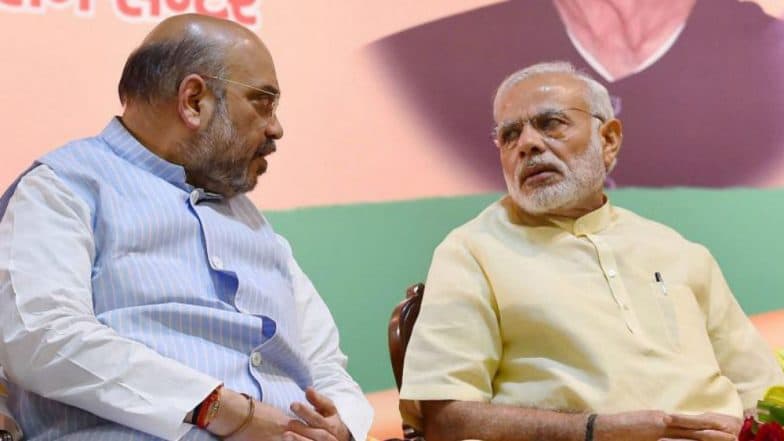 Lok Sabha elections 2019 will be held in seven phases from April 11 to May 19, the Election Commission announced on March 10. The two-and-half month-long schedule and multiple-phase polling in several states have raised a question whether the selection of states for multiple-phase polling could actually help the ruling Bharatiya Janata Party (BJP). The seven-phase Lok Sabha poll schedule reveals the BJP is banking on West Bengal, Bihar, Odisha, Bihar and Maharashtra to recover possible damage in Uttar Pradesh and other states due to a strong opposition alliance or other factors.
State-Wise Challenges Before BJP:
PM Narendra Modi remains the trump card of the BJP. However, he is not a vote-catcher in states like Tamil Nadu, Kerala, Telangana and Andhra Pradesh, among others. All these states where the BJP has no or very little stake and cannot use Modi card will vote in a single phase. Likewise, states such as Gujarat, Haryana, Himachal Pradesh and Uttarakhand, where the BJP is not facing a grand alliance of opposition parties and remains a sole formidable force, are going to vote in a single phase. Then, there come states like Maharashtra, Uttar Pradesh and Jharkhand where the BJP does have challenges mainly by opposition parties' alliance. Check Full Schedule of Lok Sabha Elections 2019.
Jharkhand and Maharashtra will have a four-phase election. In 2014, the two states voted in three phases. In Jharkhand, Congress has sealed its alliance with Jharkhand Mukti Morcha (JMM) and other regional parties. Similarly, the Congress-NCP combine is posing a tough challenge to the BJP-Shiv Sena alliance in Maharashtra. In 2014 Lok Sabha polls, the BJP won 12 out of 14 seats in Jharkhand and 23 out of 24 it contested in Maharashtra which has a total 48 parliamentary seats. BJP's ally Shiv Sena bagged 18 seats. Madhya Pradesh is another state going to vote in four phases. Mind you, the BJP recently lost power to the Congress in the state and one of the key reasons was farmers' distress.
BJP's biggest challenge comes from Uttar Pradesh where the two regional power hubs - Bahujan Samaj Party (BSP) and Samajwadi Party (SP) - have decided to contest Lok Sabha elections together. As per the seat-sharing pact, Mayawati-led BSP will contest 38 seats, whereas Akhilesh Yadav-led SP will fight on 37. Uttar Pradesh has 80 Lok Sabha seats. In 2014, the BJP had won 71 seats in Uttar Pradesh while its ally Apna Dal bagged two. The Samajwadi Party won 5 seats and the Congress two, while the BSP drew a blank. It is commonly said that the road to Delhi passes through Lucknow, the capital of Uttar Pradesh.
Multiple opinion polls have given an upper hand to the BSP-SP alliance over the BJP in Uttar Pradesh. Caste arithmetic also favours the BSP-SP combine. If the BJP wants to retain power, it needs to minimise its losses in Uttar Pradesh where polling will be held in all seven phases. In a surprise to many, the ECI has announced that West Bengal and Bihar will vote in all seven phases. In the nine-phase 2014 Lok Sabha polls, Bihar voted in six phases and West Bengal voted in five. Besides, Odisha will vote in four phases. In the previous general election, Odisha voted in two phases.
The BJP has been trying to make inroads in West Bengal and Odisha, which have 42 and 21 Lok Sabha seats respectively. The BJP hopes for enough gains in these two states to compensate for potential losses elsewhere, especially in Uttar Pradesh.
How Multiple-Phase Polling Could Help Modi And BJP:
During the 2014 Lok Sabha elections, then prime ministerial candidate of the BJP, Narendra Modi, ran campaigning relentlessly across the country holding rallies in more than 400 constituencies. After five years, PM Modi remains the main crowd-puller of the BJP because of his unmatched oratory skills. A seven-phase staggered Lok Sabha poll schedule will help the BJP to enable extensive electioneering by PM Modi in states where the saffron party is facing challenges. Multiple-phase polling means the BJP can use PM Modi's rallies to influence voting behaviour even if the campaign period in a particular constituency is over.
PM Modi can hold a rally in a constituency that is not going to polls in that phase, even if it is neighbouring one that is. Moreover, the BJP has a loyal cadre base and staggered polling means the party can shift them from one constituency, where polling is over, to another constituency, which is not voting then, within a state.
(Disclaimer: The views expressed here are those of the author and do not necessarily represent or reflect the views of LatestLY.)