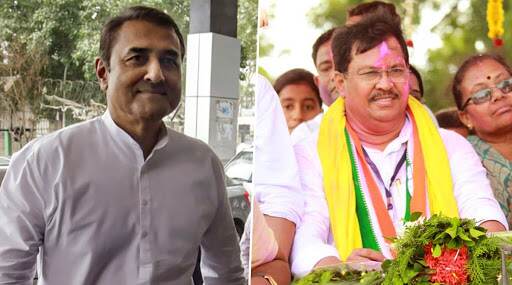 Mumbai, October 26: Nationalist Congress Party leader and former Union Minister Praful Patel on Saturday made it clear that his party will not form an alliance with either Shiv Sena or Bharatiya Janata Party to make a government in the state. Patel even stated the people of Maharashtra had given them the mandate to sit in the opposition, and they would respect it. Even Congress had shared a similar opinion.
Speaking to the media on the speculations of making an alliance with Shiv Sena, Patel said, "I want to make it clear that we will be in opposition and play the role of strong opposition. We don't want to have any role in Govt formation, BJP-Shiv Sena have got the mandate, so best wishes to them." The above comment after reports arrived hours that NCP would claim the coveted post of Leader of Opposition in the Maharashtra Legislative Assembly. Mumbai: Shiv Sena MLAs Meet at Matoshree, Root for Aaditya Thackeray as Next Maharashtra Chief Minister.
Sharing similar opinion, Maharashtra Congress leader Vijay Wadettiwar said, "We have been given the role of the opposition, and we will perform that role, but if any alternative is to be discussed then Shiv Sena must come to us, they have not approached us yet."
The speculations about Congress and NCP allying with Shiv Sena gained momentum after a poster was put up outside Matoshree -- Thackeray residence -- reads 'CM Maharashtra only Aditya Thackeray'. His poster was also put in Worli. The Shiv Sena had been asking for 50-50 share in the government if it makes an alliance with BJP in the state, while BJP is still discussing various aspects.
In the recently concluded Assembly Elections in Maharastra, BJP secured 105 seats, while Shiv Sena won 56 seats. Opposition NCP and Congress won 54 and 44 seats respectively. Both Raj Thackeray's Maharashtra Navnirman Sena and AIMIM won single seats each. The rest 27 seats went to others.