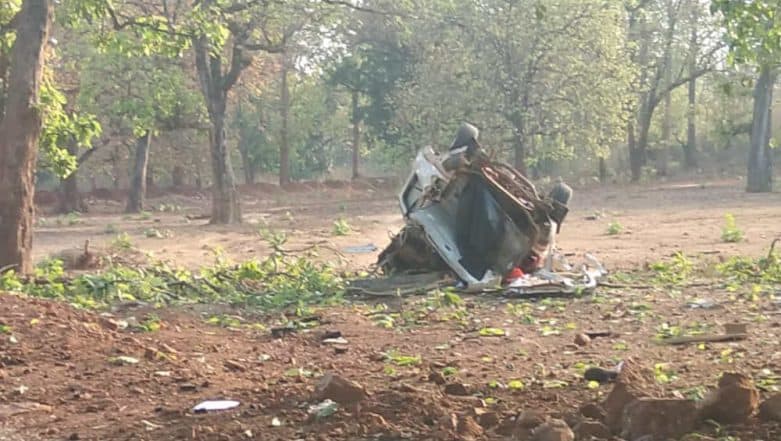 Dantewada, April 9: At least six people were killed after a convoy of the Bharatiya Janata Party (BJP) was attacked by Maoists in Chhattisgarh's Dantewada district on Tuesday ahead of the upcoming Lok Sabha elections. Naxals targetted the convoy of BJP MLA Bhima Mandavi at Nakulnar. Bhima Mandavi is also among killed, P Sundar Raj, DIG Anti-Naxal Operations, confirmed. Mandavi was 35.
Maoists attacked the BJP convoy reportedly by triggering an improvised explosive device (IED) followed by firing. Apart from Mandavi, five security personnel also lost their lives. The BJP legislator's vehicle was last in the convoy. A BJP leader from Chhattisgarh told a news channel that there could be a political conspiracy behind the attack.
"All the killed security personnel are from District Reserve Group," an official told news agency IANS. The District Reserve Group is a locally raised force vested with battling Maoists. Mandavi was the lone Bharatiya Janata Party MLA from Bastar region which accounts for 12 Assembly seats.
Notably, two months before Assembly polls in Chhattisgarh in October last year, a Maoist ambush killed Doordarshan cameraman Achyuta Nanda Sahu and two police officers in Dantewada. A Doordarshan crew was moving from Aranpur police station to Nilaway village in vehicles with a security patrol when they were attacked. Bhima Mandavi had vociferously spoken against Naxals after the attack on DD crew.
The latest attack by Maoists comes two days before the first phase polling for the Lok Sabha elections.