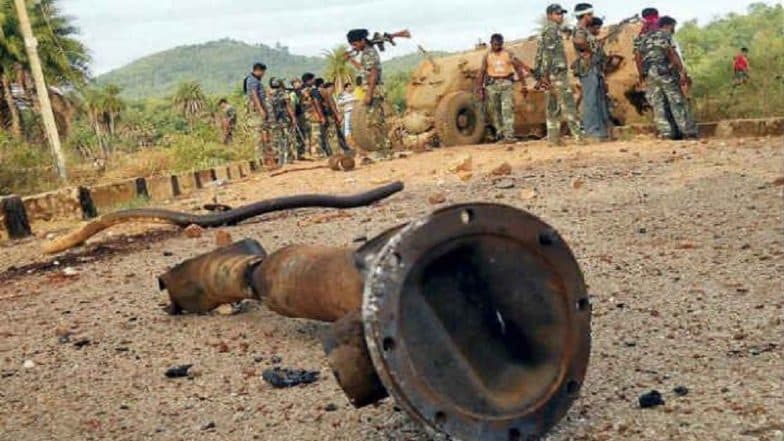 Ranchi, April 26: Ahead of the fourth phase of Lok Sabha Elections 2019, suspected Maoists triggered a blast damaging the BJP's election office and torched machines and huts at a bridge construction site in Hariharganj of Jharkhand's Palamu district on Thursday.
According to the report, published in the Hindustan Times, the area where the blast took place is very close to the Jharkhand-Bihar border. The officials added that six Maoist entered Aurangabad region of Bihar after committing the crime in Jharkhand, riding in motorcycles. Earlier during the first phase, twin strikes precede the first round. Maoists Attack BJP Convoy in Chhattisgarh's Dantewada, MLA Bhima Mandavi Among Six Killed.
Informing more, the official said, as the daily quotes, "A few pockets on Bihar-Jharkhand borders still harbour Maoists conduits. We have already identified and initiated preventive action against them. The adequate forces are deployed in the area to ensure free and fair poll."
Adding more, the official stated that Maoists arrived at the BJP election office near Hariharganj bus stand on National Highway 98 and took care-taker Laksham Sao captive before planting improvised explosive devices (IEDs). When Sao tried to flee, the Maoists fired at him. Later in the explosion, the semi-constructed building was partially damaged.
The Maoists also torched a generator and a few thatched huts at a bridge construction site near Churi on Hariharganj-Pathra route while escaping from the place. Along with this, the Maoists snatched at least six mobile phones from them before fleeing.
The fourth phase will be held in three constituencies of Jharkhand - Chatra, Lohardaga and Palamu - on April 29.