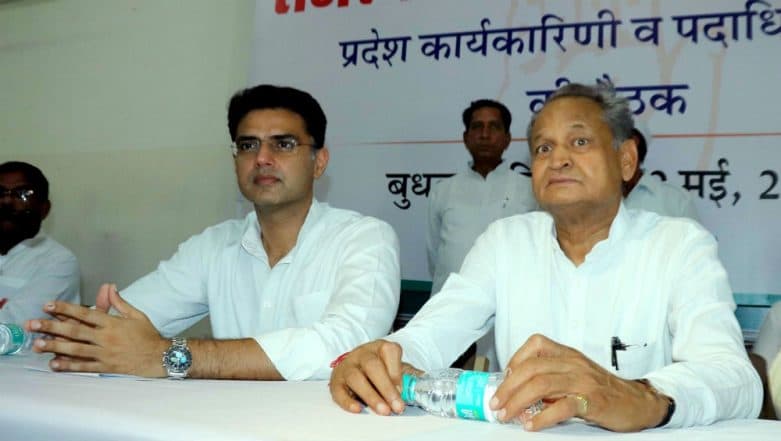 Jaipur, July 2: In a bid to ensure minimum water supply to every household, Chief Minister Ashok Gehlot led Congress government in Rajasthan is likely to present a Bill soon. Under the Rajasthan Water (Conservation, Protection and Regulation) Bill, the government proposes to provide 70 litres of water every day to every household in the state. If the Bill gets passed, Rajasthan will be the first state in India to have a law to ensure minimum water supply to every household.
The Bill, which is under the consideration of the state government, says "every person has the fundamental right to be provided basic water for leading a healthy and dignified life, and the quantity of basic water shall in no case be less than 70 litres per capita per day of groundwater and/ or surface water". Once the cabinet approves it, the Bill will be presented in the Assembly, Hindustan Times reported. Rajasthan Government Announces Unemployment Allowance From March 1; Rs 3,000 For Men, Rs 3,500 For Women.
To address people's complaints about water supply, the Bill proposes the appointment of a grievance redress officer (WGRO) in every block and municipality. In every district, 'niyay mitra' will be established to assist WGRO. The draft of the Bill says those affecting the quality or availability of water shall be punished with imprisonment and/or fine. It also suggests a slew of steps for water conservation and recycling. Rajasthan Government Issued Notice by NHRC Over Children Being 'Used as Pawn' in Banswara.
The conservation, protection and regulation of surface water and groundwater will be taken in an integrated manner, says the draft. Authorities in each district will make water security plan based on which State Water Advisory Council will prepare an integrated state water security plan. The council shall also be responsible for standardization of dam safety data and practices, says the draft.
Reacting to the draft bill, BJP MLA Satish Poonia welcomed the government's move. "However, instead of penalty, the government should focus on raising awareness and involving community in conservation of water," Poonia was quoted as saying.