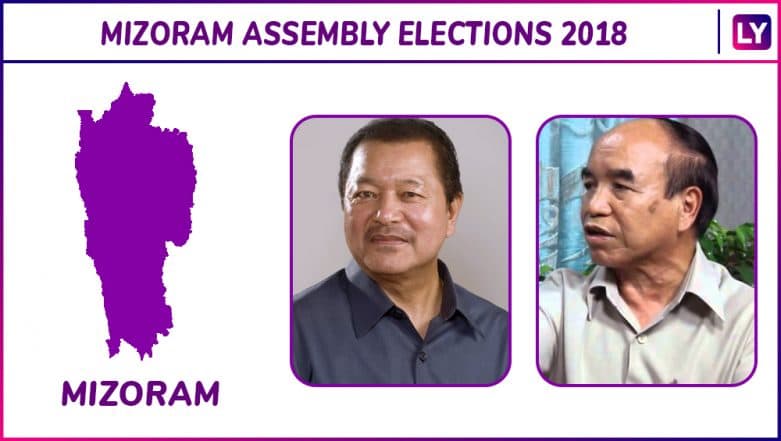 New Delhi, December 7: With the conclusion of Assembly elections in all the five poll-bound states, exit poll predictions are out. Republic Tv-Cvoter predicts a fractured mandate in the state. Congress might win 14-18 seats, while opposition MNF would return back to power with 16-20 seats. ZPM is most likely to play a kingmaker in the state, with 3-4 seats.
According to this prediction, either the ruling Congress or Opposition will have to ally with ZPM to form the government. Ruling Congress' candidate Lal Thanhawla has been ruling the state for the last ten years, and MNF's Pu Zoramthanga had previously ruled the state for the same period. Exit Poll Results For MP, Rajasthan, Chhattisgarh, Telangana, Mizoram Assembly Elections 2018: Know Time & Schedule of Live Broadcast as Per ECI Guidelines.
| | |
| --- | --- |
| Party | Seats Predicted (2018) |
| Congress | 14-18 |
| MNF | 16-20 |
| ZPM | 3-7 |
| Others | 3 |
The prediction doesn't indicate which party won the elections, but an insight into the voting pattern in the only North-East poll-bound state. Stay tuned above for the exit poll of Mizoram Assembly elections 2018.
The Elections Commission in its guidelines has restricted the news channels and media organisations to publish exit poll predictions before 5:30 pm. This guideline is issued as polling in many constituencies' booths are extended beyond the stipulated time for a few minutes.
The Elections took place on December 28 for 40 seats, where 209 candidates are testing their fate. Altogether 7.70 crore voters – 3.94 crore women and 32,545 new voters – participated in the electoral process, which made reached the polling percent to 80. For conducting a good poll, the EC had set up 1,164 polling stations in eight districts of the state.
Ruling Congress – under the leadership of chief minister Lal Thanhawla – is contesting on all the 40 seats and similar is the condition of former chief minister Pu Zoramthanga's MNF, which has fielded 40 candidates. BJP has fielded 39 candidates, and same is the case for Zoram Peoples' Movement (ZPM). In 2013 Assembly elections, Congress won 34 seats, while MNF could only win five seats, with the single other seats, went to an individual candidate.