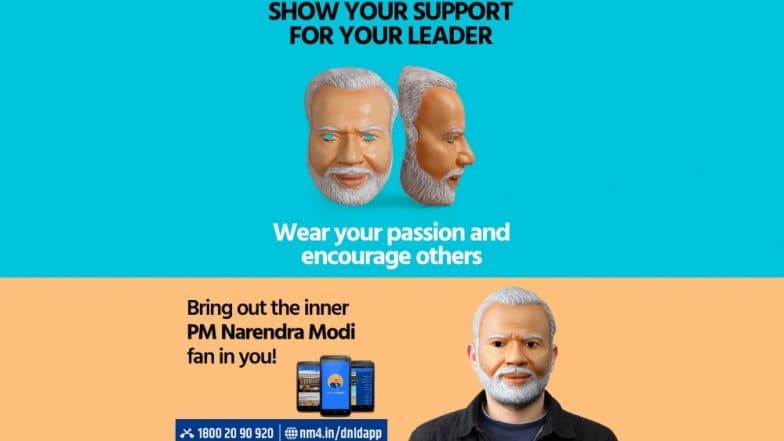 New Delhi, February 7: The 2019 Lok Sabha elections are looming large and  political parties are leaving no stone unturned to cash upon popularity of their leaders. One such step has been taken by the Bharatiya Janata Party (BJP), which has come out with the masks of Prime Minister Narendra Modi ahead of the general elections named as "Namo Masks." The Namo mask will be available via the Namo app. 'NaMo Again' Hoodie Worn by BJP MP Anurag Thakur to Parliament; PM Modi Lauds Him on Twitter.
BJP has been trying to promote merchandise with the name or face of Prime Minister Narendra Modi. Recently, BJP MP Anurag Thakur wore a hoodie in the parliament with the message 'NaMo Again' written on it. PM Modi Interacts With 'Humans of Bombay', Shares His Childhood Journey to Becoming a Politician. 
Check the Masks Designed on Prime Minister Narendra Modi in the Tweet Below:
Bring out the inner #PMNarendraModi fan in you!

Check out the new arrival of official NaMo Masks on NaMo App at https://t.co/yngkS0NXCs

Download NaMo App at https://t.co/f0ytXY07wP pic.twitter.com/E0own7Tkg1

— BJP (@BJP4India) February 7, 2019
The Prime Minister also complimented Anurag Thakur and tweeted tagging the BJP MP by writing "Looking Good". After Anurag Thakur, other BJP leaders were also seen wearing the hoodie.
The term 'NaMo' was first used by the BJP in 2013 -- when Narendra Modi was projected as the prime ministerial candidate. The party had then claimed that a 'NaMo wave' is sweeping across the nation, and would uproot the then incumbent Congress-led government.
It's not that the Congress is lagging behind in this game of selling their "leaders" to the voters. Recently, Congress supporters were promoting the burberry jackets worn by Rahul Gandhi as the "Rahul Gandhi jacket", something on the lines of Modi kurta made popular by the Prime Minister Narendra Modi spotting the half-sleeves kurta.