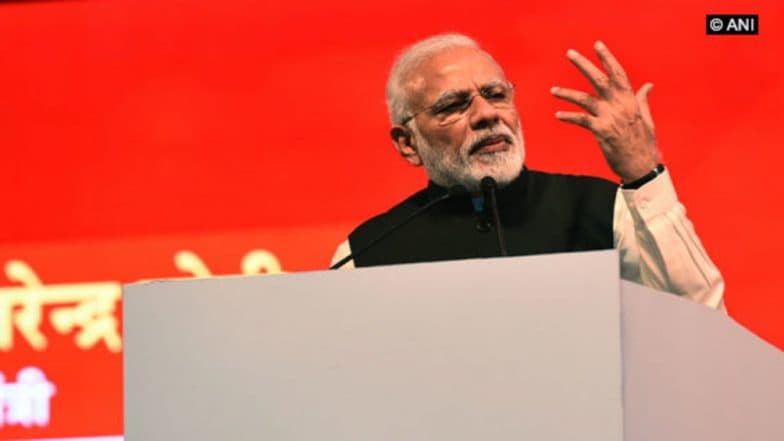 Tiruppur, February 10: Prime Minister Narendra Modi on Sunday trained guns at the Congress from Tiruppur in Tamil Nadu, while addressing a public rally. In his series of attacks, PM Modi raked up the issue of 'insulting' defence personnel, corruption, farmers' plight and pending reservations allegedly by Congress.
Raisin the issue of 'insulting' defence personnel allegedly by Congress leaders, PM Modi said, "Congress never leaves an opportunity to belittle our army. Few days ago, one of the Congress leader used inexcusable language for the Army chief. We dream of an India that is self-sufficient in defence production and where our forces have all the possible support they require in keeping our nation safe." Lok Sabha Elections 2019: Sharad Pawar 'Worried' For Nitin Gadkari as an Alternative to PM Narendra Modi.
The Premier blamed the Congress for delaying the One Rank One Pension scheme, which the BJP government fulfilled. He said, "It was our govt that had the honour of fulfilling the demand of One Rank One Pension which was pending for decades." Adding more, he said, "Those who got the opportunity to rule the nation for years did not bother about our Defence sector. For them, it was just a sector of deals and supporting their own friends."
Accusing the Congress of neglecting the farmers' demand of raising the MSP of crops, the Modi said that after taking the responsibility of the PM post, he implemented the MS Swaminathan Committee report and raised the MSP by 150%, which was long overdue. He said, "For the first time in India's history, a government has spoken about doubling of farmer's income rather than giving them loan waivers as promised by Opposition as a part of their election propaganda. The NDA's PM Kisan Yojana is a yearly benefit and will ensure Rs. 7 lakh 50 thousand crore goes to the bank accounts of the farmers in 10 years." He spoke on the reservation with the same force and 'josh'.
Modi alleged that Congress is a party dipped in corruption from tip to toe and is good at spreading panic. He said, "The opposition is only good at spreading panic. Time and again they have tried to mislead the farmers, poor and youngsters of the nation." Adding on he said that the opposition has no agenda or vision for development.
Among other issues, Modi spoke on include – Pradhan Mantri Shramyogi Jan Dhan Yojana, Ayushman Bharat and housing for all scheme. With this, the Premier spearheaded his series of attacks on Congress party which is expected to give a tough fight to BJP in the upcoming Lok Sabha elections.