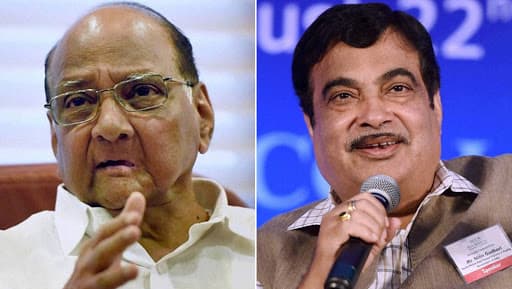 New Delhi, February 10: With the tussle for top seat of Prime Minister gaining momentum ahead of the upcoming Lok Sabha elections, Nationalist Congress Party chief Sharad Pawar on Saturday seemed worried as Union Minister Nitin Gadkari's name surfaced the political arena as an alternative to PM Narendra Modi. Calling Gadkari a 'friend', Pawar tried to take a swipe at NDA. However, the NCP chief denied elaborating his comment.
A prominent 'ally' in the opposition Mahagatbandhan (grand alliance), Pawar said on Saturday, as quoted by PTI, "(Nitin) Gadkari is my friend. We have worked together. There is talk about his name being pushed (as an alternative to Modi), and because of that I am worried about him." With this comment, the speculations on Gadkari being thought as an alternative to Modi has taken shape and might harm the poll prospects of BJP's alliance with other parties in the upcoming polls. Rahul Gandhi Praises Nitin Gadkari For 'Showing Guts', But There is a Twist.
Pawar is not the only one to express his opinion publicly on Gadkari being thought as PM candidate. Earlier, Congress president Rahul Gandhi too had praised Gadkari for his 'guts' to speak his mind. Gandhi had hailed the Union minister stating that Gadkari is the only politician in BJP with some guts.
The Congress president took to Twitter and wrote, "Gadkari ji, compliments. You are the only one in the BJP with some guts. Please also comment on: The Rafale scam and Anil Ambani, farmers' distress and destruction of institutions." Gandhi's comments came after the Union minister's speech in which he had said that 'who cannot deliver at home, cannot manage the country.'
Earlier, Gadkari had been in the news for his comment which seemed to be questioning his own party's top leadership. While expressing his opinion on the recent electoral loss of BJP in Assembly elections, Gadkari had said, "Politicians who sold dreams to people but failed to make them a reality got 'beaten up' by the public." Even, Gadkari was seen seated next to Rahul Gandhi during the Republic Day parade on January 26.