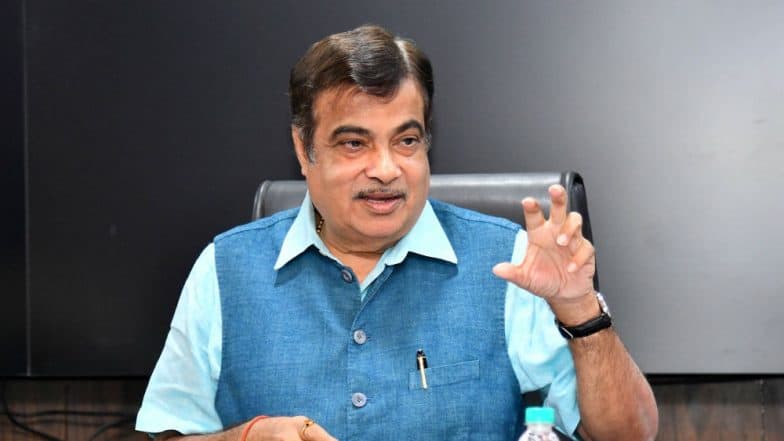 New Delhi, September 5: Union Road Transport and Highways Minister Nitin Gadkari on Thursday justified hefty fines for violating traffic rules under the Motor Vehicles (Amendment) Act, saying it will prevent people from breaking traffic laws. There have been several incidents, especially in Gurugram, in the past few days when violators have been fined as much as Rs 40,000 under the newly-enacted Act. Nitin Gadkari Admits to Economic Crisis in Automobile Sector, Assures Finance Ministry Will Find Out a Solution Soon.
Speaking at the 59th Annual SIAM Convention, Gadkari said: "The government does not desire to raise the limits of fine. The issue is that a time should come that no one gets penalised and everyone follows the rules." The minister said that people should respect and fear the rule of the law. "Who will be responsible for accidents caused by those who don't follow traffic laws," he asked. Gurugram Traffic Police Imposes Rs 59,000 Fine on Trolley Driver for Drunken Driving Under Motor Vehicles Act, Cops in Bhubaneswar and Bengaluru Follow Suit.
Under the new Act, the minimum penalty for driving without licence has been increased to Rs 5,000 from Rs 500 while the fine for driving despite disqualification has been increased to Rs 10,000. Also, driving without wearing a helmet will attract a penalty of Rs 1,000. Over speeding will now attract a fine of Rs 1,000 for light motor vehicle and Rs 2,000 for medium passenger vehicle while not wearing seat belt will cost Rs 1,000.
Gadkari also clarified that the government has no intention to ban petrol or diesel cars in the country. "The government is not proposing to ban petrol and diesel cars in the country. The Rs 4.50 lakh crore automobile sector, provides a lot of jobs and exports too have increased. But the government is facing some problem. First among which is the cost of import of crude oil. The second is pollution and the third is road safety," he said.
Gadkari also admitted that the automobile industry is facing a problem. "There is a fact that as far as the present economic data is concerned automobile sector is facing a problem, because of the global economy, demand and supply. The government is already with the automobile industry and under the Finance Ministry we'll find out a solution," he said.