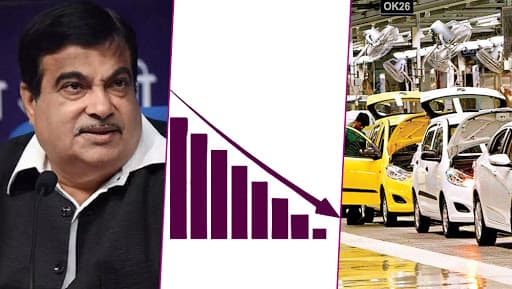 New Delhi, September 5: With economic crisis gripping the automobile sector in the country and the sales have gone tremendously down, Union Transport Minister Nitin Gadkari on Thursday stated that the Narendra Modi government is already with the automobile industry and assured that the Finance Ministry find out a solution soon. Facing financial crunch, Maruti Suzuki — India's biggest four-wheeler producing company — announced on Wednesday that it would close down the Gurugram and Manesar plants for two days. Maruti Suzuki Announces Two-Day Operational Halt at Gurugram, Manesar Plants Amid Auto Sector Gloom in India
Speaking to the media of the current economic slowdown, the Union Minister agreed that the automobile sector is facing a problem. He said, as quoted by the news agency ANI quotes, "There is a fact that as far as the present economic data is concerned automobile sector is facing a problem, because of the global economy, demand & supply. Govt is already with the automobile industry & under the Finance Ministry we'll find out a solution."
Earlier, reports arrived that the auto sales of Tata Motors and Honda in India have dropped by over 50 percent compared to last August. Maruti Suzuki reported a 32.7 percent decline in its sales last month. The company sold 1,06,413 units including exports compared with 1,58,189 vehicles in August 2018. Economic Crisis Hits Automobile Sector: Tata Motors & Honda Lose Sales By Over 50% in August 2019; Here Are All The Details.
Ranging from Maruti to Toyota, every company is suffering a loss, and their sales have dropped to by more than 20 percent. Data revealed that the sales in Maruti dropped by 33 percent, while Tata Motors's sales declined by 58 percent. Even Honda's sales too reduced by 51 percent. Among other losers in the automobile sector include — Eicher-Volvo (41.7%), Toyota (21%), Mahindra & Mahindra (25%), Mahindra Tractors (17%) and Hyundai (9.54%) respectively.
Another report by Society of Indian Automobile Manufacturers (SIAM) points out that road ahead for the rest of the year due to transition to BS-VI emission norm from BS-VI by April 2020 would be a huge challenge. Stating the reason SIAM president Rajan Wadhera said, as MoneyControl quotes, "The auto industry, as we all have seen in the past eight months, has witnessed continuous de-growth and August being the worst at 30 percent." Economic Crisis in India: Nirmala Sitharaman Quashes Manmohan Singh's Claims on GDP Data, GST Collections Decline; Here's All the Financial Development From August 2019
Wadhera added, "The road for the rest of the year is also looking difficult because there is a huge challenge of migration from BS-IV to BS-VI is awaiting us. On average, an OEM is spending about Rs 1,000 crore to upgrade their product portfolio." Considering the present scenario, experts opine that the auto industry will not only have to deal with slowdown and BS-VI transition, but also has "actually prepare for the future mobility" — electric, connected and autonomous.