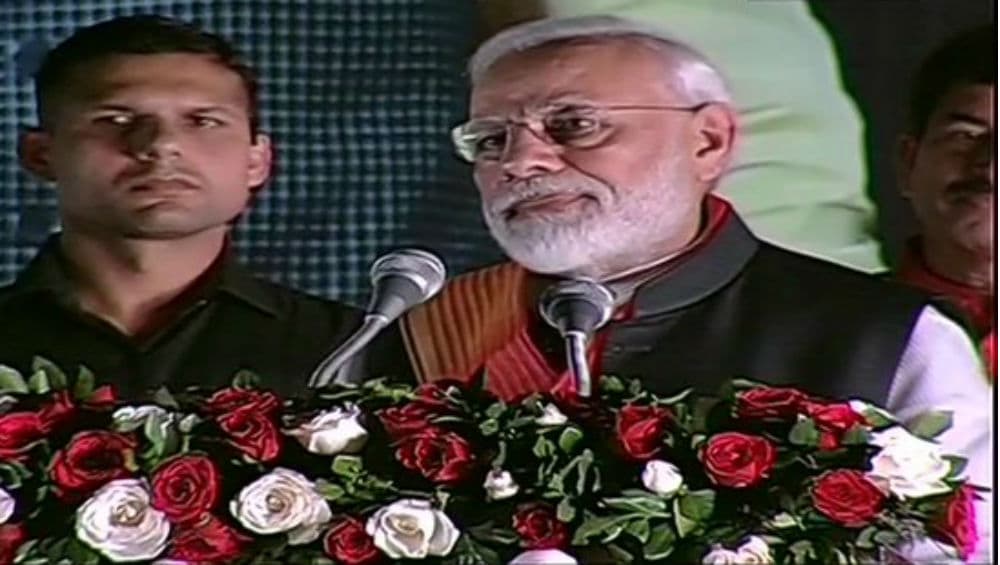 New Delhi, September 28: Prime Minister Narendra Modi on Saturday returned to India after his week-long visit to the US. PM Modi, shortly after his return to Delhi at the Palam Airport, addressed the Bharatiya Janata Party (BJP)  workers waiting outside the airport. The Prime Minister in his speech mentioned the Surgical Strikes on the day which marks the third anniversary of the attack. PM Modi also spoke about his speech at the United Nations General Assembly (UNGA) and the mega event 'Howdy, Modi!' in Houston.
The Prime Minister returned from the seven-day visit to the United States. PM Modi had embarked on a seven-day visit to the United States on Saturday, September 21. The Prime Minister was received at the Palam airport by party president JP Nadda. The Delhi BJP MPs and Delhi unit chief Manoj Tiwari were also present at the airport. Narendra Modi Speech at UNGA: Built 11 Crore Toilets in 5 Years, Committed to Movement Against Single Use Plastic, Says India's Prime Minister.
Addressing BJP workers gathered outside the  airport, PM Modi said that he had visited the United Nations earlier in 2014 too, but said that the welcome he and India received this time was unprecedented. He attributed it to the massive mandate received by the BJP and his landslide victory in 2019 Lok Sabha elections 2019.PM Narendra Modi Thanks Bill and Melinda Gates Foundation For Global Goalkeepers Goals Award 2019, Says 'India Fulfilling Gandhi's Dream of Swachh Bharat'.
PM Modi called the "Howdy, Modi" event in Houston a massive success. Prime Minister Narendra Modi also remembered the martyrs of Uri attack and recalled the Surgical Strikes undertaken by the Indian security forces. Three years ago, the Indian Security forces carried out 'Surgical Strikes' across the border and eliminated terrorists. The operations carried out by the security forces on the intermittent night of September 28-29 made the whole of India aware about surgical strikes. So what are surgical strikes and what is the history of surgical strikes.