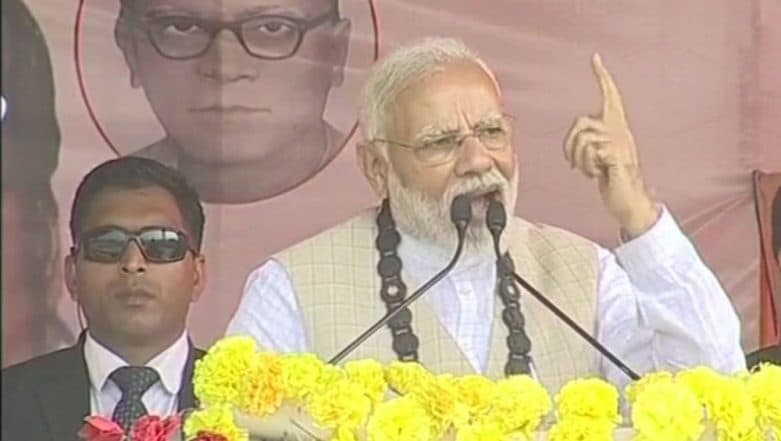 Thakurnagar, February 2: Prime Minister Narendra Modi, who arrived in West Bengal today to kick start BJP's campaign for the coming Lok Sabha election, pitched for the Citizenship Amendment Bill and seeks people's support for the legislation. Addressing a rally in Thakurnagar, PM Modi also attacked West Bengal chief minister and Trinamool Congress chief Mamata Banerjee for "resorting to violence".
"After the partition, people belonging to Hindu, Jain, Buddhist, Sikh, Parsees and Christians communities migrated to Pakistan, Afghanistan and Bangladesh. However, they are facing religious discrimination. Hence, we must give them a respectable life here," PM Modi said, apparently seeking support for the proposed amendment to the Citizenship Act of 1955. Protests have been going on in the north-east against the legislation. Triple Talaq, Citizenship Amendment Bills Likely to Lapse.
The Citizenship Amendment Bill will grant citizenship to minority communities from Afghanistan, Bangladesh, and Pakistan after six years of residence in India. Attacking the state government, PM Modi said CM Mamata Banerjee is resorting to violence because she is scared of the Bharatiya Janata Party (BJP). "After seeing enormous support and love for the BJP, I can understand why Didi is indulging in violence," he said.
Lauding the interim budget presented by union finance minister Piyush Goyal on Friday, PM Modi said youths, middle class, farmers and labourers will get huge benefits. "This is just the beginning, the main budget after Lok Sabha election will have much more for the youth, farmers, and other sections of the society," he said. Citizenship Bill Divides NDA, Shiv Sena, JD(U) to Vote Against Amendment.
The venue of the rally assumes political significance. Thakurnagar is the hub of the sizeable Matua community, who originally hails from erstwhile East Pakistan and began migrating to West Bengal at the beginning of the 1950s mostly due to religious persecution. PM Modi will also address a public meeting in the industrial town of Durgapur.
The Durgapur rally of the prime minister will be part of BJP's 'Ganatantra Bachao' (save democracy) programme in the state. The industrial hub of Durgapur is near the Asansol Lok Sabha constituency held by union minister Babul Supriyo. The prime minister will also dedicate to the nation the railway electrification of the 294-km-long Andal-Sainthia-Pakur-Malda and the Khana-Sainthia sections.