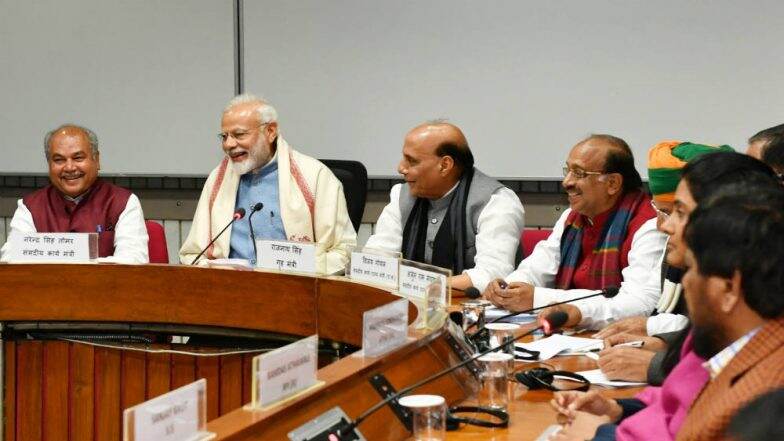 New Delhi, February 2: Prime Minister Narendra Modi led National Democratic Alliance (NDA) government has decided not to push the contentious triple talaq and the citizenship amendment bills at least till the 2019 Lok Sabha elections. Besides these two bills, the Modi government is likely to give up on the long-pending land acquisition legislation as well. Notably, the ongoing Budget Session, slated to conclude on February 13, is the last session of Parliament before the Lok Sabha polls.
On Friday, at a meeting chaired by Rajya Sabha chairman Venkaiah Naidu, the government announced it would not pursue the triple talaq and the citizenship amendment bills. The government has so far failed to get the amended Muslim Women (Protection of Rights on Marriage) Bill 2017 passed in Rajya Sabha as opposition parties want the formation of a select committee to further scrutinise the legislation. Last month, the government re-promulgated the ordinance banning the practice of instant triple talaq.
A Bill to convert the earlier ordinance, issued in September, 2018, was cleared by Lok Sabha in December and was pending in Rajya Sabha. Since the Bill could not get the parliamentary approval, the fresh ordinance was issued. The NDA is also facing heat over the proposed amendment to the Citizenship Act of 1955. Protests have been going on in the north-east against the Citizenship Amendment Bill that will grant citizenship to minority communities from Afghanistan, Bangladesh, and Pakistan. Citizenship Bill Divides NDA, Shiv Sena, JD(U) to Vote Against Amendment.
According to law, a bill that originates in Lok Sabha but is pending in Rajya Sabha lapses after the term of the Lok Sabha ends. A bill that originates in and is passed by Rajya Sabha but is pending in Lok Sabha also lapses. Besides, triple talaq and citizenship amendment Bills, the amendments to the land acquisition act, which relaxes norms for acquiring land, is likely to lapse as well on June 3 when the 16th Lok Sabha comes to an end.
Legislations such as The Companies (Amendment) Bill, 2019 to replace an ordinance, The Trafficking of Persons (Prevention, Protection and Rehabilitation) Bill, 2018, The Arbitration and Conciliation (Amendment) Bill, 2018, The New Delhi International Arbitration Centre Bill, 2019, The Personal Laws (Amendment) Bill, 2019 (to make leprosy as a ground for divorce) and the Aadhaar and other Laws (Amendment) Bill are likely to get the approval from the upper house of Parliament in this session.