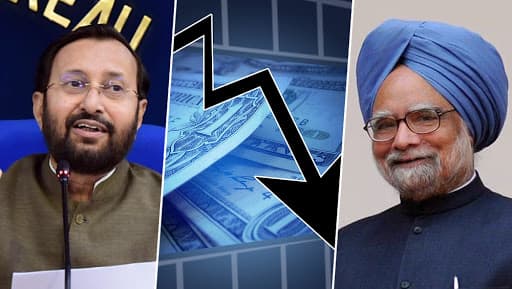 New Delhi, September 3: Two days after former Prime Minister Dr Manmohan Singh blamed "mismanagement" by the Narendra Modi government for the economic slowdown, Union I&B Minister Prakash Javadekar stated that the Centre does not subscribe to his analysis as India has now become the world's fifth-largest economy from 11th during his time. Replying to a question on Dr Manmohan Singh's comments, Javadekar said in a press conference, "We do not subscribe to what Manmohan Singh has analysed…India was 11th (largest) economy of the world. Now it is fifth, and we are marching to be third."
Adding on, the Union Minister also spoke on the GST returns and stressed that the Modi government is working for the welfare of people. He said, "What we are doing is, being a responsive government, addressing the issues and we have seen this process in GST also. The GST Council met every month and took relevant decisions, and it is now fine-tuned. So that is the way how the people-friendly government works, and that is how we are working." Manmohan Singh Blames 'Mismanagement' by Modi Government For Economic Slowdown, Urges Centre to Shun Vendetta Politics
Earlier on Sunday, Dr Singh slammed the Union government for economic slowdown and Gross Domestic Product (GDP) rate fall. He had said, "Last quarter's GDP growth rate of 5 percent signals that were in the midst of a prolonged slowdown. India has the potential to grow at a much faster rate, but all-round mismanagement by the Modi government has resulted in this slowdown."
The seasonal economist had said, "It is particularly distressing that the manufacturing sector's growth is tottering at 0.6 percent. This makes it very clear that our economy has not yet recovered from the man-made blunders of demonetisation and a hastily implemented GST. Therefore, I urge the government to put aside vendetta politics and reach out to all sane voices and thinking minds to steer our economy out of this man-made crisis."
Meanwhile, the GDP growth rate slipped to 5 (five) percent in the quarter ended June 30. Weak investment growth and sluggish demand have declined the GDP growth in the April-June quarter, which much slower than the government's expectation of 5.8 percent.