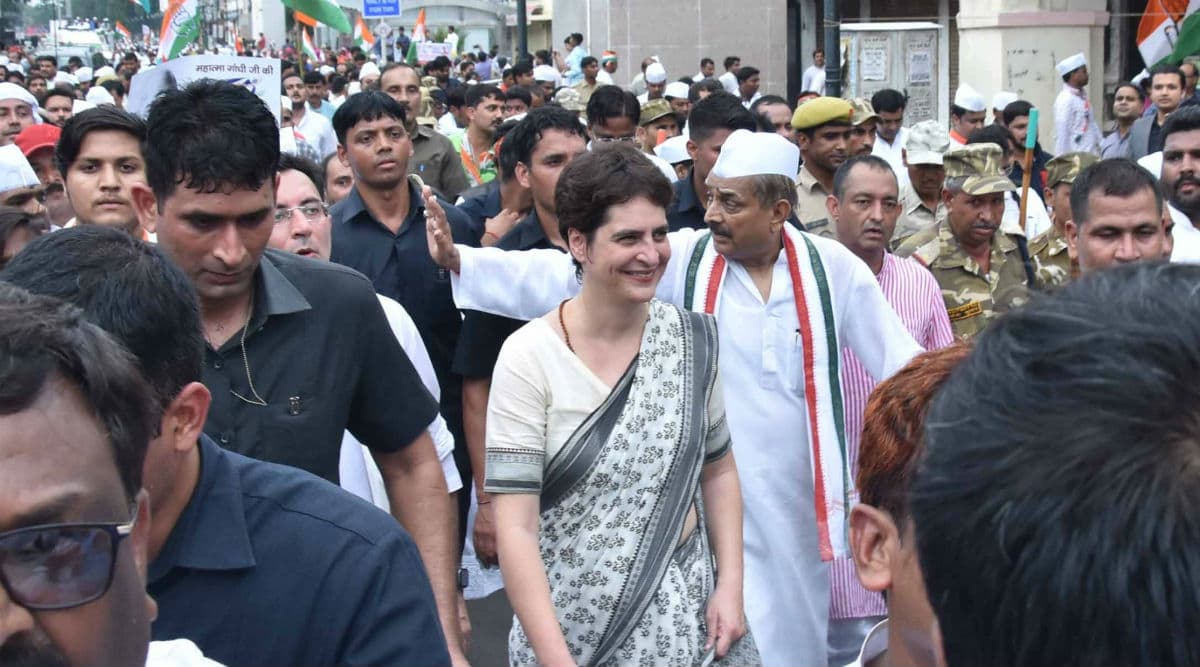 Lucknow, October 22: Congress General Secretary Priyanka Gandhi Vadra on Tuesday took on the Yogi Adityanath government over rising incidents of crime against women in Uttar Pradesh. Priyanka Gandhi, who has been working for making ground for the Congress party ahead of the 2020 Uttar Pradesh assembly elections, asked Chief Minister Yogi Adityanath to take measure to ensure the safety of women. Priyanka Gandhi Prepares Plans To Strengthen Congress Ahead of 2022 Uttar Pradesh Assembly Elections.
"The state (Uttar Pradesh) is at the top in crime against women. It is shameful and the Chief Minister must do something about it," Priyanka Gandhi told reporters in Raebareli, the parliamentary constituency of her mother and Congress Interim President Sonia Gandhi. She was apparently referring to a report by the National Crime Records Bureau (NCRB) which found that 3,59,849 cases of crime against women were reported in the country, with Uttar Pradesh topping the list with 56,011 cases.
Priyanka Gandhi's Statement:
#WATCH Rae Bareli: Congress General Secretary for UP (East), Priyanka Gandhi Vadra says, "The state is at the top in crime against women, it is shameful and the Chief Minister must do something about it." pic.twitter.com/LoC0zPU7kE

— ANI UP (@ANINewsUP) October 22, 2019
In June this year, Priyanka Gandhi had slammed Yogi Adityanath government over law and order situation in the state. She had sought to know whether the state government has "surrendered before criminals". "In Uttar Pradesh criminals are roaming freely and doing whatever they want. Criminal incidents are taking place one after the other. However, its BJP government has turned deaf. Has the Uttar Pradesh government surrendered before criminals?" she had tweeted.
Since Congress's rout in Uttar Pradesh in the 2019 Lok Sabha elections, Priyanka Gandhi has been regularly targetting the Yogi Adityanath government. She drew all attention and managed to sideline tall politicians such as BSP chief Mayawati and SP president Akhilesh Yadav during the Sonbhadra massacre episode. Priyanka has asked the party workers to start preparing for the 2022 Assembly elections.
When Priyanka Gandhi was appointed party General Secretary in-charge of eastern Uttar Pradesh, Rahul Gandhi had said that he had sent his sister to the state with a larger plan. "She hasn't been sent here for four months, she has been sent here with a larger plan... We will not only defeat BJP in 2019 but also win 2022 elections," Rahul Gandhi had told reporters on January 23.