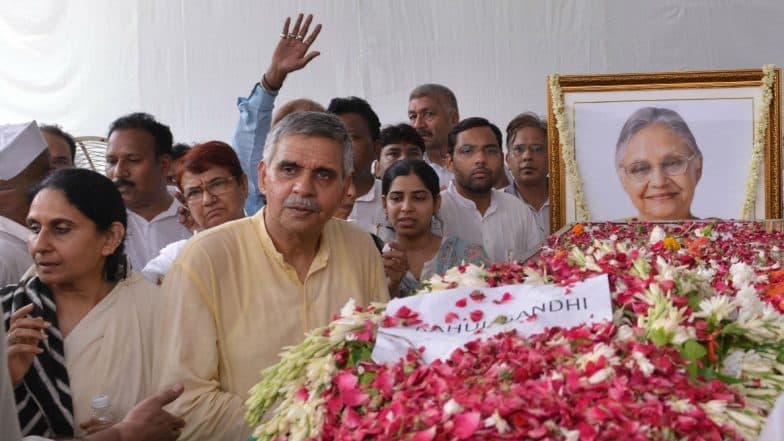 New Delhi, October 12: A letter written by Sandeep Dikshit wherein he reportedly held senior Delhi Congress leader PC Chacko of his mother and former Chief Minister Sheila Dikshit's death triggered infighting in the party. As soon as the letter came to the fore, Congress leaders Mangat Ram Singhal, Kiran Walia and Delhi Congress spokespersons Ramakant Goswami and Jitender Kochar asked Interim President Sonia Gandhi to remove PC Chacko from his post. Infighting Escalates in Delhi Congress, 29 Leaders Write to Rahul About 'Complete Confusion' in DPCC.
"PC Chacko should resign giving an ode to Sheila Dikshit," Rohit Manchanda told a press conference on Friday. "The letter was leaked by Chacko who claimed that it was a political letter. We demand formation of a committee to probe his role as AICC in-charge of Delhi Congress," said Mangat Ram Singhal. The letter comes months after Sheila Dikshit's demise. It is believed that Sheila Dikshit was upset with Chacko during her last days.
Reacting to the matter, Sandeep Dikshit said that the letter should not be discussed in the media. "It's a personal letter to him and only him. It is not a legal notice and it's not written to Mrs Gandhi (Sonia Gandhi). It's between PC Chacko and me. I don't think the media or anybody else has anything to do with it," he told ANI. "It's written to him. If he has leaked the letter it's his business, it's not mine," he added.
Chacko who has expressed the desire to be relieved of the position said that only Sandeep can tell why he wrote the letter. "After reading the letter, I thought the Congress president should be aware of this letter. So, I have forwarded the letter to Congress president," Chacko said. "Whether any action or no action, these are all things to be decided in future," he added. Sheila Dikshit and Chacko had been at loggerheads during the former's last days.
Dikshit dissolved block committees and Chacko had reversed her order. Congress has been struggling to find Dikshit's replacement. The post of Delhi Congress President has been vacant since her demise.