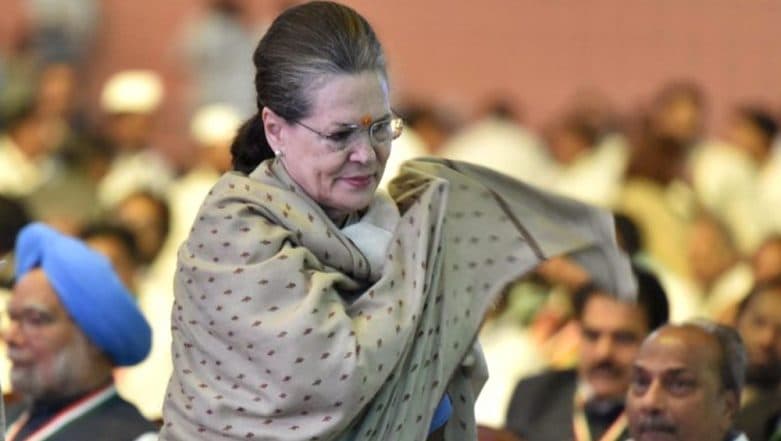 New Delhi, September 5: With just five months to go for the Delhi Assembly elections, Congress interim President Sonia Gandhi held a meeting with former city unit chiefs and discussed the leadership issue. According to reports, Sonia Gandhi will soon announce a name for president's post of Delhi Pradesh Congress Committee (DPCC), which has been left headless after the death of former Delhi Chief Minister Sheila Dikshit. Infighting Escalates in Delhi Congress, 29 Leaders Write to Rahul About 'Complete Confusion' in DPCC.
Four former Delhi Congress chiefs, Arvinder Singh Lovely, Ajay Maken, Jaiprakash Agarwal and Subhash Chopra were called to meet Sonia Gandhi at her residence today. Congress's Delhi in-charge PC Chacko and former Haryana Congress chief Ashok Tanwar also attended the meeting. Notably, Chacko has expressed the desire to be relieved of the position, saying he has occupied it for nearly five years.
Last week, Chacko along with all the 14 district presidents had met Sonia Gandhi at her residence. Even former Delhi Minister Lovely along with senior party leader AK Walia had met Sonia Gandhi to discuss the leadership issue. On Wednesday, Sonia Gandhi appointed Kumari Selja as the new chief of Haryana Congress, while making former Chief Minister Bhupinder Singh Hooda Chairman of the Election Committee.
The Congress, which is eyeing a comeback in the national capital, which it had ruled for three consecutive terms from 1998 to 2013 under Dikshit, is still struggling to find a leader who can keep its house in order. The grand old party had lost the 2013 elections to the Aam Aadmi Party and was completely wiped out in the 2015 Assembly elections when the AAP won 67 out of the 70 seats. The BJP had won three seats.