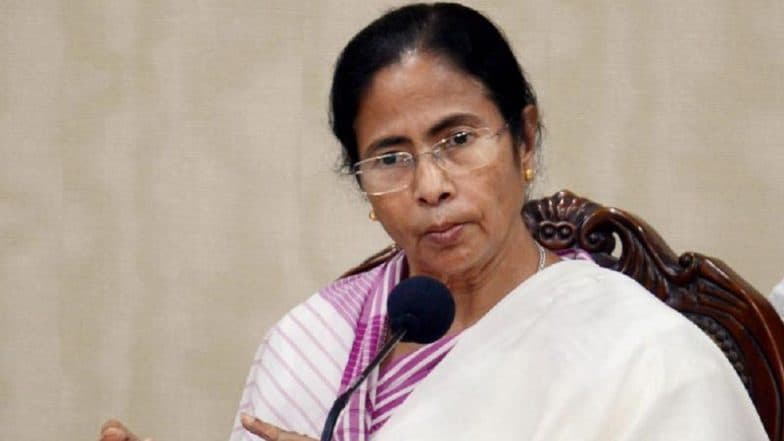 Kolkata, March 12: Trinamool Congress (TMC) chief Mamata Banerjee on Tuesday declared the list of candidates fielded by her party from all 42 seats of West Bengal. The Chief Minister said she has increased the allocation of tickets to women leaders - from 34 per cent in last elections to 40.5 per cent this time.
Among prominent faces, actor Moon Moon Sen has been named as the candidate from Asansol, where the current MP is BJP leader Babul Supriyo. Another film personality and Ghatal lawmaker Deepak Adhikari has been re-nominated from the constituency. Actors Nusrat Jahan and Mimi Chakraborty are also in the electoral fray under TMC banner. CPM Central Committee Approves Pre-Poll Agreement With Congress in 6 West Bengal Seats.
"Trinamool Congress will field 40.5% female candidate in the upcoming Lok Sabha elections. This is a proud moment for us," the West Bengal CM said.
Lok Sabha Elections 2019: Check Full List of Candidates Released by TMC
Trinamool Congress candidates list for the upcoming Lok Sabha elections:#AbarTMC pic.twitter.com/zeBQSJp8S9

— Trinamool Congress (Abar TMC) (@abarTMC) March 12, 2019
Former Railway Minister Dinesh Trivedi has been fielded for the third consecutive occasions from the seat of Barrackpore, whereas, in Raiganj -- where the TMC is trailing behind the CPI(M) and the Congress, the party has nominated Kanhaiyalal Agarwal.
Among prominent leaders missing from the TMC list, includes Sugata Bose, Sandhya Roy, Uma Soren, Idris Ali and Subrata Bakshi.
In the last general elections, Bengal was swept by a Trinamool wave, with the Mamata Banerjee-led party winning 34 of the 42 seats in the state. The Congress had won 4, CPI(M) 3 and the BJP 1.