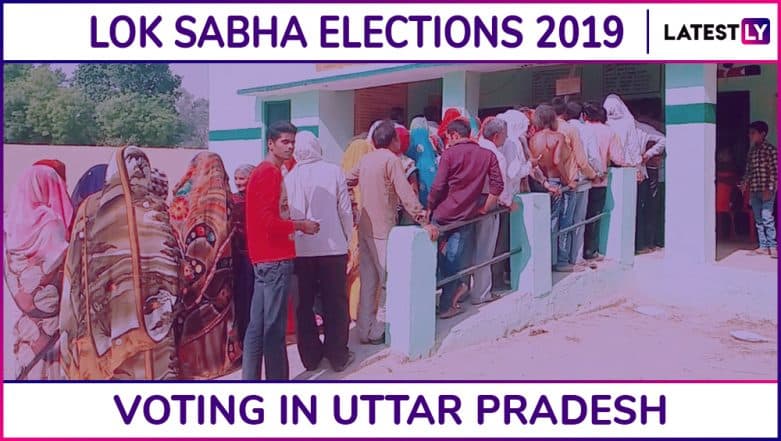 Lucknow, May 19: The voting for Lok Sabha Elections 2019 ended on Sunday with polling taking place on 59 seats in seven states and Union Territory of Chandigarh. In Uttar Pradesh, 13 Lok Sabha constituencies including Varanasi- the constituency represented by Prime Minister Narendra Modi, Gorakhpur, Maharajganj, Kushi Nagar, Deoria, Bansgaon, Ghosi, Salempur, Ballia, Ghazipur, Chandauli, Mirzapur and Robertsganj voted on Sunday, May 19, in the seventh and last phase of voting for Lok Sabha Elections 2019. A total of 54.37 percent voter turnout was recorded in the state. Uttar Pradesh Lok Sabha Elections 2019 Schedule: Constituency Wise Dates Of Voting And Results For UP General Elections.
With the polling in 13 constituencies of Lok Sabha in Uttar Pradesh on Sunday, the serious allegations were raised by people that their fingers had been inked on Saturday night by miscreants in Chandauli. Also, allegations were made by the people that they have been given Rs 500 allegedly by BJP workers.
Over 10.1 crore voters decided the fate of 918 candidates including Prime Minister Narendra Modi. They cast their ballot at over 1.12 lakh polling stations. PM Narendra Modi to Seek Re-Election From Varanasi in Final Phase of Lok Sabha Elections 2019.
Other than the 13 constituencies in UP, polling took place on remaining eight constituencies of Bihar, three of Jharkhand, eight of Madhya Pradesh, nine of West Bengal and all the four of Himachal Pradesh, 13 of Punjab and the lone seat of Chandigarh.
While campaigning ended on Friday in six of the states, it ended on Thursday in West Bengal on the Election Commission's orders.
The polling in Uttar Pradesh for Lok Sabha Elections 2019 took place in seven phases. The politically crucial state, which sends as many as 80 MPs to the Lok Sabha, was instrumental in the Bharatiya Janata Party (BJP) gaining majority on its own in the 2014 Lok Sabha Elections. However this time the contest has got heated up as the Samajwadi Party (SP) and the Bahujan Samaj Party (BSP) formed a pre-poll alliance ahead of the elections making a straight fight between the BJP and SP-BSP combine and Congress.