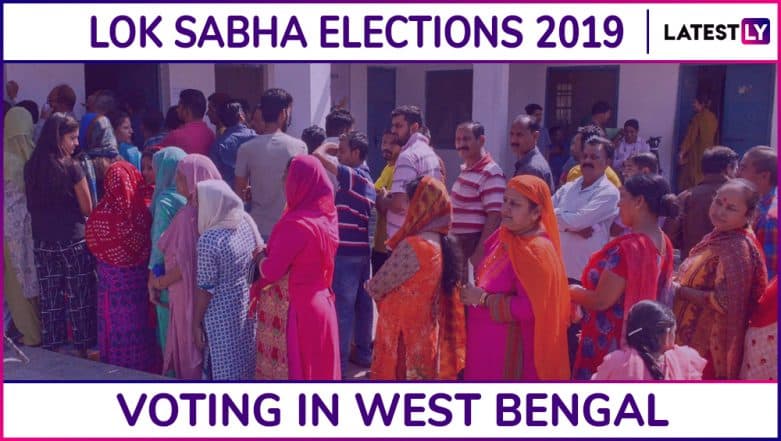 Coochbehar, April 11: Polling for West Bengal's two Lok Sabha seats- Cooch Behar and Alipurduar ended at 5 pm. The two constituencies which went for voting are Cooch Behar and Alipurduars. Around 70 percent voter turnout was recorded in the state. A report of one EVM being ransacked was reported from Barosholmari area of Cooch Behar by unidentified men. BJP accused TMC workers of the act. In the run-up to Lok Sabha Elections 2019, the main contest is between the Trinamool Congress, the Bharatiya Janata Party (BJP) and the Indian National Congress (INC) and in the eastern state. West Bengal Lok Sabha Elections 2019 Dates: Constituency-Wise Complete Schedule Of Voting And Results For General Elections.
In Cooch Behar, the TMC has fielded Paresh Adhikari, BJP has fielded and Piya Roy Chowdhury of Congress contested election from the constituency. The TMC nominated Dasarath Tirkey against BJP's John Berla in Alipurduar where Mohanlal Basumata of the Congress and Mili Oraon of the RSP were also in the fray. How To Vote #India? How To Use EVM and Verify on VVPAT? Tutorial On Casting Vote Ahead of Lok Sabha Elections 2019 in India.
Lok Sabha Elections 2019 | How To Vote #India? Use of EVM And Verify on VVPAT (Watch Video):
In West Bengal, polling for the Lok Sabha elections 2019 will take place in 7 phases across the different constituencies of the state. This election is to choose 17th Lok Sabha. The political campaigning for the first phase ended on Monday. The high-pitched campaign was mainly polarised by Mamata Banerjee's TMC and BJP.
In 2014 General Elections, TMC has bagged 34 out of 42 parliamentary seats in the state. Meanwhile, voting for national polls in the country are taking place in seven phases from April 11, 2019, to May 19, 2019. The counting will be held on May 23.