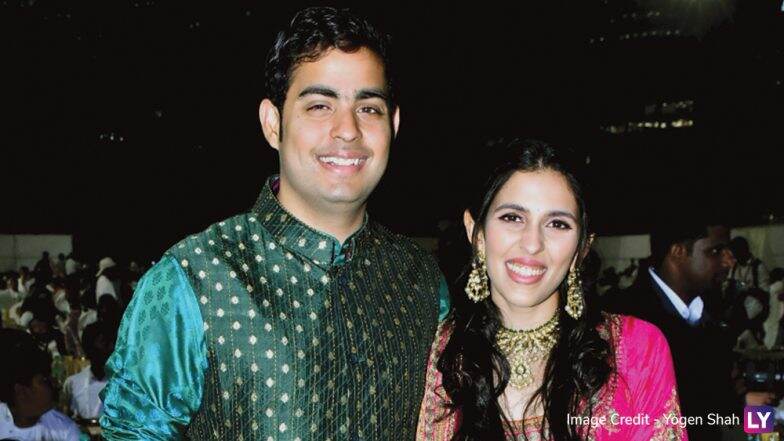 A wedding is an important day in each person's life and today it has become almost a trend to have a fancy and elaborate ceremony. Indian weddings have got the 'Big Fat Indian Wedding' tag for a reason. Because today we are no less than making Bollywood style weddings with separate functions. The year of 2018 saw some big wedding ceremonies and this year we have another lavish ceremony coming up. Industrialist Mukesh Ambani's son Akash Ambani is all set to tie the knot with his fiance Shloka Mehta on March 9. Needless to say, it will be an expensive affair. We will not be surprised if it surpasses some of the most extravagant and expensive Indian weddings till date. Let us look at a few wedding ceremonies, where money was the least concern but extravagance was a top priority. Akash Ambani-Shloka Mehta Pre-wedding Bash: Mukesh Ambani's Antilia Turned Into Hogwarts for Harry Potter-Themed Party for Guests; See Pics & Videos.
After the extravagant wedding of Mukesh Ambani's daughter Isha Ambani to Anand Piramal, all eyes are on his son Anand Ambani's wedding. Akash being the son of one of the richest man in the world, extravagance will be an obvious trend to look out for. Shloka Mehta is the daughter of diamantaire Russell Mehta, the flagship owner of Belgium-based Rosy Blue, diamond jewellery companies. Shloka is now the director of Rosy Blue Foundation since July 2014. The couple's pre-wedding took place at an exotic location of St Moritz in Switzerland. The first glimpse of the wedding card is also expressing amass luxury!
Most Expensive Indian Weddings Yet
Isha Ambani Weds Anand Piramal
Everyone got a glimpse of how Ambani weddings are going to be when Isha Ambani married Anand Piramal on December 12, 2018. After pre-wedding ceremonies which took place in Udaipur, the wedding took place at Ambani residence in Mumbai, Antilla. The guest had chartered flights to reach Udaipur, so you can imagine. It was a week-long extravaganza which saw Beyonce performing like a private concert and the best of Bollywood stars gracing the stage for the sangeet ceremony. According to Bloomberg figures, the expense of the wedding was around Rs 700 crores! Anant And Akash Ambani Riding Horses At Isha And Anand Piramal's Wedding Ceremony Oozes Royalty (View Pics of Ambani Brothers From Antilia).
Vanisha Mittal Weds Amit Bhatia
The Mittal family have hosted not one but two expensive weddings. One was of daughter Vanisha who married investment banker Amit Bhatia in 2004 in the Palace of Versailles. It is the only private event that has taken place at this luxurious venue. Shah Rukh Khan, Kylie Minogue, Aishwarya Rai Bachchan, Akshay Kumar, Saif Ali Khan and Rani Mukherjee were the performers at the wedding. The approximate cost of this wedding was Rs 220 crores.
Shristi Mittal Weds Gulraj Behl
The next Mittal wedding which too was an expensive affair was of Shrishti Mittal, the niece of Laxmi Mittal. She married to Gujral Behl in Barcelona at the National Museum of Catalan Art in 2013. It was a lavish wedding which saw musical fountains, a banquet by double Michelin-starred chefs. To take the wedding pictures, a helicopter hovering in the skies because drones weren't popular back then. The guests were flown to Spain from India and the chefs came in from Thailand. It was almost Rs 500 crores wedding.
Sanjay Hinduja and Anu Mahtani
UK based billionaire Sanjay Hinduja got married to designer Anu Mahtani in February 2015. Hailing from richest families in the UK, the wedding guest list too saw its share of billionaires in attendants. Former singer of Pussycat Dolls, Nicole Scherzinger was one of the performers. The sangeet ceremony saw Malaika Arora, Arjun Kapoor, Ranveer & Vishal Shekhar performing while the wedding and reception had a power-packed concert by Jennifer Lopez. The approximate expense was around Rs 138 crores.
Sushanto Roy and Seemanto Roy Weddings
Chairman of Sahara India, Subrata Roy's sons' had a double wedding and it has to be one of the most expensive weddings in Indian history. Since it were two wedding ceremonies, it was double the fun and galore. The wedding ceremony took place at Sahara Auditorium in 2004. Shushanto Roy married Richa and Seemanto Roy got hitched with Chandani. The place was turned into a palace with the lighting. The wedding menu had more than 110 dishes, a combination both the cuisines of Mumbai and Lucknow. But while he managed to undertake the grand ceremony, he also got 101 underprivileged girls married. And the food was served to about 150,000 beggars.
These are some of the most expensive weddings that have taken place over the years. We are not even talking about celebrity weddings yet. But when there is a union between industrialist families, it is going to be a shower of money. With Akash Ambani and Shloka Mehta's marital union just 2 days away, it remains to be seen, if they surpass with their celebration and wedding festivities.