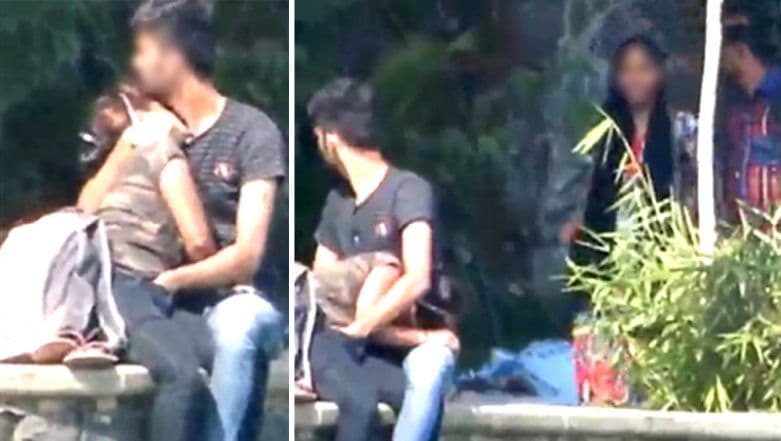 Time and again we have heard people whining about young couples getting involved in public display of affection. There are only a few lovers in the big city of Mumbai who would have not stolen a private moment in a public place like a park, sea-side or even foot-over-bridges. One cannot be discreet while having sex in a public setting. But what do you do about the voyeurs? While some might turn a blind-eye towards them, there are others who shamefully capture other's personal moments. Not only are they filming the entire scene but are also publishing it on porn sites and circulating it on social media platforms. In a recent story published in a Mumbai tabloid, Mid-Day, a police complaint was filed against the peeping Toms after a video of a Mumbai couple was leaked on an adult website and the images have been circulating on other social networking sites.
The question then arises, who is to be blamed? Are the voyeurs solely responsible? Or, the couples are equally at fault? Should a strict action be taken against both? What is a suitable action? We must start pondering on the fact that why are there so many young couples making out and indulging in irresponsible sexual acts in public places? The big question remains, are they adult enough or they do due to raging hormones?
Famous spots in Mumbai where these young adults are engaged in sexual activities
The famous and ideal public spots in Mumbai for these lovers are Worli sea face, Carter's Road, Reclamation, Bandra Fort, Goregaon's Chota Kashmir, Navi Mumbai's Palm Beach Road, Powai Lake and we could go on and on. You will find them sitting under the shade of a tree or behind rocks and enjoying the private moments even during the peak hours of day. If one has been around the city, it would have come to your notice that the percentage of couples involved in PDA are young college-going students in the age-group 16 to 21. It is important to understand why these people in love are seen engaging in sexual activity in public places? College students certainly cannot afford to rent rooms or hotels without being judged by people. To not get involved in police interrogation if caught in hotels also makes a legit reason for them to not rent a room. Furthermore, they are bound by restrictions like being unmarried or under-age which leaves them with no choice but to get physical in public places.
Couple-friendly options for Love-Making in Mumbai
While there are some who cannot afford a place, there are others who can find solace in private places. In the sequence of these current events which keep cropping up time and again, couples are now looking for places without drawing the attention of people or fearing getting caught on camera. Many couples are resorting to options that will give them some privacy away from the prying eyes. Although the search options are limited, websites like Airbnb and Stay Uncle are few options that give rooms to couples minus the judgement. Couples are ditching the conventional hotels as they face too many restrictions if they are unmarried or do not fall under the other criterias for renting a room in such hotels. Others on the list are Oyo Rooms, Zo Rooms and Awesome Stays. Not only do they provide privacy to couples but are also budget-friendly. Remember Hotel Decent from the movie Jab We Met? Yes, you guessed it right. The next thing one must keep in mind before renting a room in a hotel is are they safe? Be mindful of your choices. You do not want to be caught on a spy cam in one of the shady hotel rooms.
Reasons why voyeurs are interested in others' private moments
People who secretly capture or film others indulged in any sexual activity, derive a sexual pleasure by doing this. They get sexually aroused and fulfil their fantasies. They are even responsible to upload them on adult websites and make it available for public viewing. If you recollect Kunal Khemu starrer, Kalyug, the movie depicts how a couple is pulled into the shady world of adult entertainment. There are many out there hired to do this and who run an illegal racket. While there are no stringent laws against voyeurs, police and people should be vigilant enough to identify such persons.   
In the end, who according to you is adult enough to be involved in any form of sexual activity? It certainly makes for a debatable topic. Although it is a clear-stated fact that voyeurs are causing harm to many. But you are also responsible to face the consequences that come attached when involved with any form of sexual activity without being adult enough. For now, we would love our readers to know that if you do fall under the category of people who engage in PDA, we would highly recommend you to keep your eyes wide open and be wary of the voyeurs around and be responsible.