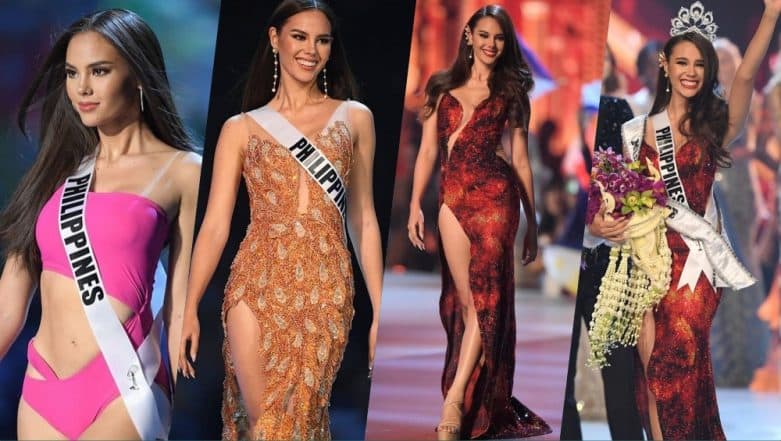 Filipina-Australian girl Catriona Elisa Magnayon Gray is your Miss Universe 2018. With this victory on December 17 at Bangkok in Thailand, Miss Philippines Catriona Gray became the fourth Filipino to win the Miss Universe crown after Pia Wurtzbach (2015), Margie Moran (1973), and Gloria Diaz (1969). The 24-year-old fashion model and television personality was the hot favourite to bag the crown and title at the 67th edition of Miss Universe beauty pageant. And she did it by beating Miss South Africa Tamaryn Green (first runner-up) and Miss Venezuela Sthefany Gutiérrez (second runner-up). What made Catriona Gray such a huge favourite was not only her rich experience at the beauty competitions but also her immense popularity worldwide. Catriona Gray Wins Miss Universe 2018 Crown: Pia Wurtzbach and Other Two Miss Philippines Who Bagged Miss Universe Title Before Catriona!
During the Miss Universe 2018 preliminary competition, she floored the world with her famous 'slow-mo twirl,' a part of her signature "lava" walk. Be it her oomphalicious walk in a hot pink bikini or her eloquence while answering questions, Catriona Gray nailed it all to become the rightful successor of Demi-Leigh Nel-Peters. You got to know about Miss Universe 2018 winner, interesting facts and some personal information. Miss Philippines Catriona Gray Bewitches Netizens With Her Slow-Mo Twirl in Miss Universe 2018 Swimsuit Round (Watch Video).
Born on January 6, 1994, Catriona Elisa Magnayon Gray is a former martial artist who earned her first black belt at the age of 12. The Cairns-born is a fashion model who is fairly experienced when it comes to beauty pageants. Two years ago in 2016, Gray was crowned Miss World Philippines 2016 where she won a number of titles such as Best in Swimsuit (No surprises here), Best in Evening Gown, Best in Fashion Runway and Best in Talent. When she went on represent at Miss World 2016 in the United States, Catriona Gray finished in top 5. Puerto Rican musician-model Stephanie Del Valle was crowned with the Miss World 2016 title. Miss Universe 2018 Date, Time, Venue & Live Broadcast: Everything You Need to Know About the Coveted Beauty Pageant Which Will Take Place in Bangkok, Thailand.
Watch Full Video of Miss Universe 2018 Crowning Moment
Cut to 2018, Catriona participated and won the top crown at the Binibining Pilipinas 2018. The gorgeous girl's journey at her country's beauty pageant saw her win these titles, Best in National Costume Award, Best in Evening Gown and Best in Swimsuit in addition to many corporate endorsement awards. She came to Bangkok, Thailand to represent the Philippines at the Miss Universe 2018 stage and we all know how she bagged the title with a thumping victory. Catriona Gray is Miss Universe 2018.
Catriona Gray Fact 1: In Philippine pageant history, she is the first Philippine national to represent the country in both the Miss World and Miss Universe competitions.
Catriona Gray Fact 2: But if you thought these were her first brush with beauty pageants, you are in for another big surprise. At a tender age of five, Catriona Gray first participated and won a beauty pageant, Little Miss Philippines in Sydney!
Know More About Miss Universe Philippines 2018, Catriona Gray!
Get to know Miss Universe Philippines 2018 and her journey to the crown.#MissUniverse airs LIVE Dec 16 at 7pm ET from Bangkok, Thailand only on @FOXtv. Who will take home the crown? pic.twitter.com/Xy5svnKNxt

— Miss Universe (@MissUniverse) December 14, 2018
At the Miss Universe 2018, Catriona Gray was impressive throughout the event. During the national costume round, she wore a beaded tribal suit featuring the indigenous tribes of the ancient pagan Filipinos. Despite a costume glitch, it was received well by judges and viewers. Then came the swimsuit round, which saw the girl set the runway ablaze with her hot walk! Catriona Gray donning a hot pink swimsuit, high heels with Miss Philippines 2018 sash, she walked like a dream. But it was her sexy 'slow-mo turn' that left the viewers pleasantly stunned. She totally deserves to be the Miss Universe 2018.
Watch Video: Miss Philippines Catriona Gray During the Miss Universe 2018 Preliminaries 
Catriona Gray Personal Life Detail: The fashion model is dating Filipino-German model and actor Clint Bondad, also 24 years. The two have been in a relationship for over six years.
Catriona Gray Personal Life Information: She has a master's certificate in Music Theory from the Berklee College of Music in Boston.
Catriona Gray Personal Life Information: Catriona loves travelling, and her favourite place is in her home country, Palawan in the Philippines. In fact, the girl who was born and raised in Australia travelled to the Philippines at the age of 18, with the money she earned from modelling as a teenager!
Catriona Gray was the hot-favourites to bag the coveted Miss Universe 2018 title and she did it in style. At the grand coronation, Miss Universe 2018 Catriona Gray said, "I stand here today because someone believed in me and we owe it to our children to believe in them."