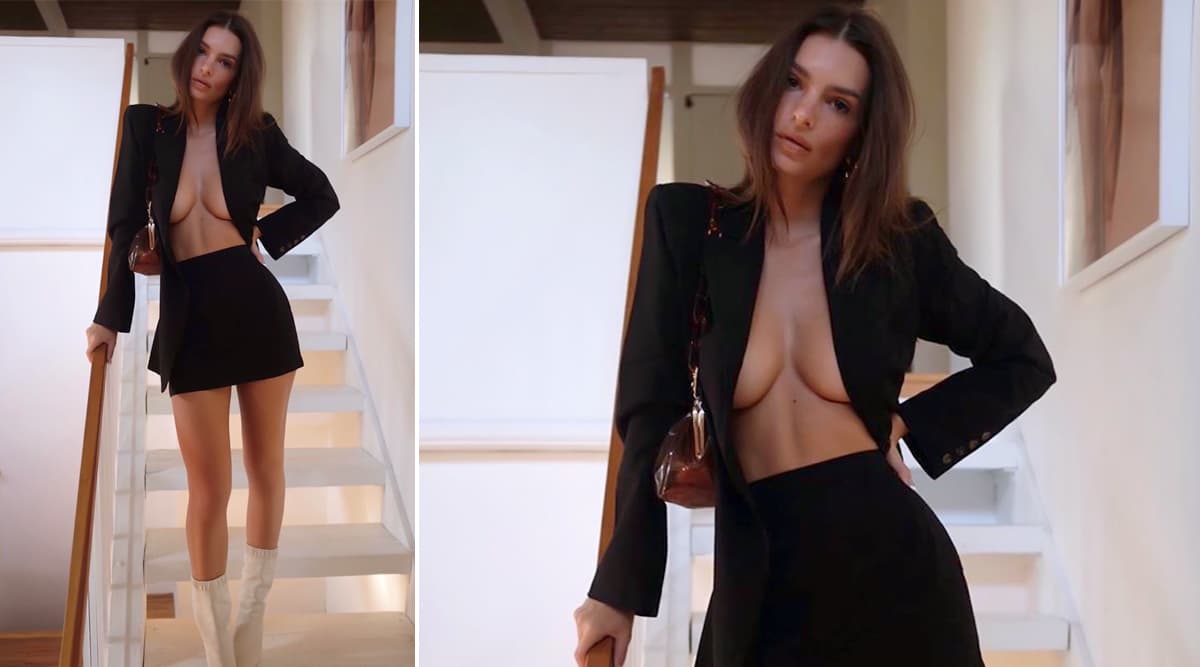 Emily Ratajkowski is a heartthrob! While she typically makes anything look super gorgeous on her some of her sartorial choices just blow our minds. Just recently, she donned a short suit and skirt co-ord that has totally taken over the internet. Only she can make a short blazer without any bra look so hot! Also known as Los Feliz Blazer, this sexy piece from her brand, Inamorata Woman's Suiting collection is one of classiest yet uber-chic looks. Emily Ratajkowski paired the black blazer with a mini-skirt in the same colour. To complete the look she wore while boots a small brown side bag and a pair of earring that were hidden by her loose hair. Emily Ratajkowski Pregnant? Model Sparks Rumours with New Instagram Post with Husband Calling Them 'Mom and Dad'. 
She shared two pictures in a slightly different pose on a flight of a staircase. Her makeup was the classic Emily style, toned down and dewy. Her hair can be seen left loose in a sexy middle partition. She shared the picture on her Instagram to let her fans know that they have some of the pieces of the suit she's wearing in certain sizes that her fans could purchase. She captioned her picture with, "Inamorata SUITING! Our classic black is still available in some sizes! Yesterday's presale blew my mind."
Take a Look At The Pictures:
Just last week, Emily Ratajkowski took our breath away after she posted a smokin' hot picture of herself on Instagram in a barely-there black bikini that also featured her husband and two dogs. The family picture captured the relaxed mood in the living room of their California home.