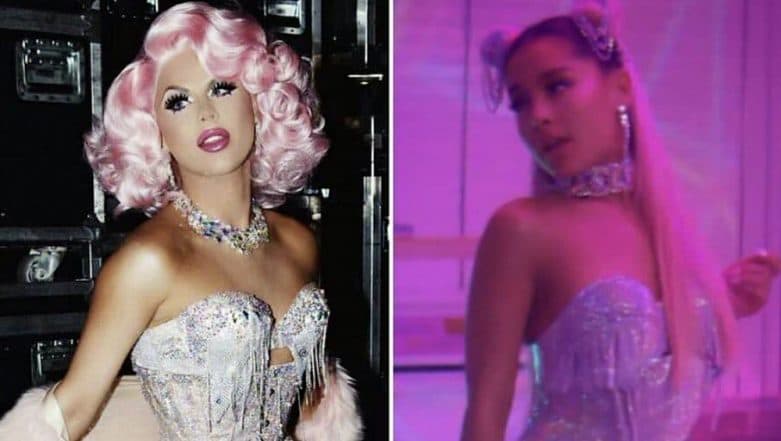 Ariana Grande has sued Forever 21 for $10 million for stealing her style. But to everyone's surprise, her "7 rings" style was stolen from Farrah Moan! The fashion brand had used the singer's look from the hit single for marketing on social media. All this happened when Forever 21 was on the verge of filing for bankruptcy. Some people criticised Ariana and her team for hitting the brand when they were at their lowest. On the other hand, some fans went to their Instagram and spammed them with hate comments. Ariana Grande Sues Forever 21 for $10 Million as the Brand Was Ready to File for bankruptcy... Oops!
Farrah Moan is known for her appearance in the ninth season of RuPaul's Drag Race. On September 5, Moan took to twitter to show the similarities between one of her outfits and Ariana Grande's "7 rings" dress. The two attires have a striking resemblance, and we cannot deny it's the same dress. Both divas are wearing a backless bodysuit with dripping gems and shimmer on the dress. Even the jewellery looks similar. The only difference is Farrah Moan's necklace sits a little lower on her neck than Ariana's diamond choker. Tea Tuesday: From Ariana Grande Cancelling Poland Concert to James Charles' Nude Photo, All the Best Gossips from the Week Gone by.
The Comparison Between the Two Outfits
Ariana should give me a cut of that 10M since her team literally sent a pic of me to the designer and paid them to copy my look from as4. (Finally met the designer and got told the Tea) I guess stealing from queer artists for profit is fine tho 🤷🏼‍♀️ pic.twitter.com/1smGr8K4G0

— 👑 Farrah Moan (@farrahrized) September 4, 2019
Fans pointed out it was actually Farrah who copied Ariana as pictures of the singer from 2014 show her wearing something very similar. Although the bodycon dresses have been around for a while, it looks like Ariana was the one to copy. Beyonce, Selena Gomez and other popstars have been wearing those for concerts for ages. So, Ariana didn't invent it. However, the "7 rings" style is the exact same thing as Farrah Moan.