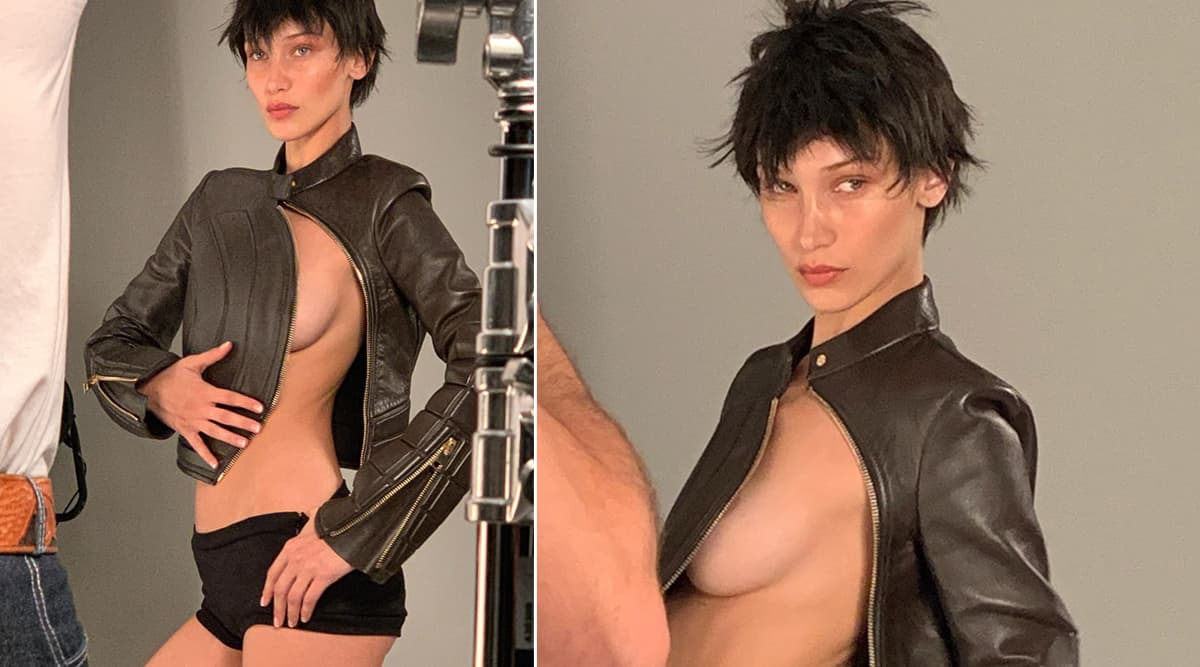 Bella Hadid is only getting better with age! The 23-year-old model once again ensured that all eyes are on her only. The younger sister of Gigi Hadid leaves little to the imagination as she unzipped her leather jacket for Pop Magazine's fall/ winter edition. For the sake of fashion, Bella has never shied away to go nude! She is looking all sorts of chic, classy and sexy as she flaunts her skin of side boob, but without exposing her nipples. The American model shared two BTS pictures of her from the raunchy photoshoot and set Instagram on fire. Her sultry expression has won thousands of hearts already since she posted the pics on November 11, 2019. Bella Hadid Flaunts Her Natural Beauty on the Cover of Vogue Australia's November 2019 Issue. 
For the photoshoot, Bella is wearing a Bottega Veneta leather jacket which is long-sleeved and has a zipper that begins on her right shoulder. But she decided to unzip it down the left side of her bare body for the sexy shots. The 23-year-old was not wearing anything beneath, showing enough side boob and not exposing her nipples for the sake of keeping Instagram's no-nudity policy. Her incredibly toned and flat stomach, teamed up with a pair of tiny black bike shorts with no eye makeup and just a tint of red gloss on her lips is raising the temperature. And to cover her dark locks and longer hair, the younger Hadid sister wore a short black wig pixie. Bella Hadid Makes Her Fans Cringe As She Strikes Sexy Poses With Her Terrified Pet Horse. 
View Pics:
View this post on Instagram
Bella's sensual photoshoot was for the September issue of Pop Magazine and was photographed by ace photographer, Hugo Comte. As per reports, the cover shoot was called 'Hellz Bellz' where the supermodel was labelled a 'Bottega B**ch" on the cover. No amount of words could rightly explain how effortlessly chic she is looking for the shot. We said it then, we repeat it now, that the 23-year-old accurately knows how to pull off such bold and bare look with that sultry expression.