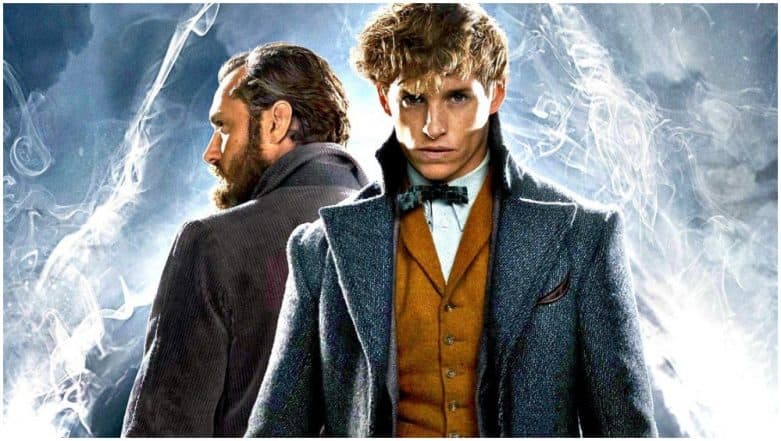 The Harry Potter film franchise gets its second spinoff with Fantastic Beasts: The Crimes of Grindelwald, releasing later this month. It is the sequel to the 2016 film Fantastic Beasts and Where to Find Them. The first film was set years before Harry Potter and even Lord Voldemort was born and follows Newt Scamander as the lead - a Hogwarts student with a penchant for taking care of Magical Creatures. The sequel, directed by David Yates, brings back most of the cast like Eddie Redmayne, Katherine Waterston, Dan Fogler, Alison Sudol and Ezra Miller. Fantastic Beasts The Crimes of Grindelwald Final Trailer: Filled With Easter Eggs and Spoiler, The New Promo is a Treat for Harry Potter Fans! Watch Video.
However, fans will be definitely more excited to see the face-off between former friends (and secret lovers) turned enemies, Professor Dumbledore and Evil Wizard Gellert Grindelwald, played by Jude Law and Johnny Depp respectively. Harry Potter author JK Rowling is herself involved in the scripting and the trailers have done a really good job of creating much anticipation for the film, laden with more fascinating creatures. Jason Momoa's Aquaman, Johnny Depp's Fantastic Beasts 2 - 8 Upcoming Hollywood Films of 2018 Bollywood Should Be Really Wary Of!
The makers had held a special first screening of Fantastic Beasts The Crimes of Grindelwald for fans and some sections of the media. While there is a review embargo till November 8, there are some early reactions on Twitter that are in high praise for the upcoming for the film. Those who have tweeted their reactions are also careful in not posting any spoilers, with the hashtag #ProtectTheSecrets. So you can carefreely check out what fans are saying about the upcoming Harry Potter film.
Seriously So Good!
#CrimesOfGrindelwald was seriously SO good, but it's important that all witches, wizards, and Muggles still #ProtectTheSecrets. Don't spoil the magic for everyone else.

— Witches Unite (@HPwitchesunite) November 4, 2018
Mind-Blowing!
.@jk_rowling just saw #CrimesofGrindelwald and it was AMAZING - I HAVE SO MANY QUESTIONS I CAN'T ASK BECAUSE I WANT TO #ProtectTheSecrets BUT YOU BLEW MY MIND AGAIN CONGRATULATIONS AND THANK YOU!!!!

— Evan Hoyle (@EvanHoyle1) November 3, 2018
Brilliant!
So #CrimesOfGrindelwald was absolutely BRILLIANT. The cast is incredible, the cinematography is excellent, and the music is soooo good. I loved the first film a lot, but I loved this one even more. I can't wait for the third #FantasticBeasts film!!!

— SilvaOfSteel (@SilvaOfSteel) November 3, 2018
Mind Blown Again!
Literally just finished watching #CrimesOfGrindelwald in the #fansfirstscreening

.

.

.

I will #ProtectTheSecrets but am I mind blown or what!!! @FantasticBeasts @jk_rowling

— Rushit Lodaya (@RushitLodaya) November 3, 2018
Gobsmacked!
#FanstasticBeasts #CrimesofGrindelwald just ended & I am gobsmacked. 😮 I don't know how @jk_rowling creates these stories but I hope they continue. After seeing this, it seems we are at the beginning of another very long, arduous journey. #ProtectTheSecrets #NewtScamander

— Andrea Steck (@andee_pand) November 3, 2018
Huge Improvement Over the First Fantastic Beasts
#CrimesOfGrindelwald is a huge improvement over the first Fantastic Beasts with BIG reveals. Hard core Potter fans will definitely enjoy

— Dillon Johnson (@dillonking55) November 3, 2018
Worth Repeat Watch
Just saw #FantasticBeasts #CrimesOfGrindelwald with #RyanJayReviews! I'll #ProtectTheSecrets but i think its safe to say MIND BLOWN!! It's so good! I want to see it again and again!! @jk_rowling @eddieronline @mrdanfogler @leaky @pottermore @MuggleNet @judehlaw @AlisonSudol

— KathleenMollyWeasley (@MollyPrewett7) November 3, 2018
Johnny Depp is Outstanding!
Saw #CrimesOfGrindelwald Thursday. Johnny Depp turns out an outstanding performance in a showstopping turn as Grindelwald. Whether you're new to the Wizarding World or a hardcore fan, it's hard to resist the stunning visuals, flawless action and riveting performances. Fantastic. pic.twitter.com/3X9Dml7j3t

— Simon Thompson (@ShowbizSimon) November 3, 2018
Fantastic Beasts The Crimes of Grindelwald is scheduled to release in India on November 16. Going by the above reactions, are you excited to catch the film on an IMAX screen, Potterhead? Share your thoughts in the comments section below.