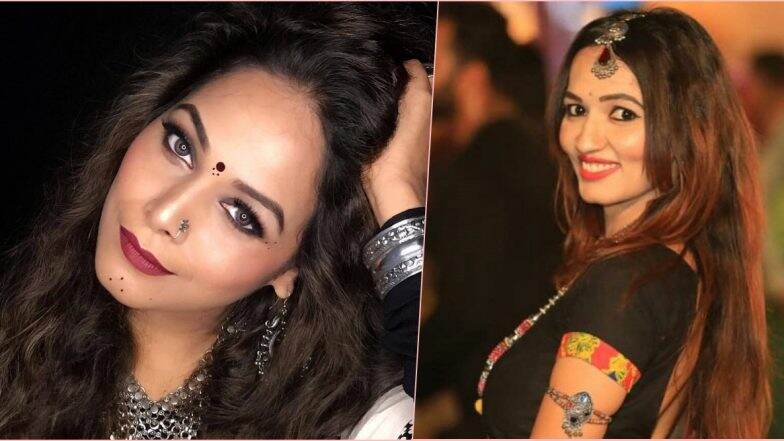 Navratri is a nine-day long celebration full of music, dance and joy! It's the time when you dress up with your girlfriends to have nights long fun. But picking out the right outfit is incomplete without a banging makeup look. We know how girls congregate at a friend's house to help each other with their look for dancing all night. But what would happen if the entire group is out of ideas for new makeup looks? Worry not! We've got your back. We have some super easy makeup looks that still look STUN-NING! These might not even take you more than 15 minutes to master. Navratri 2019 Colours List for Nine Days: Complete Colour Chart to Celebrate a Sharad Navratri With Dates and Day-Wise Navdurga Puja.
Try these three looks for your garba party and steal the show. Have them waiting to see you and your best friends until next Navratri arrives. Sharad Navratri 2019 Date And Information: Know All About Nine Days of Navratri And Celebrations Related to the Festival.
Classic Winged Eyeliner and Red Lips
 

 

 

 

View this post on Instagram

 

 

 

 
This one's an age-old classic. Nothing beats pitch-black wings and red lips. It had to make it to our list.
How to Get the Look
Go easy on your eyes. Let your winged eyeliner do its thing. Keep your eyelids matte and even-toned. Add a warm, medium brown eyeshadow or bronzer along your crease to add some depth to your eyes. And now the fun part. Get your favourite winged eyeliner and make beautiful, thick and long wings. Add loads of mascara as your lashes will disappear with the dark eyeliner behind. Add your favourite red lipstick.
Bonus Tip: If you want to make your bullet lipstick to last like a liquid lipstick, we've got something for you. Apply your lipstick as usual. Blot it with a tissue and reapply. Seems unnecessary but works. And now when you're done with the second layer, add a thin piece of tissue over your lips and dust translucent powder on top. And Voila! No touch-ups for HOURS!
Gunmetal Eyeshadow
View this post on Instagram
Grey or gunmetal eyeshadows work so well for night time events. They add the drama without being too intense as a black. Going by the colour wheel, grey is among the colours that make every eye colour pop. Although this one is a little tough, we'll guide you through.
How to Get Gunmetal Eyes
Prime your lids. Always prime if you're going out for a long time. Start with a transition shade. If you're going for a shimmer shade in your eyeshadow look, go with the mattes first to get real look. Pick a transition shade of your choice. Once you're done, add some black or matte grey on the outer corners and blend in a V shape, towards the crease. When you blend it to your satisfaction, add the glorious grey/gunmetal shade. Blend it all together with a clean brush and add mascara and lashes.
Gold Eyeshadow
Gold eyeshadow is an Indian festival must. No festival, party or wedding celebration is complete without golden eyelids. The versatile shade looks good on its own and makes every eye look better. The party don't start till gold eyeshadow walks in.
How to Use Gold Eyeshadow
Go wild with this one. Add it as a single shade all over the lids, add this as an inner order highlight or create some dramatic cut crease with it. If you want the gold to pop, add a copper or brown shade on the outer corner and inner corner and add gold in the middle. The halo eye look.
Remember, if you make some tiny mistakes in your look like getting eyeliner in the crease, getting mascara on the cheek, just say "whatever" and enjoy yourself. Makeup is supposed to make you good ONLY. Never get upset over minor makeup errors.