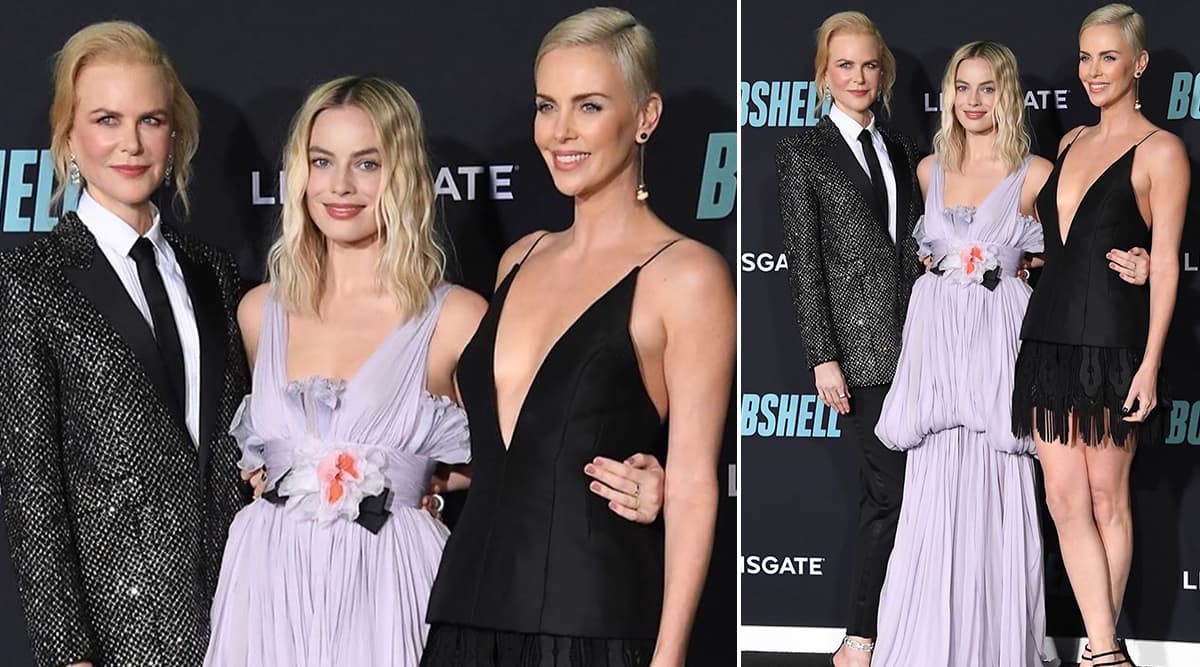 As Margot Robbie gears up to wear her Harley Quinn costume for Birds of Prey next year, she's also looking forward to her third release of 2019. After Dreamland and Once Upon a Time in Hollywood, Robbie will join hands with Charlize Theron and Nicole Kidman for Bombshell - a 'based on true incidents' movie revolving around the most powerful and controversial media empire of all time. The ladies came together for its LA premiers and oh boy, were they a sight for sore eyes! Bombshell Trailer: Charlize Theron, Nicole Kidman and Margot Robbie Say No to Sexism at Workplace and are Up For a Fight With the Bigwigs at Fox News.
While Robbie prefered sticking to red carpet staple gown, Nicole being the senior-most in their league opted for a chic power dressing and Theron settled for a sultry outfit instead. While a sense of daring to their looks was missing, we are clearly in favour of their choices which seem to be apt for the occasion. To study their individual looks in detail, let's scrutinise their styling, one name at a time. Golden Globes 2020 Nominations: 'The Irishman', 'Joker','Knives Out' and Other Big Releases That Dominated the List.
Margot Robbie in Giambattista Valli
Margot Robbie's lavender Giambattista Valli gown was a refreshing change from his recent and endless supply of tulle gowns. Robbie did leave an impact and an effective statement with her recent outing as to how premiere nights don't have to be so restricting when it comes to fashion choices. You can ditch the usual reds and blacks and settle for colour as light as a lavender instead.
Nicole Kidman in Saint Laurent
Nicole Kidman's outfit spoke for her seniority. The perception of formal wear has changed in these recent years and today, it's more about how glamorous you can make it. The designs have certainly given credence to stars who want to celebrate their individuality on Hollywood's different nights.
Charlize Theron in Dior Haute Couture
Charlize Theron's outfit is a perfect example of something being sultry but not gimmicky. There's a thin line between these words when you select an outfit and Theron was, well, perfect in every way. Her black Dior outfit was a show-stealer and a perfect attempt to resonate with the movie's title.