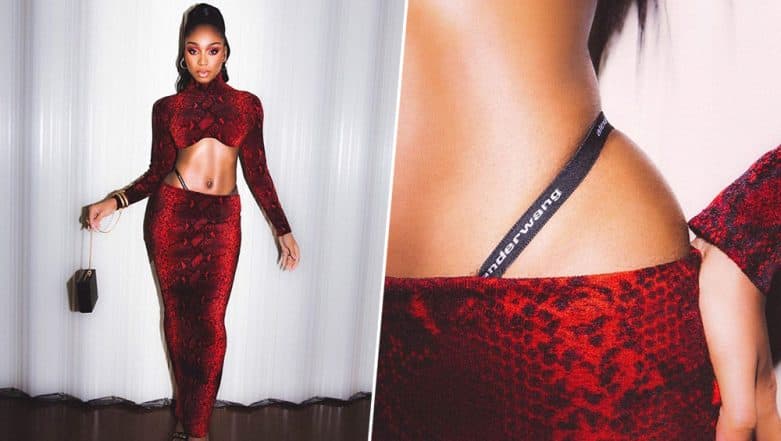 Normani has been ruling the music industry ever since she came out as the Beyonce of Fifth Harmony. Move over, Camila! While Normani is known for her energy-packed performances and killer music, we can't help but notice her style. The former all-girl band member has been bringing back a few trends and one of them being the exposed thongs trend. We all remember celebrities like Britney Spears, Christina Aguilera and Paris Hilton showing up EVERYWHERE with their thong strong sticking out on their hips. And now, we see celebs like Alexa Demie, Normani, Hailey Bieber are wearing the exposed thong trend. Camila Cabello and Shawn Mendes Take Their PDA to the VMAs and Twitter Is Done with Them!
Normani is the newest celeb but yet, the most influential celebrity to have her thongs peep out. A lot of things from the 2000s have come back. We all thought this was the year of the 80s but who would've guessed we were a little advance that that? We've got the satin dresses and tops, and now the exposed thong. Yo or Hell No! Hailey Baldwin in Summery Green Ginham Top and Pants.
Normani with Exposed Thong
View this post on Instagram
She's absolutely killing this look and we have nothing else to say! Wow. Just wow!
Continues
View this post on Instagram
Tell me this isn't giving you 2000s vibe with the bright colours and g-string!
FLAW-LESS!
View this post on Instagram
Normani is serving some seriously sexy looks and we can't keep up! Neither we, nor her followers.
Hailey Bieber
View this post on Instagram
One of the most popular thong looks of the decade goes to Mrs Bieber. We all remember her logomania Alexander Wang Thong for her Met Gala look
Alexa Demie
View this post on Instagram
Euphoria actress, Alexa Demie also joined the craze. The studded thongs add a different vibe. It could be called an Instagram mood look.
Personally, we are totes here for it. The exposed thong trend is one of the best things to happen to fashion and we cannot complain even for a second. Ladies, keep doing that. It's straight-up fire!