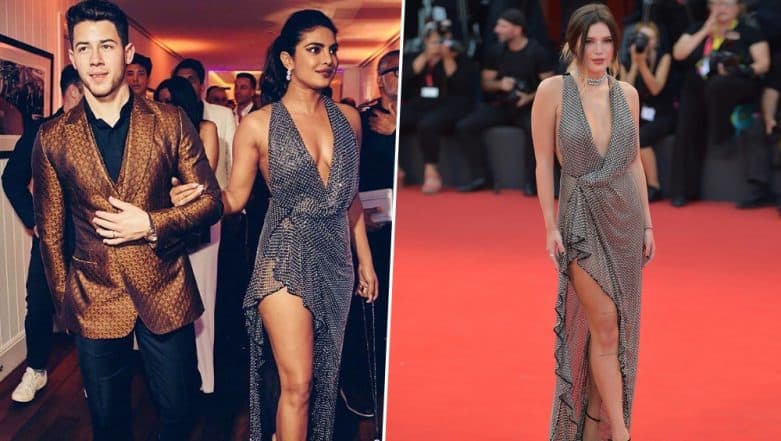 Priyanka Chopra Jonas and Bella Thorne are twinning. The two ladies wore a metallic stud mesh asymmetric gown designed by Lorenzo Serafini for two different occasions. While Priyanka wore the dress for Cannes back in May of 2019, Bella Thorne opted for the dress for the Venice Film Festival. Both Bella and Priyanka styled the gown in their own way, but we wonder who wore it better. The Venice Film Festival is on fire with celebrities showing off their best looks. Farrah Abraham Goes Commando and Faces Wardrobe Malfunction on the Venice Film Festival Red Carpet.
Bella Thorne showed up with her boo for the Venice Film Festival wearing something we've seen before. Priyanka Chopra Jonas wore the same, exact gown as she attended the Cannes Festival with Nick Jonas, back in May 2019. The two actresses looked stunning in the dress. Bella added glitz and glam to the red carpet with her crystal and metallic studs gown. We even got to see some more PDA by Bella and Benjamin Mascolo at the event. Priyanka Chopra or Dakota Johnson - Who Nailed this Orange Jumpsuit Better? Vote Now.
Priyanka Chopra Jonas at the Cannes Film Festival, 2019
View this post on Instagram
Bella Thorne at the Venice Film Festival
View this post on Instagram
Priyanka Chopra styled the grown with black leather pumps. Bella opted for strappy sandals with the dress and dishevelled hair. While Priyanka switches up her hair for almost every event, Bella likes to stick to her standard hair and doesn't do much. Priyanka Chopra Jonas added dangling diamond earrings to complete the look, and the Life of a Wannabe Mogul: Mental Disarray author chose a chain choker which is so her brand. One went for an elegant look while one kept maintained her rocker-chic persona. Who wore it better according to you? Do you like Priyanka's take on the dress or do you like Bella's twist? Vote below.
Who Wore It Better- Priyanka or Bella?