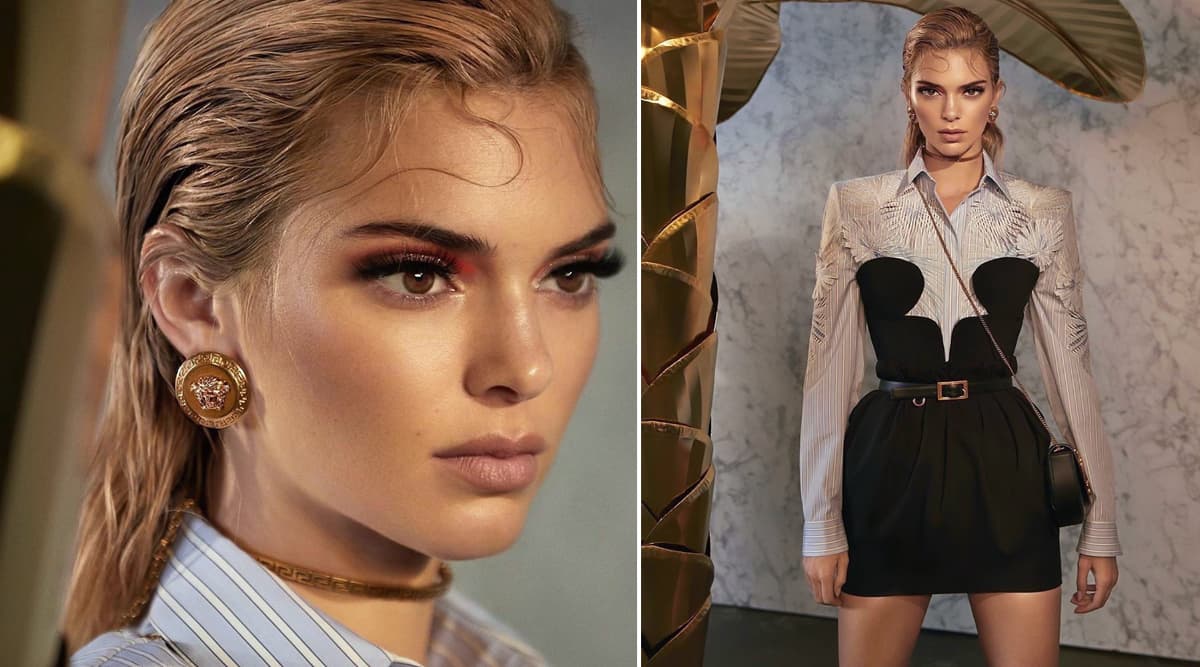 Kendall Jenner reunited with her best friend Gigi Hadid as they came together to walk for Versace for the Milan Fashion Week. The luxury, beauty brand displayed their summer spring 2020 collection at the event, and supermodels like Kendall Jenner, Gigi Hadid, Kaia Gerber, Irina Shayk, and Bella Hadid walked for the brand. They even got Jennifer Lopez on the ramp. JLO modelled in her infamous Jungle Dress in all its glory. The event turned out to be iconic and star-studded. Kendall Jenner managed to catch eyes with her freshly coloured blonde hair. Yes, we said fresh because we're not used to it yet! Emmys 2019 Worst-Dressed: Kendall Jenner, Maisie Williams and Gwendoline Christie Disappoint with their Fashion Picks (View Pics).
Kendall wore a Versace dress with a shirt tucked in. It was similar to what Kaia Gerber also wore. The top had palm tree-like flower stuck to random parts. The shoulder pads made Kendall's beautifully broad shoulders pop. The dress has a belt on the waist, but it's not quite clear where the flare begins. Instead, it's just shabbily added to the outfit to give it a formal look. All we can think of is the obnoxiously gigantic belts everyone wore on their waists in the early 2000s, even though the belt Kendall is wearing is dainty. Emmys 2019: Kendall Jenner Goes Back To Being A Brunette After Rocking Blonde Locks At the Awards Show - View Pics.
Kendall Jenner for Versace #SS2020 at the Milan Fashion Week
View this post on Instagram
Her makeup is very cool-toned. Her bronzer and her lipstick look almost grey. Tough to spot that since the first thing we see is the massive pair of lashes. And if you do miss the lashes, her earrings are here to grab your attention. The gold earrings have logomania over them just like the bag she's carrying.
What are your thoughts on Kendall Jenner's look for Versace in the Milan Fashion Week? Vote and let us know.
Yo or Hell No? Kendall Jenner for Versace