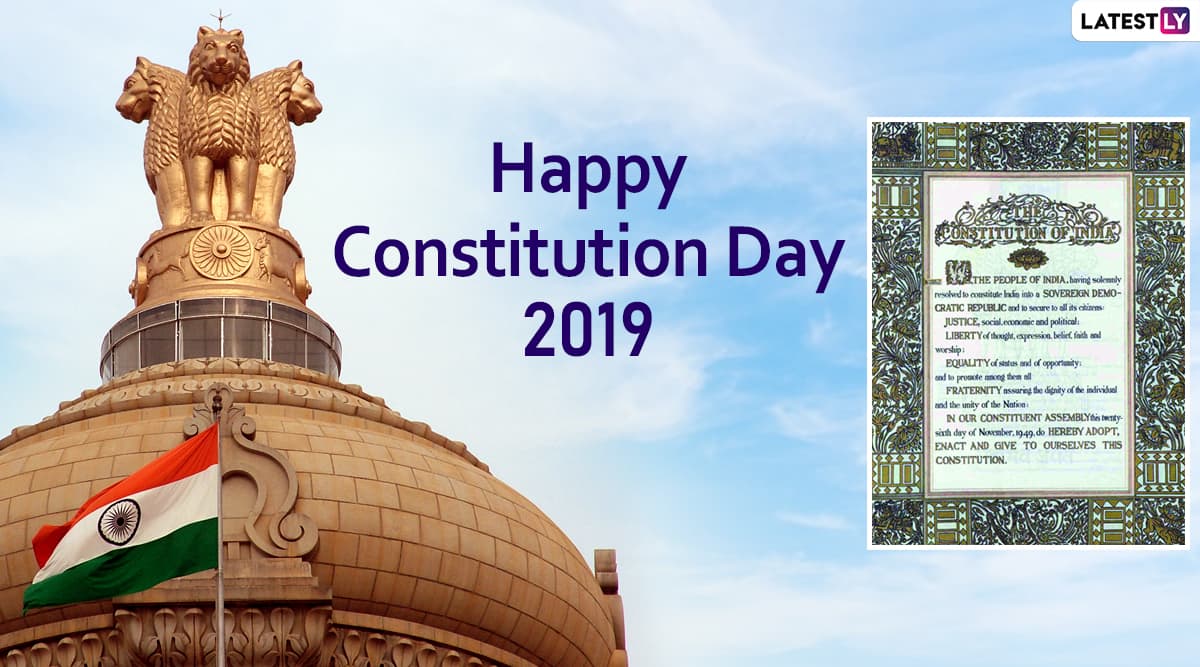 Constitution Day, also known as Samvidhan Diwas, is an annual celebration that is observed on November 26, in India. Samvidhan Diwas marks the day when the Constitution of India was adopted and highlights the significance of the Indian Constitution and its role in running the country. This celebration has been into practice since 2015 and is also referred to as National Law Day. Indians share Constitutional Day wishes, Samvidhan Diwas messages in Hindi, Facts on the Indian Constitution as Gifs, Facebook Status Pictures and WhatsApp Stickers to celebrate this day. Constitution Day of India 2019: Date, Significance and History of Samvidhan Divas As Country Celebrates 70 Years of Its Constitution.
On November 26, 1949, the Constituent Assembly of India adopted the Indian constitution, which later came into effect on January 26 (Republic Day). Constitution Day celebrations in India are incomplete without remembering and celebrating the Father of the Constitution of India, Dr BR Ambedkar. The announcement of celebrating November 26th as India's Constitution Day was, in fact, made on the 125th birth anniversary of the year of Balasaheb Ambedkar in 2015. This announcement was made by Indian Prime Minister Narendra Modi while laying the foundation stone for an Ambedkar memorial at the Indu Mills compound in Mumbai. Constitution Day 2019: Indian Constitution Completes 70 Years; Here Are Lists of Fundamental Rights And Duties That Citizens Have.
Constitution Day is not a public holiday in India. The celebrations mainly involve reading the preamble of the Indian Constitution and increasing awareness about the policies, advocacies, rights and laws that have been drafted in the Indian Constitution by notable leaders. Considering the new age of social media, people also take this opportunity to share facts about the Indian Constitution as Samvidhan Diwas special messages, WhatsApp Stickers and Facebook Status Pictures. On this important day, here are some Constitution Day wishes and messages that you can share with your friends and family.
Constitution Day Wish: Constitution isn't a symbol that requires empty celebrations. It requires adherence to constitutionalism. Happy Constitution Day 2019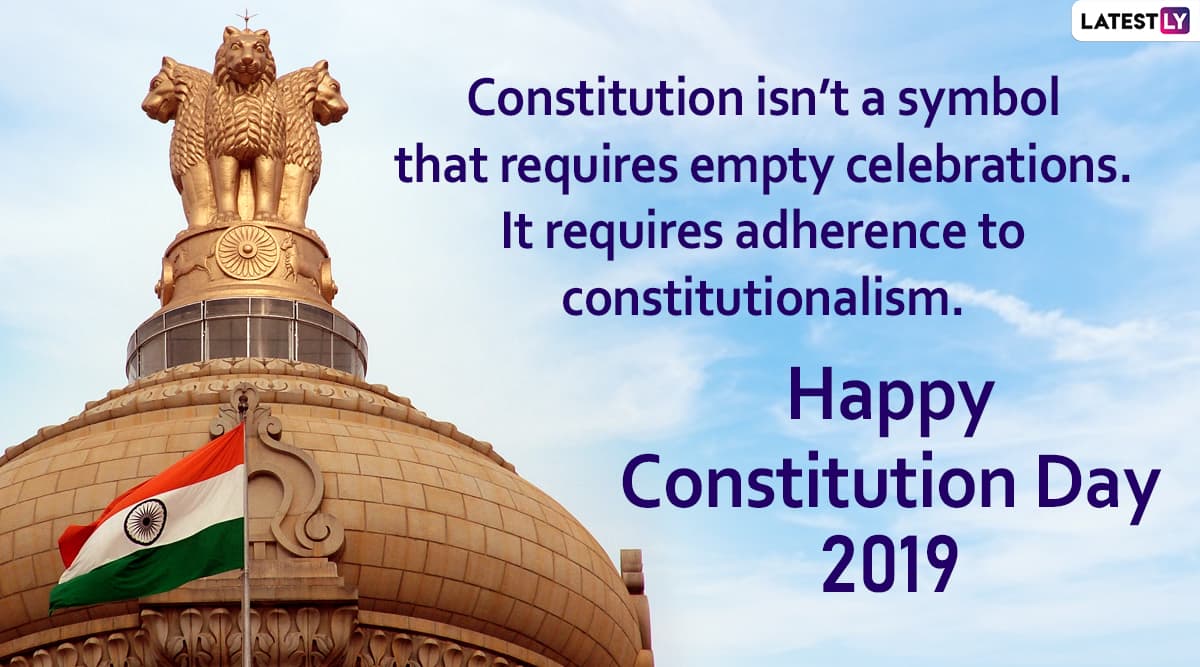 Constitution Day Wish: "Constitution is not a mere lawyers document, it is a vehicle of life and its spirit is always the spirit of the age." Dr BR Ambedkar. Happy Constitution Day 2019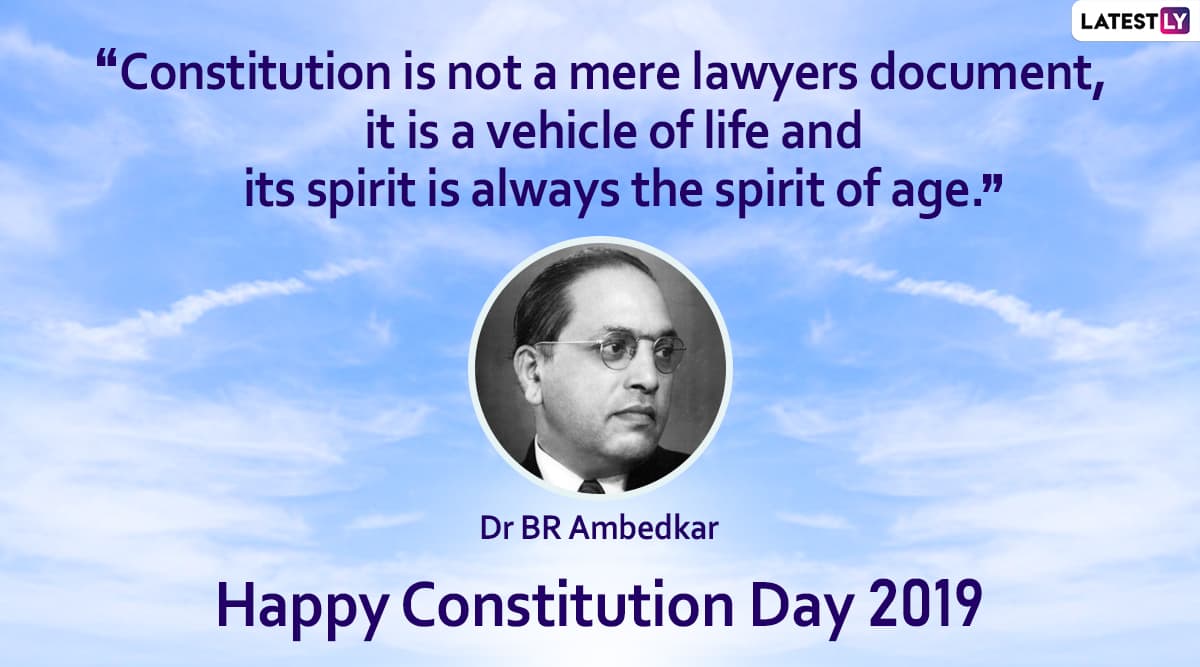 Constitution Day Wish: On this day in 1949, India's Constituent Assembly adopted our Constitution. Happy Constitution Day 2019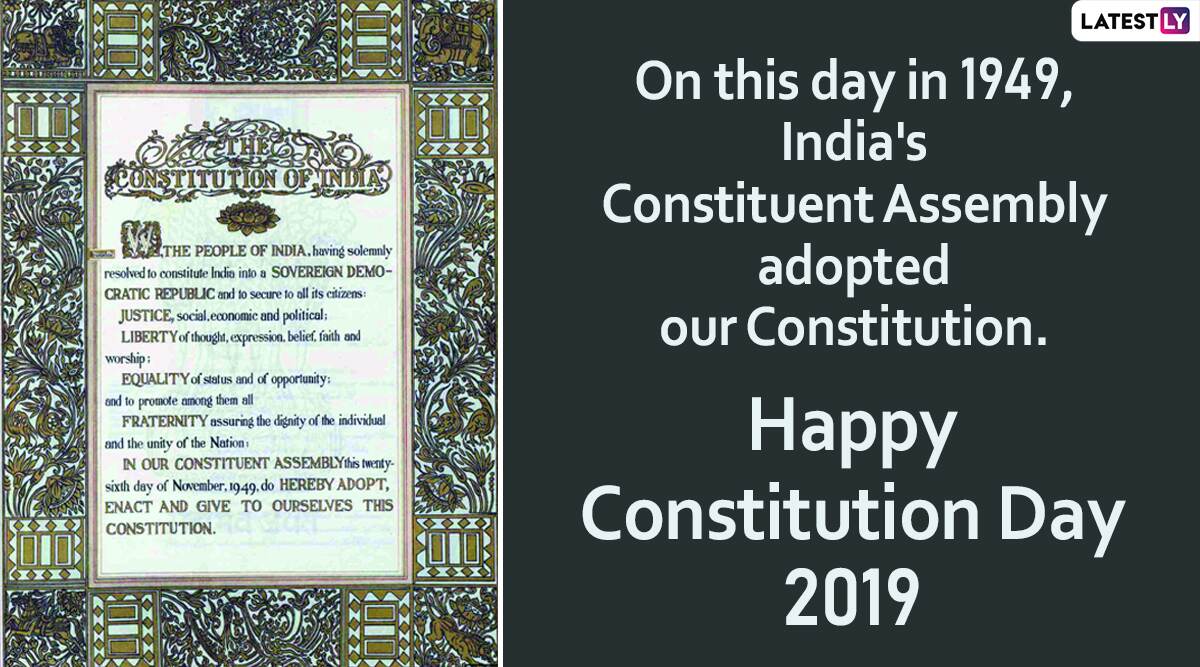 Constitution Day Wish: Constitution is a sacrosanct document for our democracy. Happy Constitution Day 2019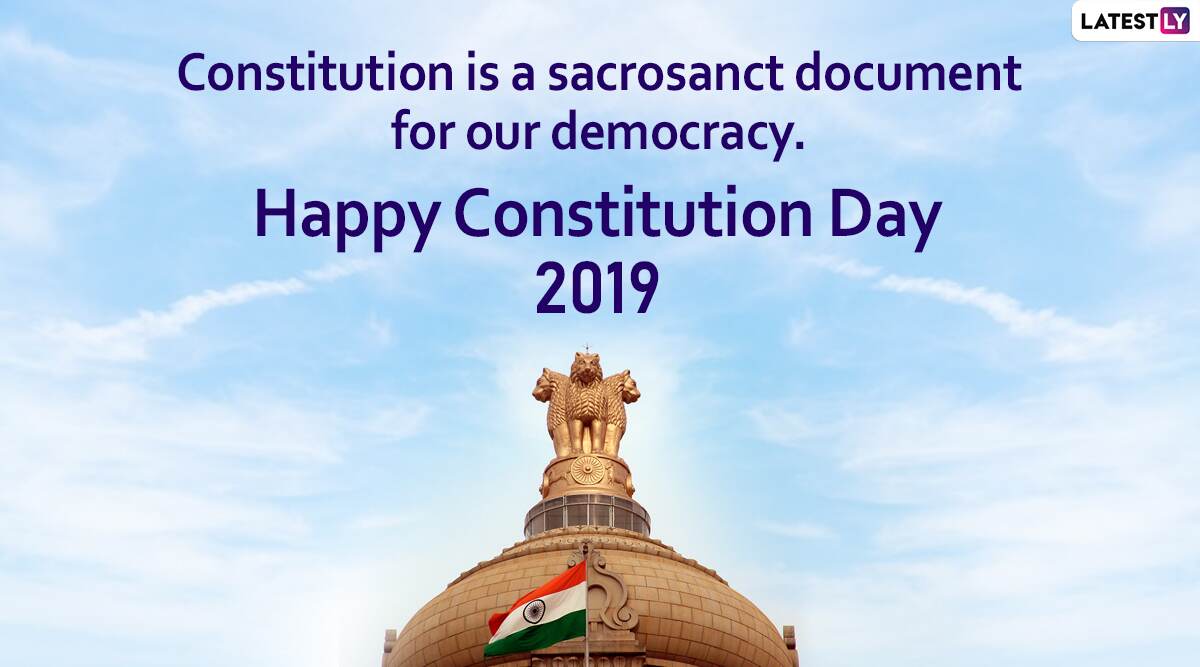 Constitution Day Wish: Constitution provides JUSTICE, social, economic and political; LIBERTY of thought, expression, belief, faith and worship; EQUALITY of status and of opportunity; and to promote among them all and FRATERNITY assuring the dignity of the individual and the unity and integrity of the Nation. Happy Constitution Day 2019
Constitution Day celebrations in schools and colleges also involve special quizzes and games that educate students about the actual content of the Indian Constitution and highlight its significance and role in making India the country it is. The Constitution of any country is the stepping stone on everything from policies that they need to focus on the rights that its citizens have and of course the laws that govern the states. It is, therefore, immensely important to take this day as an opportunity to pull up our sleeves and actually begin educating ourselves on what the Indian Constitution and the leaders behind it envisioned for our country post-independence. LatestLY wishes its readers in India a Happy Constitution Day!