It is November 7, 2018, morning aka Diwali morning! While Lakshmi Puja shubh muhurat is for the evening,  there are a few important works we have to do during the daytime. One of them being - making beautiful rangoli designs. Rangoli is an ancient art form, wherein people create beautiful patterns on the floor with different things such as coloured powders, pulses, and flowers. Today, let us look at simple Rangoli design images for Diwali 2018 made with marigold flowers. If you are searching for Rangoli designs 2018, Rangoli designs images for Diwali 2018, Rangoli designs easy, Rangoli designs Rangoli designs with flowers images, and Rangoli designs with flowers and having traditional themes, you have landed at the right page. We have listed down a number of DIY videos for you to watch and learn on how to make Rangoli patterns with marigold flowers. Diwali 2018 Rangoli Designs: Easy-To-Make Colourful Rangoli Patterns at Home (See Pics & Watch Video Tutorials).
Marigold flowers hold a significant place in Hinduism. No religious festival or auspicious occasion is complete without the use of marigold. The big yellow-orange flowers commonly known as 'genda' in Hindi is used to make garlands for idols, and also offered to the deities. Then they use it with mango leaves to make toran, a holy garland tied at the main entrance of a house. Marigold is also commonly used to make Rangoli, and there are few reasons for it – flowers are easily available and are easy to create simple and beautiful Rangoli designs. Making Rangoli patterns with marigold flowers is hassle-free compared to making with coloured powders. You do not have to be an expert in rangoli making because using marigold along with diyas and other flower petals, and you can make a beautiful rangoli this Diwali 2018. Diwali 2018 Calendar With Dates in India: When Is Dhanteras, Lakshmi Puja, Govardhan Puja and Bhai Dooj? Get Complete Deepavali Holiday Dates.
Here are samples of swastika Rangoli designs with marigold flowers, Diwali Rangoli designs 2018, Rangoli design for Diwali, Rangoli designs for Diwali with flowers and diyas, Rangoli designs 2018 latest images, Rangoli designs with marigold flowers, Rangoli with marigold flowers, marigold flower Rangoli design, and Rangoli designs images latest 2018 download.
Marigold Flower Rangoli – How to Make Rangoli With Flowers
Swastik Rangoli Design With Marigold Flowers
Rangoli Designs 2018 Latest Images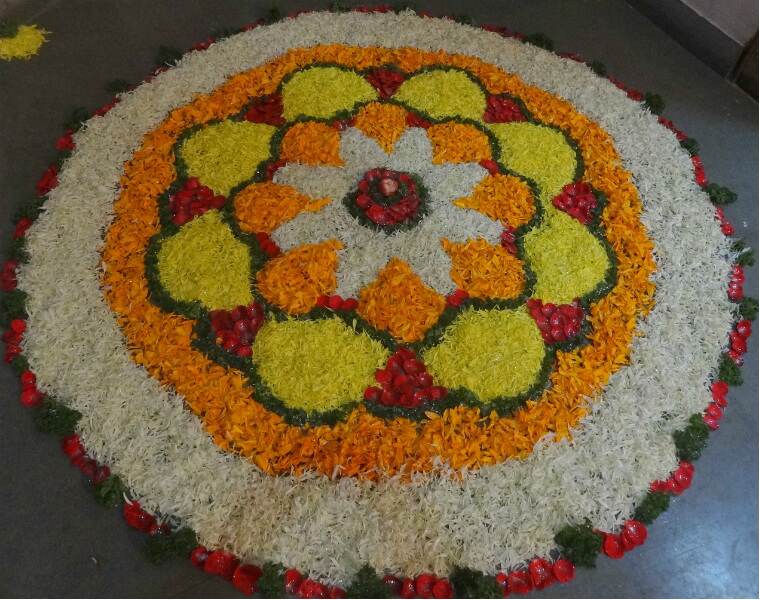 Rangoli Design With Marigold Flowers and Diya
Rangoli Designs for Diwali With Flowers and Diyas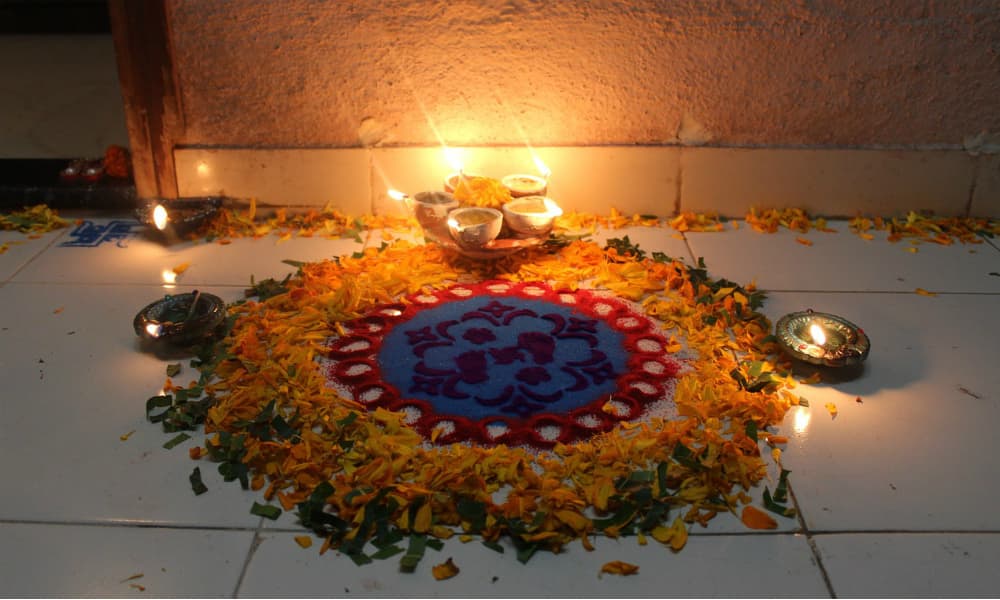 Simple Flower Decoration As Rangoli for Diwali
Very Simple Marigold Flower Rangoli design
So these were some options you can try if you are looking to create rangoli with marigold flowers. We had also mentioned different rangoli patterns, one can make with coloured powders or sand. Make these colourful rangoli designs to welcome Goddess Lakshmi ahead of Lakshmi Puja on Badi Diwali. Wishing all our readers and everyone, a very Happy and Prosperous Diwali 2018.