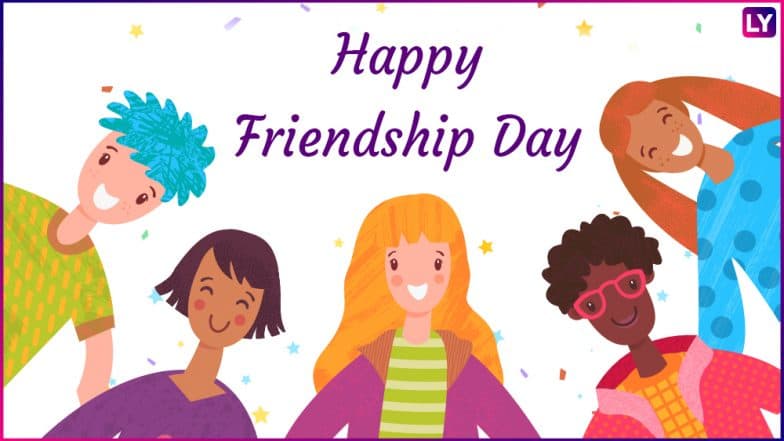 This quote on friendship by SE Hinton will set up your Friendship Day - "If you have two friends in your lifetime, you're lucky. If you have one good friend, you're more than lucky.". The words of American writer could not be more true. Friendship only gets better with time with individuals looking forward to hundreds of new memories while cherishing the old ones. To celebrate these special relationships, International Friendship Day is annually observed on the first Sunday of August. This year, Friendship Day 2018 falls on August 5. While we do not express our feelings and gratitude towards our best friends every day, Friendship Day can be a pleasant exception. We have made a collection of Friendship Day 2018 wishes, SMSes, greetings with GIF images, colourful messages both can be sent or kept as WhatsApp and Facebook statues on this special day.
Life would be incomplete without having friends by our side. The relation of a friendship is one of the most vital contributions to an individual's growth. We do realise the importance of friends in our lives time and again, but a day to honour the 'friendships' remains special. Friendship day, a day to express your love for your friends has always been celebrated with so much enthusiasm. Right from school going children to the ones busy working today, do have some excitement about this day. Remember selecting all friendship bands and then counting who got more friendship bands? We even put in efforts to make friendship bands at home for our best friends. Friendship day 2018 will be celebrated on August 5, the first Sunday of the month.
Our friends become our family as we spend more and more time with them. But we fail to appreciate them as much in our constantly busy lives tied around our work. You may not really celebrate it like a few years ago, but there is definitely some nostalgia associated with the day. As most of us are constantly on our phones these days, you can send across friendship day quotes and messages to greet your best-friends on this special day. And you never know, your one simple wish can make their day. So go ahead, send them these love-filled messages!
Friendship Day 2018 Messages To Send To Your Best Friends
WhatsApp message reads: FRIENDSHIP is like a tree...
It is not MEASURED on how TALL it could be,
but is on how DEEP the ROOTS
HAVE GROWN... HAPPY FRIENDSHIP DAY!!!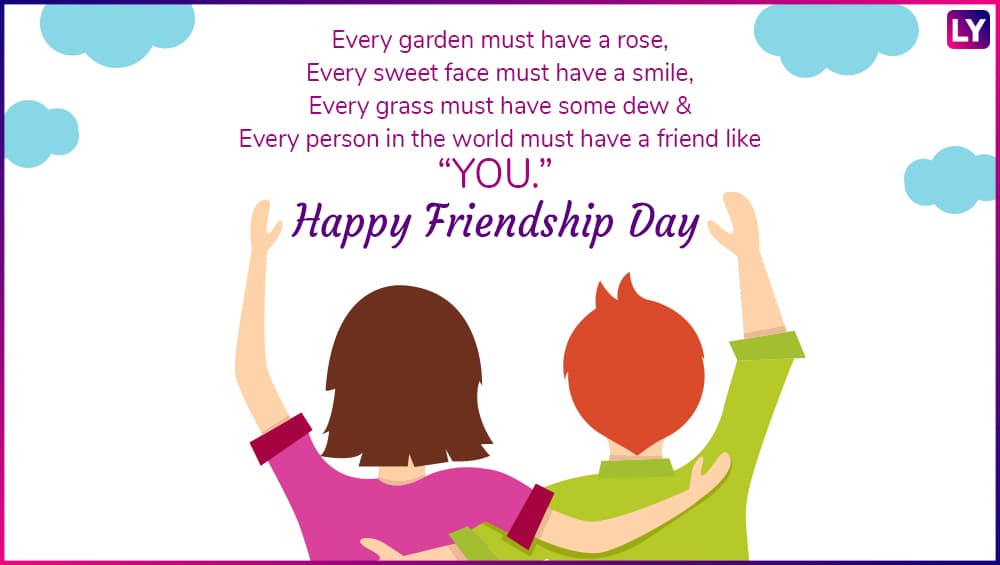 WhatsApp message reads: Every garden must have a rose, Every sweet face must have a smile, Every grass must have some dew & Every person in the world must have a friend like "YOU."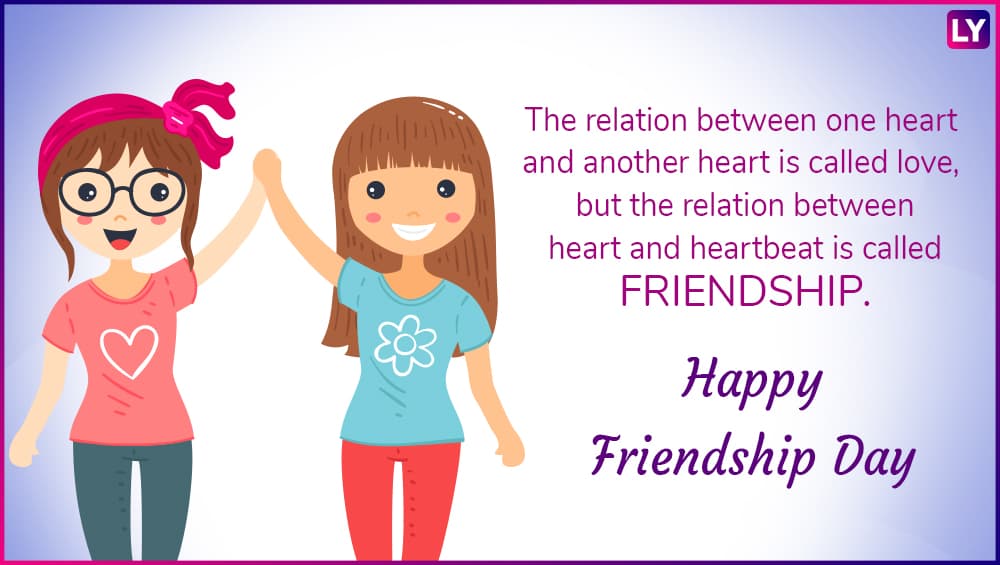 WhatsApp message reads: The relation between one heart and another heart is called love, but the relation between heart and heartbeat is called Friendship. Happy Friendship Day!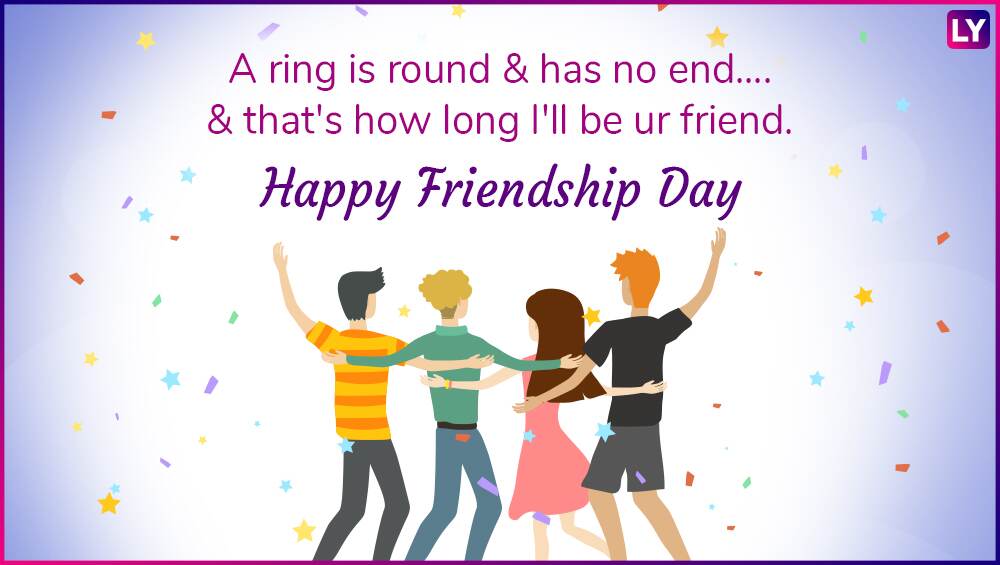 WhatsApp message reads: A ring is round & has no end... and that's how long I'll be ur friend.
Happy Friendship Day.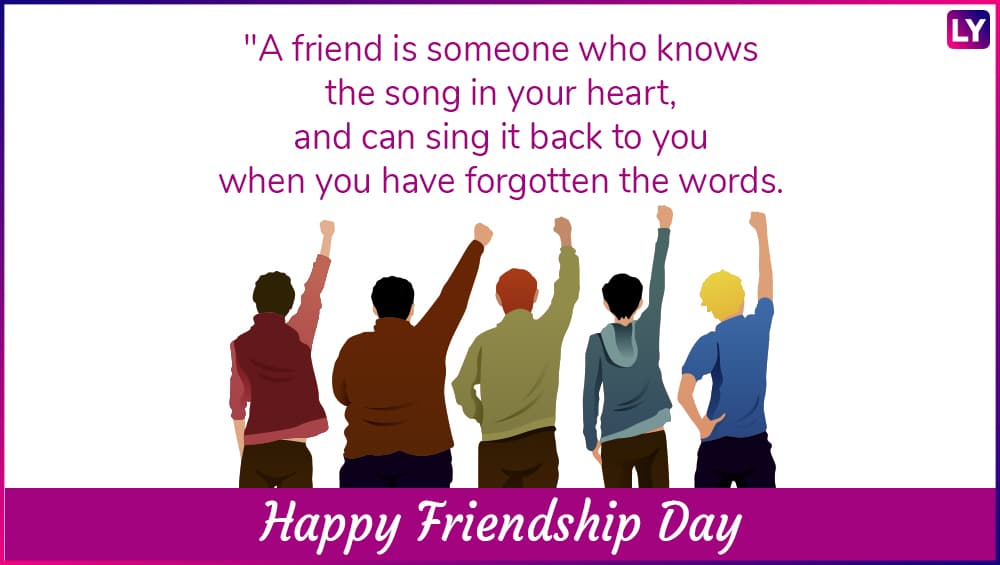 WhatsApp message reads: A friend is someone who knows the song in your heart, and can sing it back to you when you have forgotten the words.
Happy Friendship Day!"
Happy Friendship day GIFs
GIF for your friend who is an animal lover
GIFs for your Special Friend
You can send out these messages to your friends and tell them how important they are to you. We are too tied up otherwise and fail to express how much our friends mean to us. On this day, make it a point to send them love-filled messages and make them feel good. Wish you all a Happy Friendship Day!