Ganpati Visarjan 2023 will be observe on Thursday, September 28th. in Mumbai and many other parts of India, it is not just a religious event but also a cultural extravaganza, showcasing the diversity and vibrancy of the country. Elaborate idols of Lord Ganesha are installed in homes, public pandals (temporary structures), or community centres. The idols are crafted with great detail and artistic flair. Throughout the ten-day festival, daily rituals and pujas (prayer ceremonies) are performed to honour Lord Ganesha. Patoli Ingredients and Recipe for Ganeshotsav 2023: How To Make Patoli As Prasad for Lord Ganesha (Watch Video).
Devotees offer various items like flowers, fruits, sweets, and incense to the deity. Cultural programs, music, dance, and other forms of entertainment are organized in many areas to celebrate the occasion. As you celebrate Ganesh Visarjan 2023, we at LatestLY, have bought together a collection of energetic slogans that you can download and share with all your loved ones on this festive day.
On the final day(s) of the festival, there are grand processions carrying the Ganesha idols through the streets. These processions are accompanied by music, dancing, and enthusiastic devotees. The processions culminate at various immersion points, such as rivers, lakes, ponds, or the seashore. Devotees gather at these locations to bid farewell to Lord Ganesha. Before immersion, final prayers are offered, and devotees sing devotional songs, seeking the blessings of Lord Ganesha. It is an emotional moment as people say goodbye to the beloved deity. Here is a wide range of collection of slogans that you can chant and add energy to the atmosphere as you celebrate Ganesh Visarjan 2023. Ganpati Bappa Morya Images, WhatsApp Status, DPs, Quotes & Lord Ganesha Chants To Send on Immersion Day
Happy Ganesh Visarjan 2023 Greetings: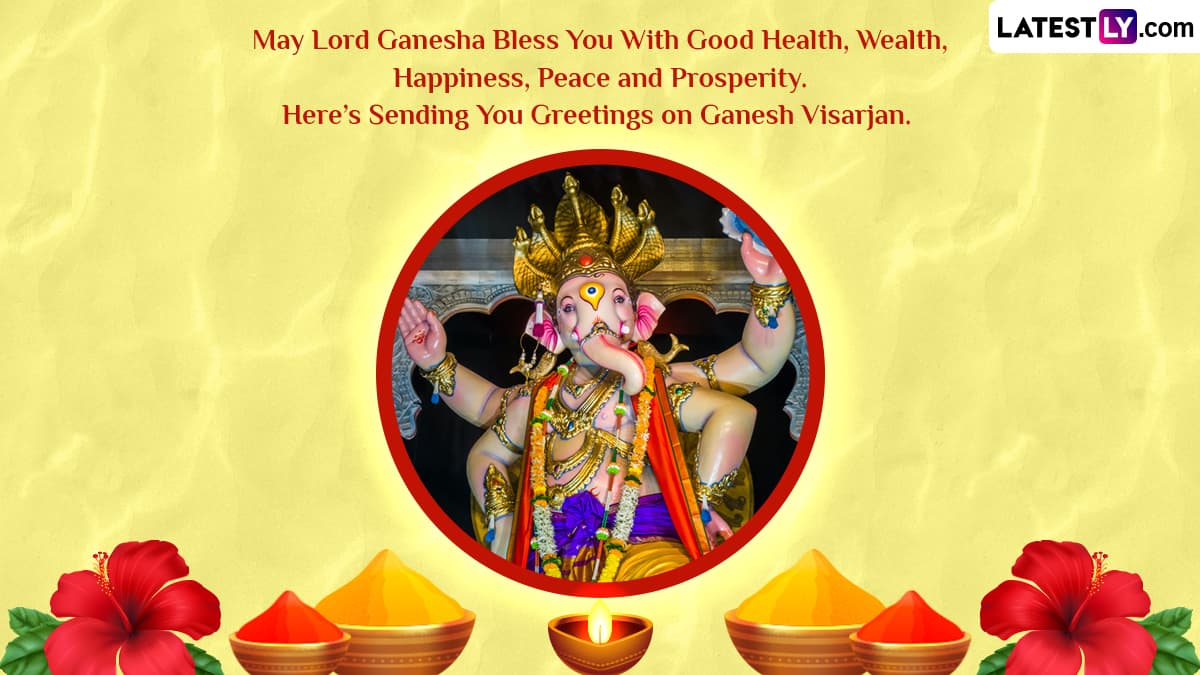 Image Reads: May Lord Ganesha Bless You With Good Health, Wealth, Happiness, Peace and Prosperity. Here's Sending You Greetings on Ganesh Visarjan.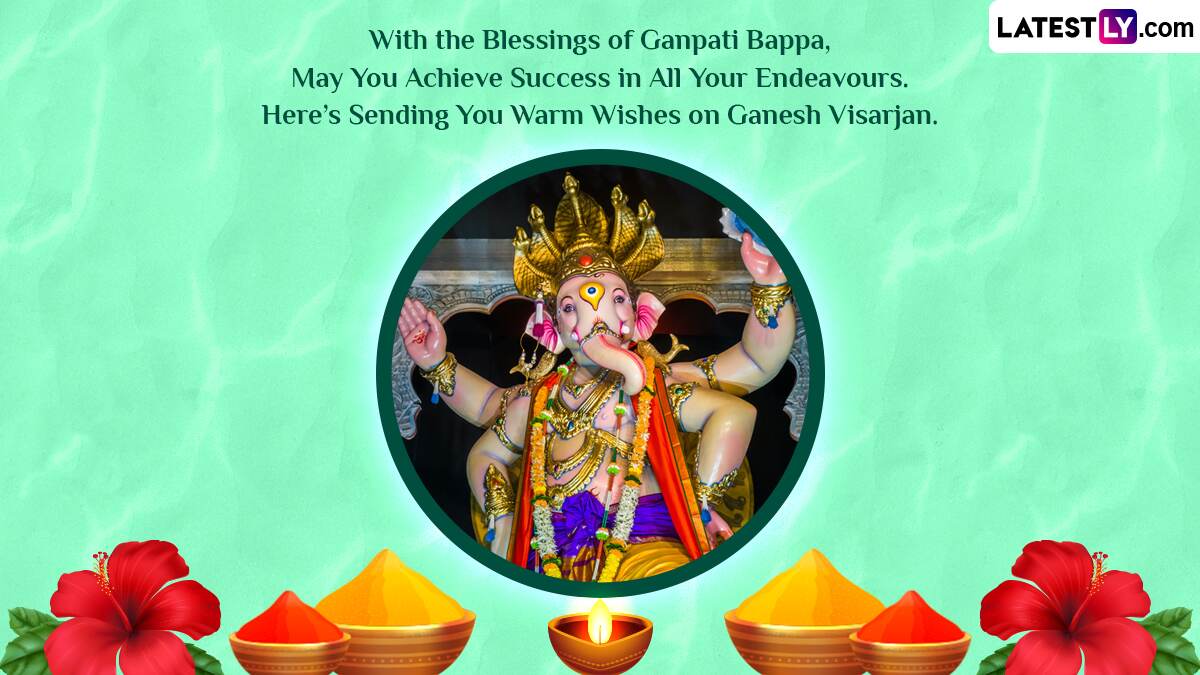 Image Reads: With the Blessings of Ganpati Bappa, May You Achieve Success in All Your Endeavours. Here's Sending You Warm Wishes on Ganesh Visarjan.
Image Reads: Extending My Heartfelt Wishes and Best Greetings on the Auspicious Occasion of Ganesh Visarjan. May Lord Ganesha Guide You During All the Ups and Downs of Life.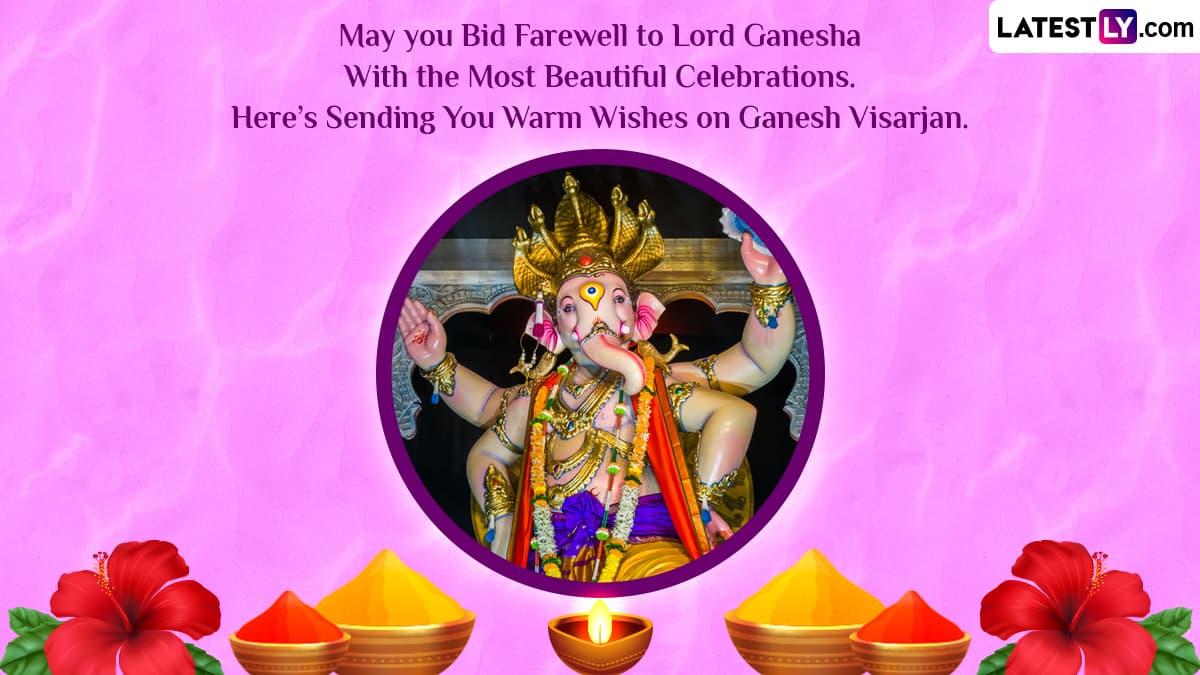 Image Reads: May you Bid Farewell to Lord Ganesha With the Most Beautiful Celebrations. Here's Sending You Warm Wishes on Ganesh Visarjan.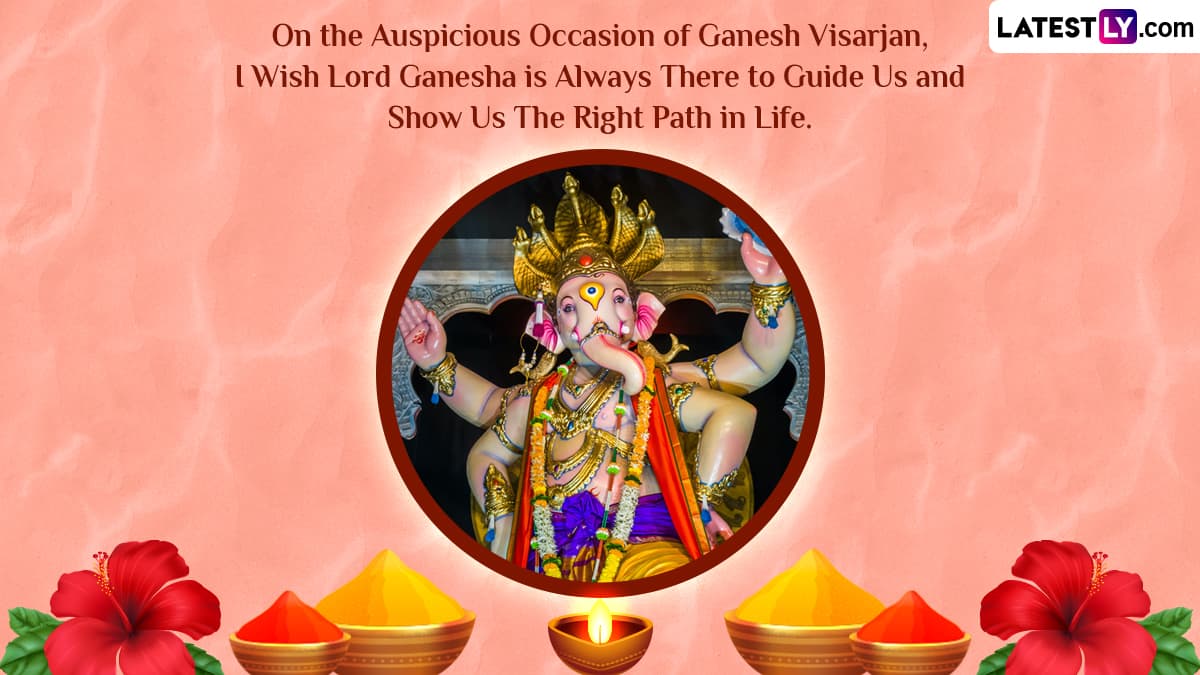 Image Reads: On the Auspicious Occasion of Ganesh Visarjan, I Wish Lord Ganesha is Always There to Guide Us and Show Us The Right Path in Life.
In recent years, there has been a growing emphasis on eco-friendly Ganesha idols made from natural materials like clay. Additionally, efforts are made to reduce water pollution by using eco-friendly materials for decoration and adopting responsible disposal practices. The immersion of the idols symbolizes the cycle of creation and dissolution and is a deeply spiritual and joyful occasion for devotees.
Wishing everyone Happy Ganesh Visarjan 2023!
(The above story first appeared on LatestLY on Sep 28, 2023 08:39 AM IST. For more news and updates on politics, world, sports, entertainment and lifestyle, log on to our website latestly.com).