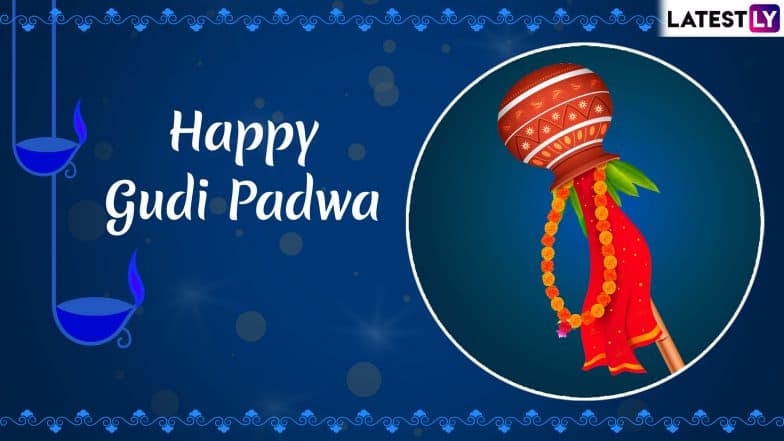 It is time to be in full spirits and turn up to your best self, as Gudi Padwa is right around the corner. There is nothing to shy off or even hold your excitement because Gudi Padwa also spelt as Gudhi Padwa or Marathi New Year's early preparation is the most awaited time of the Hindu festivity. Hence, the enthusiasm is too real. The vibrant festival, Gudi Padwa 2019 falls on Chaitra Shukla Pratipada, the first day of the bright fortnight of the Hindu lunar month of Chaitra. As the Marathi New Year 2019, is fast approaching, the tradition of sending advance Gudi Padwa greetings has become significant. In this article below, we have accumulated Gudhi Padwa 2019 wishes and images, along with some super handy GIFs that you can use in advance with no regrets and share them with your dear ones through Facebook, WhatsApp and other social media platforms. Date, Significance & History; Here's Everything You Should Know About Sindhi New Year. 
Gudi Padwa is a springtime festival that marks the traditional new year for Marathi Hindus. Gudhi means flag, erect flag on the houses as part of the celebration. The word, 'Padwa' is derived from the Sanskrit word, 'Pratipada', which refers to the first day of a lunar fortnight. This year, Gudi Padwa or Marathi New Year will be celebrated on April 6, and the early preparations of the festivity can be seen in every corner; especially in Maharashtra. Since, the advance merriment has begun, share these 2019 Gudi Padwa greetings and make this Marathi New Year, another wonderful time to cherish a lifetime. WhatsApp Stickers, SMS, Durga Devi Photos, GIF Images and Messages to Send Happy Navratri Greetings in Advance. 
WhatsApp Message Reads: This Gudi Padwa, may you be blessed with good fortune as long as Ganeshji's trunk, wealth and prosperity as big as his stomach, happiness as sweet as his ladoos and may your trouble be as small as his mouse. Happy Gudi Padwa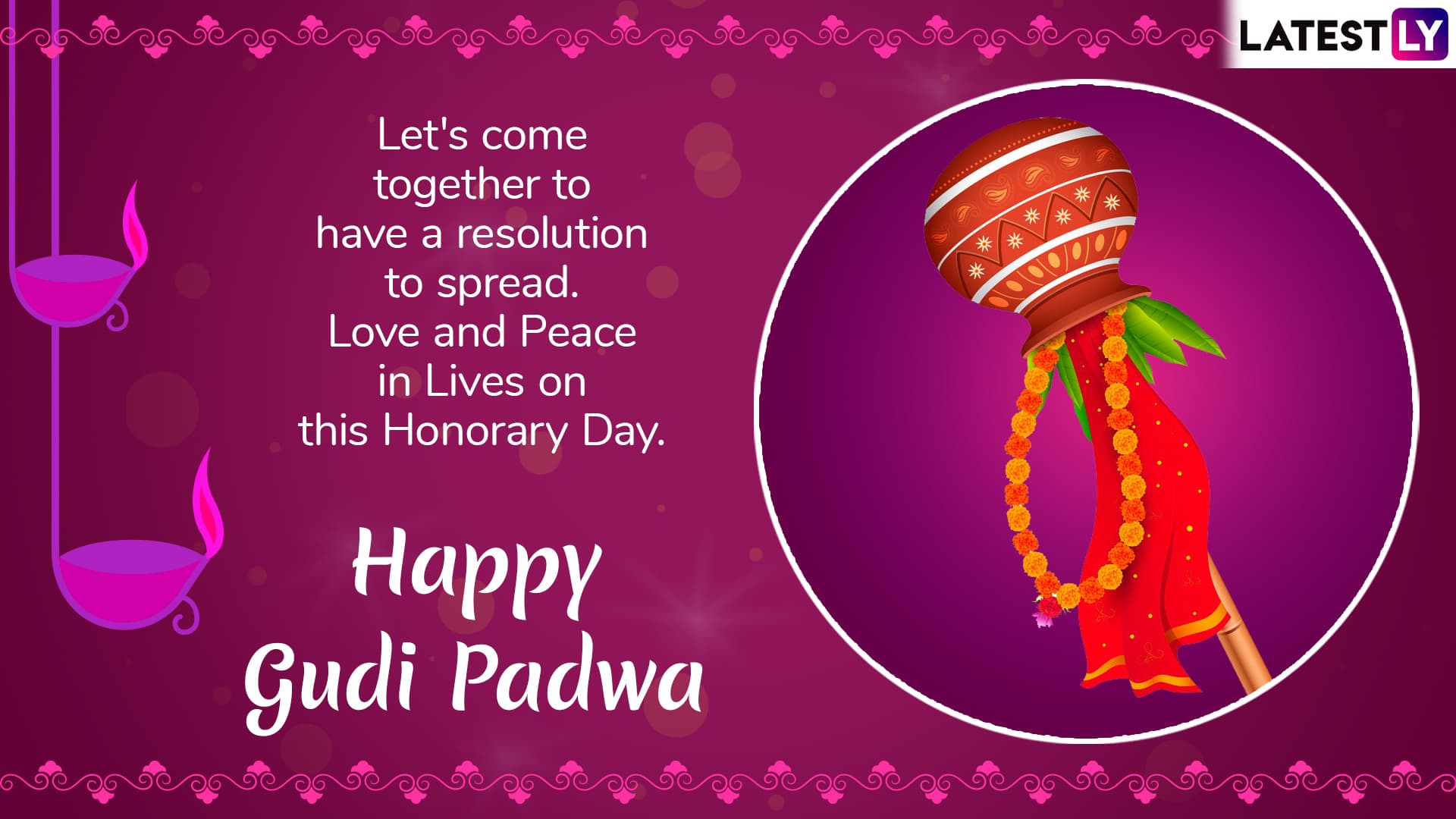 WhatsApp Message Reads: Let's come together to have the resolution to spread. Love and peace in lives on this honorary day. Happy Gudi Padwa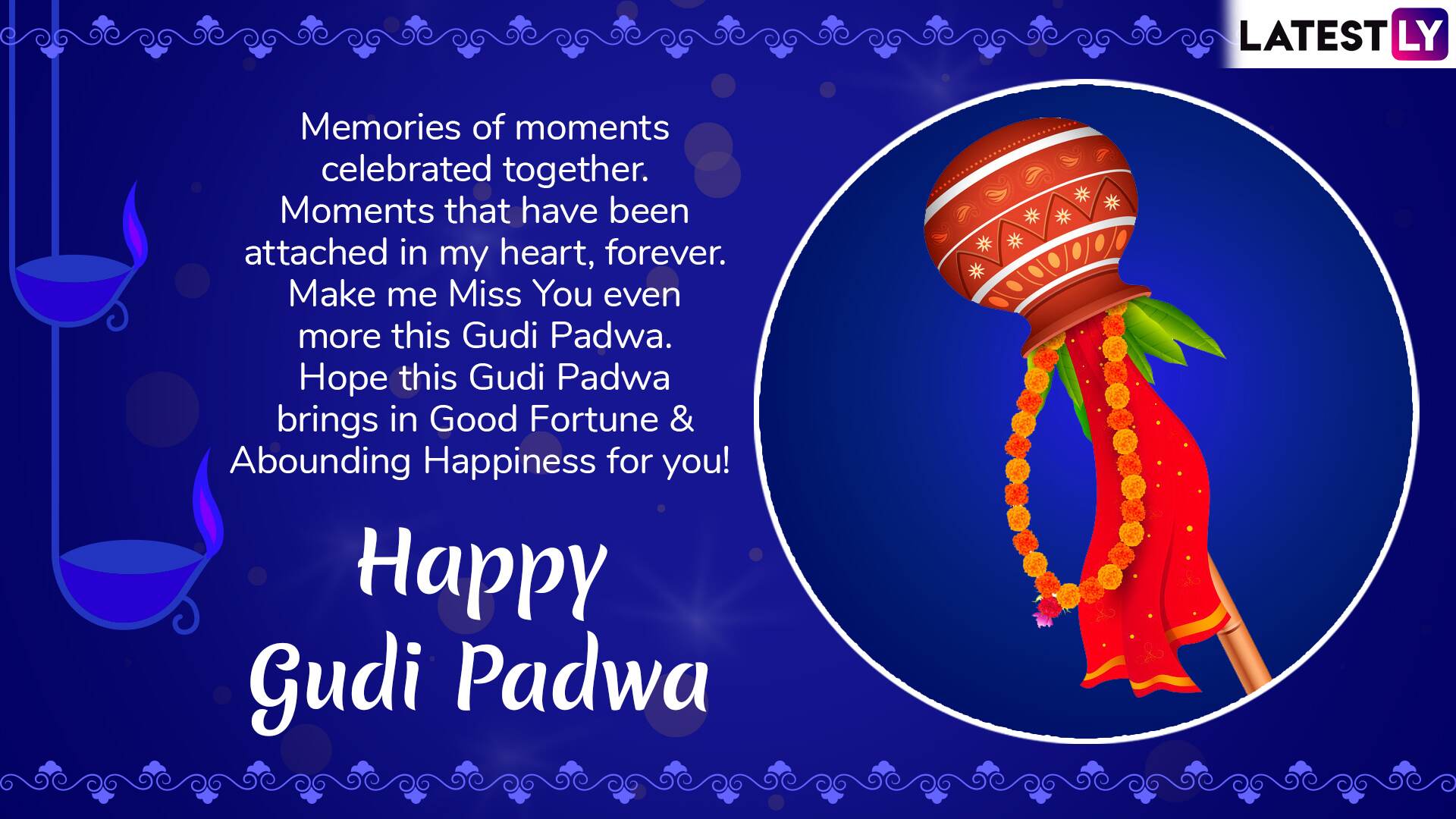 WhatsApp Message Reads: Memories of moments celebrated together. Moments that have been attached in my heart, forever. Make me Miss You, even more, this Gudi Padwa. Hope this Gudi Padwa brings in good fortune & abounding happiness for you! Happy Gudi Padwa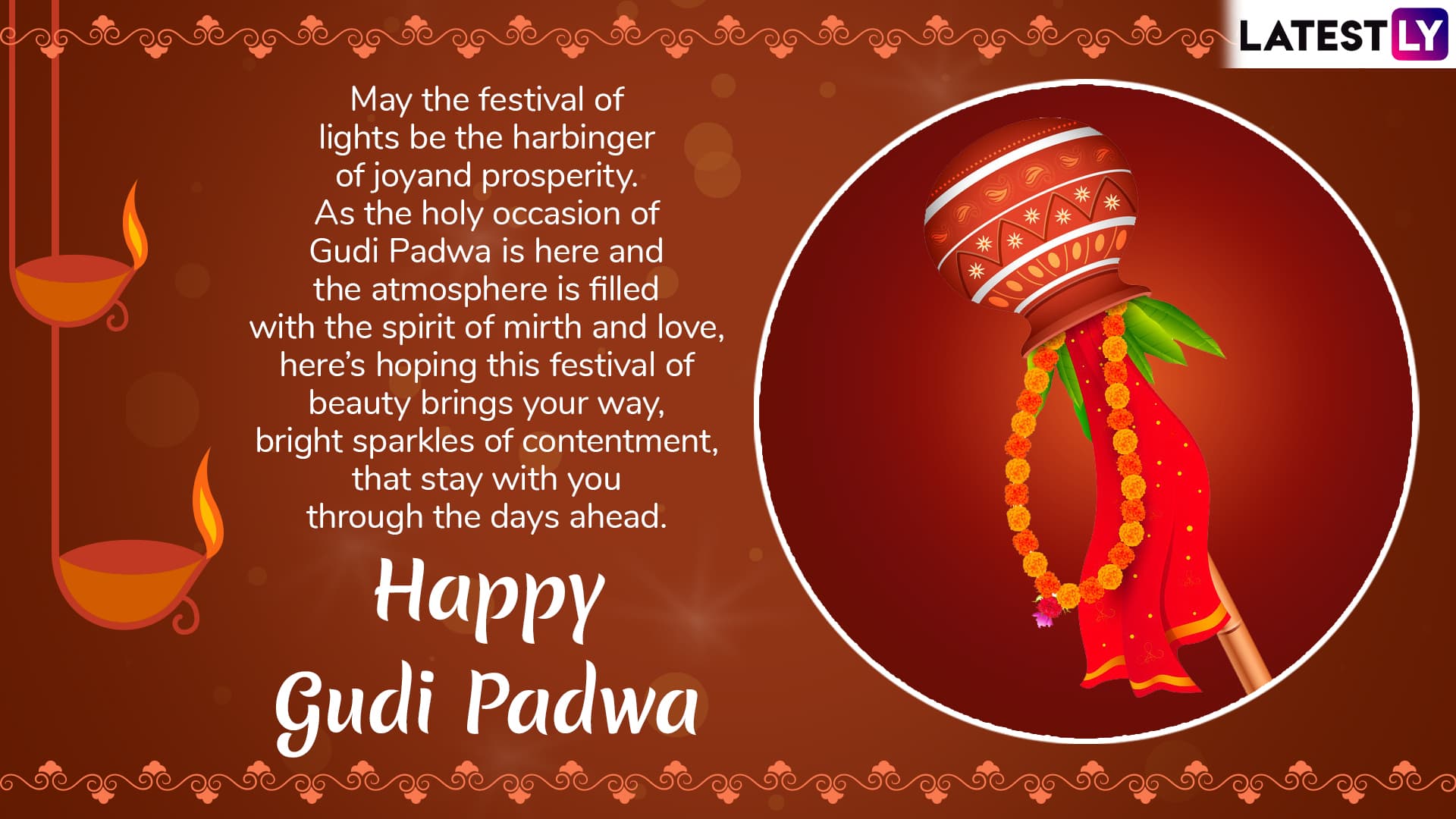 WhatsApp Message Reads: May the festival of lights be the harbinger of joy and prosperity. As the holy occasion of Gudi Padwa is here and the atmosphere is filled with the spirit of mirth and love, here's hoping this festival of beauty brings your way, bright sparkles of contentment, that stay with you through the days ahead. Happy Gudi Padwa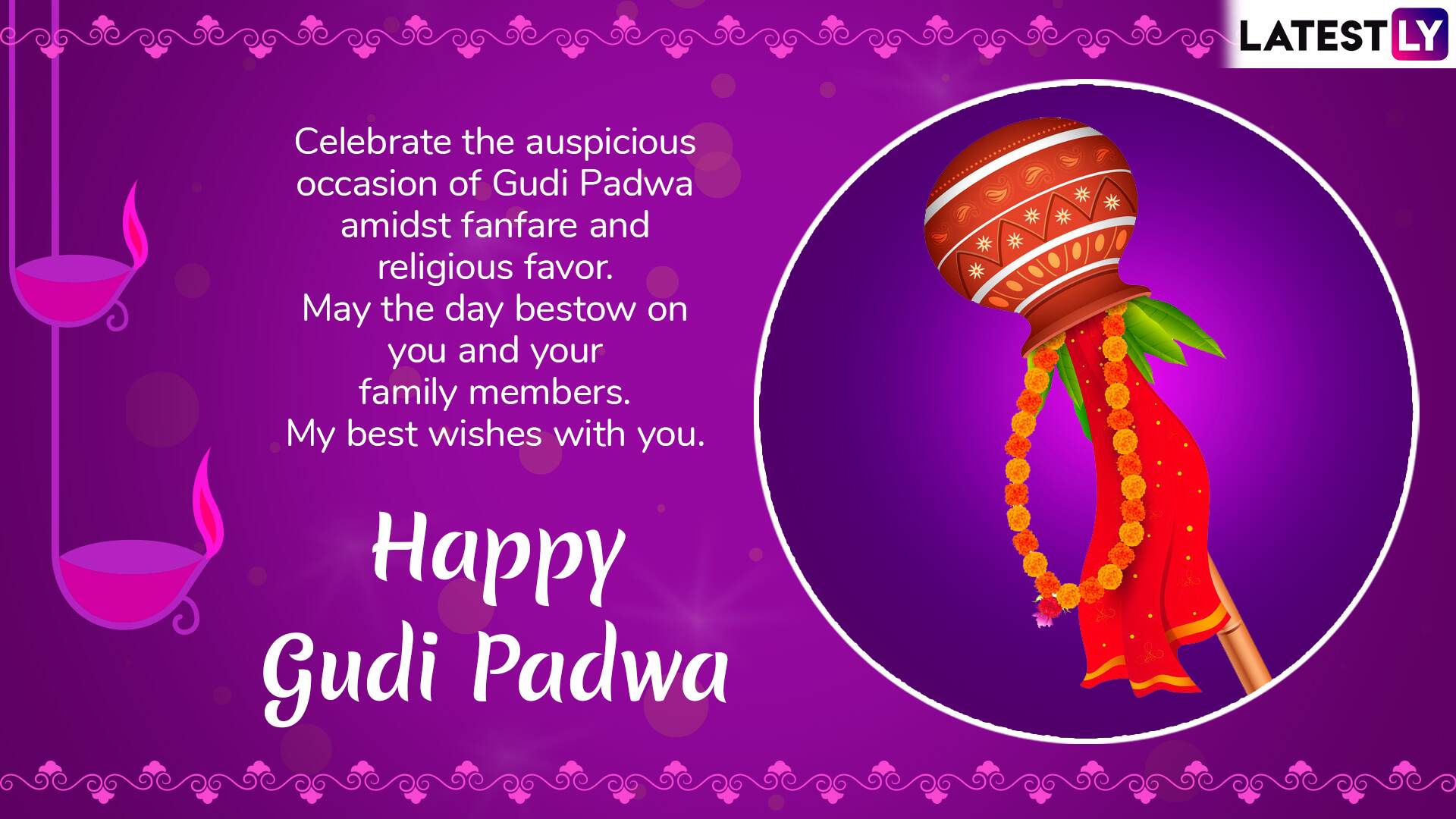 WhatsApp Message Reads: Celebrate the auspicious occasion of Gudi Padwa amidst fanfare and religious favor. May the day bestow on you and your family members. My best wishes with you. Happy Gudi Padwa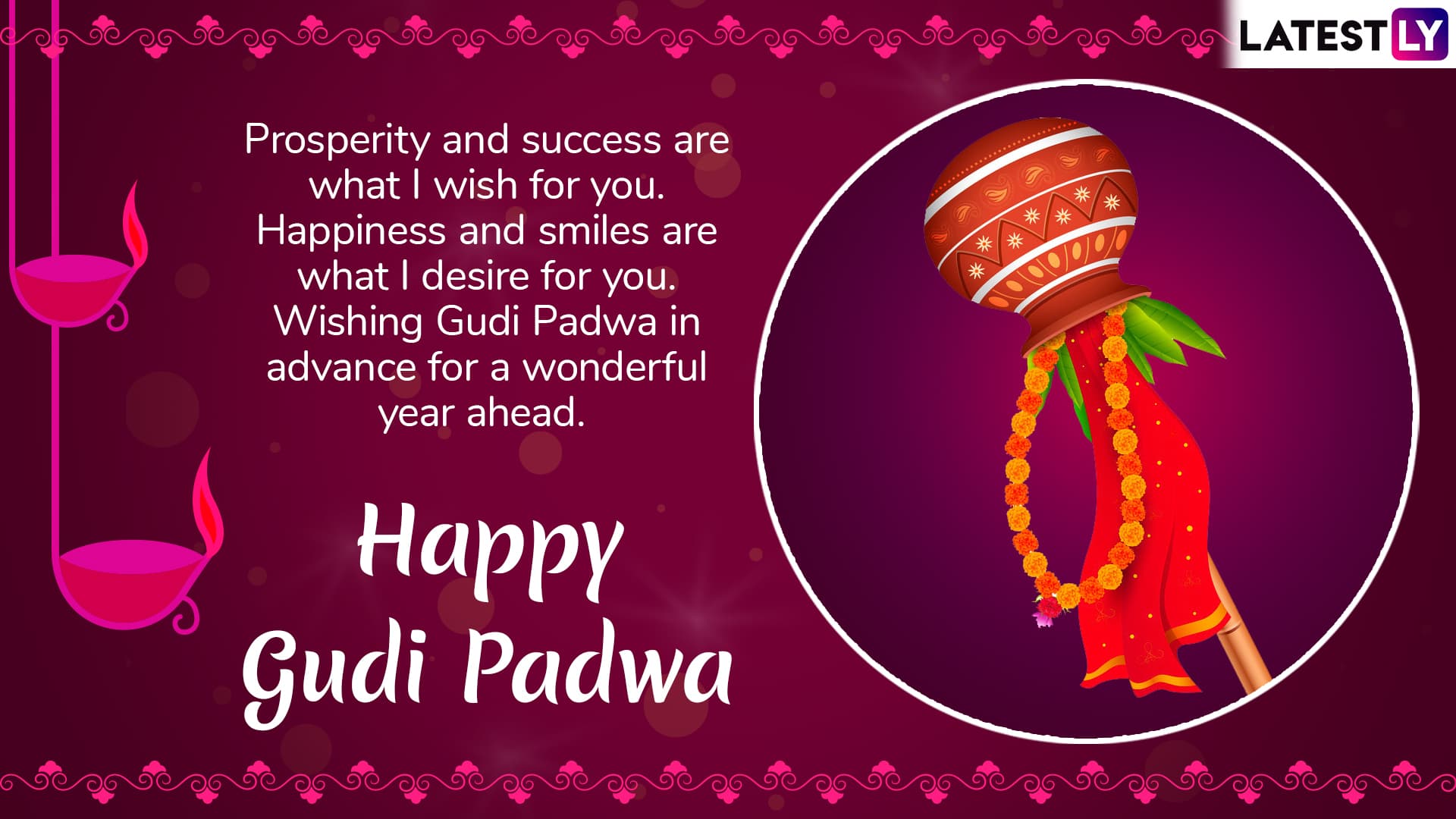 WhatsApp Message Reads: Prosperity and success are what I wish for you. Happiness and smiles are what I desire for you. Wishing Gudi Padwa in advance for a wonderful year ahead. Happy Gudi Padwa
WhatsApp Message Reads: May the flavor of raw mangoes, raw neem, and jaggery remove all bitterness and add sweet flavors to your life. Happy Gudi Padwa
WhatsApp Message Reads: On this Gudi Padwa, let us make a resolution to spread love and happiness all around us. Happy Gudi Padwa
Watch Video: Gudi Padwa 2019 Advance Wishes
Share the above advance Gudi Padwa advance greetings 2019 with your friends and family to wish them a healthy and prosperous year ahead. Gudi Padwa is observed by making colourful floor patterns and decorations called rangoli, a special Gudhi flag (garlanded with flowers, mango and neem leaves, topped with upturned silver or copper vessel), street processions, dancing and delicious festive foods.