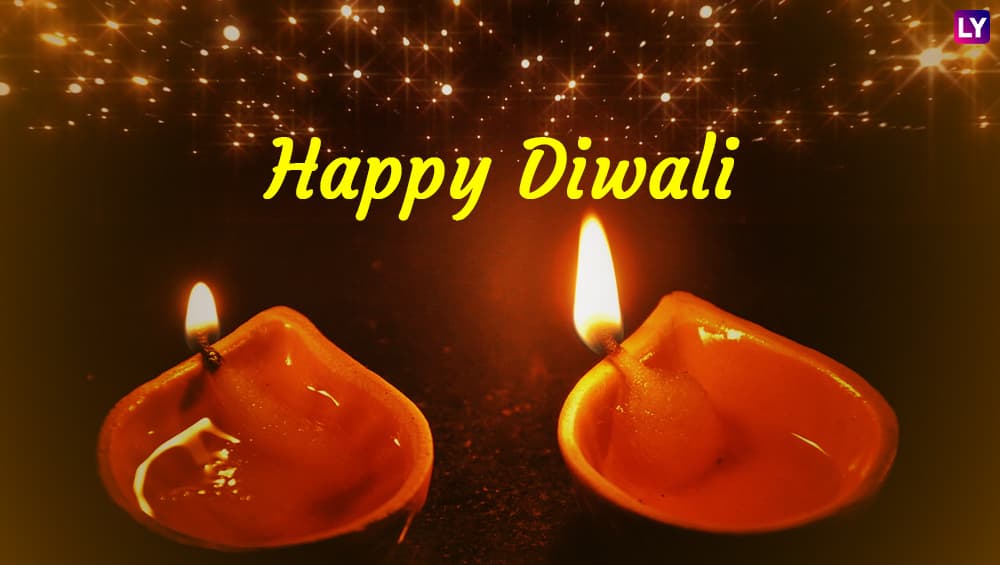 Can we ever get bored of festivals? Totally impossible in this birth! India and its grand festivities are extremely popular across the country. It is the different traditions and culture that makes celebrations in the nation so unique. There is hardly any month which is left idle without the festive dates on it. At present, the Hindu devotees in India is celebrating the grandest and celebrated festivals, Diwali 2019. It is Badi Deepavali today, October 27, because of which your WhatsApp is sure filled with Happy Diwali 2019 greetings. But what if you can make this exchange of wishes, a little more exciting! How about sending Happy Diwali 2019 greetings in different Indian languages? Since the festival is named and celebrated under different names and rituals, it is undoubtedly the best time to share WhatsApp sticker messages, quotes and SMSes in different languages! Plus, it will also enhance your knowledge. We have also provided Badi Deepawali 2019 GIF images to make Diwali wishes in different languages more exciting. From Kali Puja to Tamil Deepavali, Here's How the Festival of Lights Is Celebrated in Different Regions of India. 
The festival of lights, Diwali is celebrated under different names and traditions across the country. Different faiths have their unique way to celebrate the festival alongside Diwali. The Jain community observes the final liberation of Mahavira, Sikhs celebrate Bandi Chhor Divas, Newar Buddhists marks Diwali by worshipping Goddess Lakshmi while the Bengalis observe the festival, by worshipping Goddess Kali. However, the significance of Diwali in all traditions remains the same- triumph of good over evil. You know the customs, now it is time to know how to wish 'Happy Diwali' in different Indian languages. Happy Diwali 2019 Wishes and Greetings in Marathi. 
Diwali Wishes in Hindi – Diwali ki Shubhkamnayein "दिवाली की शुभकामनाएं"

Diwali Wishes in Telugu – Deepavali Subhakankshalu "దీపావళి శుభాకాంక్షలు

Diwali Wishes in Tamil – Deepavali Nalvaazhtukkal "தபாவளி நல்வாழ்த்துக்கள்"

Diwali Wishes in Kannada – Deepavali Habbada Shubhashayagalu "ದೀಪಾವಳಿ ಹಬ್ಬದ ಶುಭಾಷಯಗಳು"

Diwali Wishes in Marathi – Diwalichya Hardik Shubhechha "दिवाळच्य हरिक शुभखे"

Diwali Wishes in Oriya – Deepavalira Anek Shubhechha "ଦୀପାବଳିର ଅନେକ ଶୁଭେଛା"

Diwali Wishes in Bengali – Subho Diwalir Preeti O Subeccha "শুভ দীপাবলীর প্রীতি ও শুভেচ্ছা"

Diwali Wishes in Malayalam – Deepavali Aashamsagal "ദീപാവലി ആശംസകള്‍"

Diwali Wishes in Gujarati – Diwali ni Hardik Shubechao Ne Nutan Varshabhinandan "तुन्का सग्गाठंकयी दीपावली ची हार्दिक शुभेच्छा "

Diwali Wishes in Punjabi – Tuhanu Diwali Diyan Bohut Bohut Vadhaiyan Hon "ਟੂਹਾਨੂ ਦੀਵਾਲੀ ਦਿਿਆਨ ਬਹੁਵਤ ਵਢੇੇਨ ਮਾਨਯੋਗ"
So, now that you know how to wish your near ones from a different community, what are you waiting for? Share Happy Diwali 2019 wishes and greetings, now in various languages and mark the auspicious festival of lights. Happy Diwali!