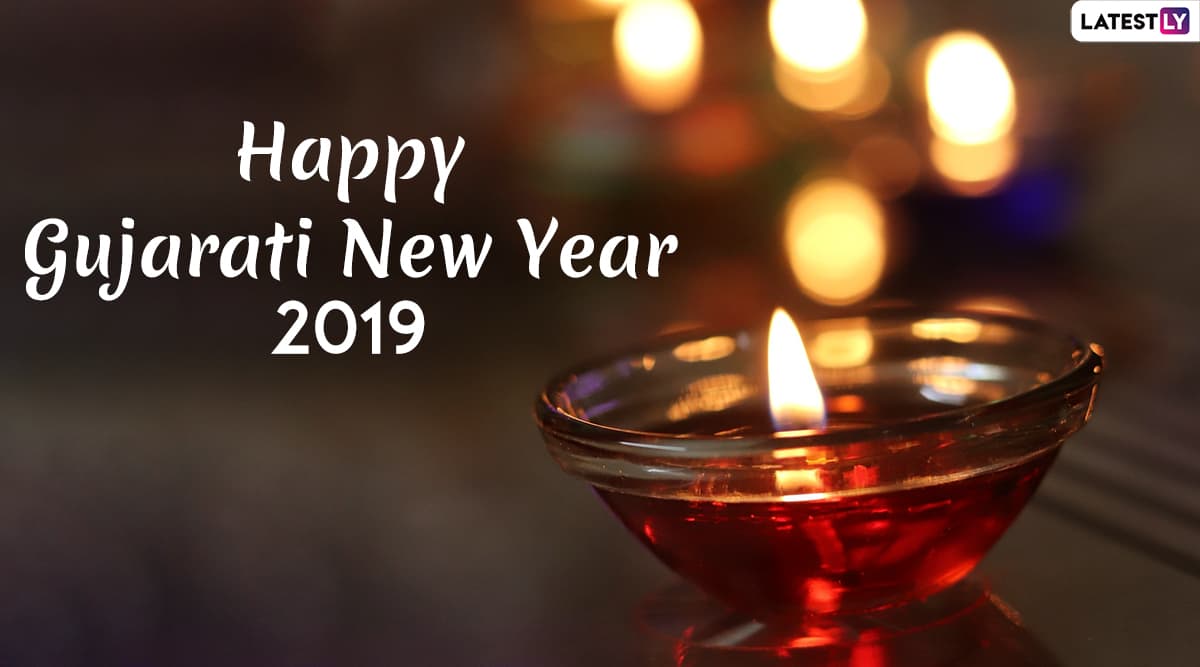 It's Gujarati New Year 2019. People from the Gujarati community are ringing in the Naya Saal on October 28 all across the globe. Gujarati New Year also known as Bestu Varas and Vikram Samvat 2076, is observed the next day of Badi Diwali, the main Diwali day when Lakshmi Puja is performed. The day is celebrated with much joy and excitement and wishing one another 'Happy New Year' is part and parcel of the celebrations. It is a sweet gesture to get along with your long-time friends, family members, relatives, clients and wishing them 'Happy Gujarati New Year', or 'Happy Bestu Varas'. People send Gujarati New Year 2019 wishes and greetings through WhatsApp messages, set Facebook statuses, upload photos on Instagram, send stickers on Hike, and also post stories on Snapchat. Many also download HD images and wallpapers to post it online. You will find a collection of Vikram Samvat 2076 Greetings, Happy Gujarati New Year 2019 images, Nutan Varshabhinandan wishes, WhatsApp Stickers and a lot more. Happy Gujarati New Year 2019 Wishes: WhatsApp Stickers, Naya Saal Greetings, Hike GIF Images, Quotes, SMS And Messages to Send a Day After Diwali.
Gujarati New Year is celebrated on the first day of Kartik month as per the Gujarati calendar. Kartik month is also the first month of the Gujarati calendar. The community believes Kartika month to be the most auspicious in comparison to Chaitra, which other communities give preference to. According to the Hindu mythology, Lord Krishna had saved Gokulvasi (people residing in Gokul) from Lord Indra's wrath. He lifted mount Govardhan on his little finger to bail everyone out from heavy rains and natural catastrophe. This day is also observed as Govardhan Puja. And Gujaratis who are staunch Krishna devotees consider this time to be auspicious and lucky. That's why they begin the new year on this day. You can learn more on Gujarati New Year significance here.
And if you are searching for latest and new Gujarati New Year 2019 messages and greetings to send them to your known ones, then look nowhere else. We at LatestLY bring you some of the best WhatsApp messages, Facebook status, Instagram photos, Hike messages, GIFs and other forms of greetings that you can use them celebrating the festival of Bestu Varas.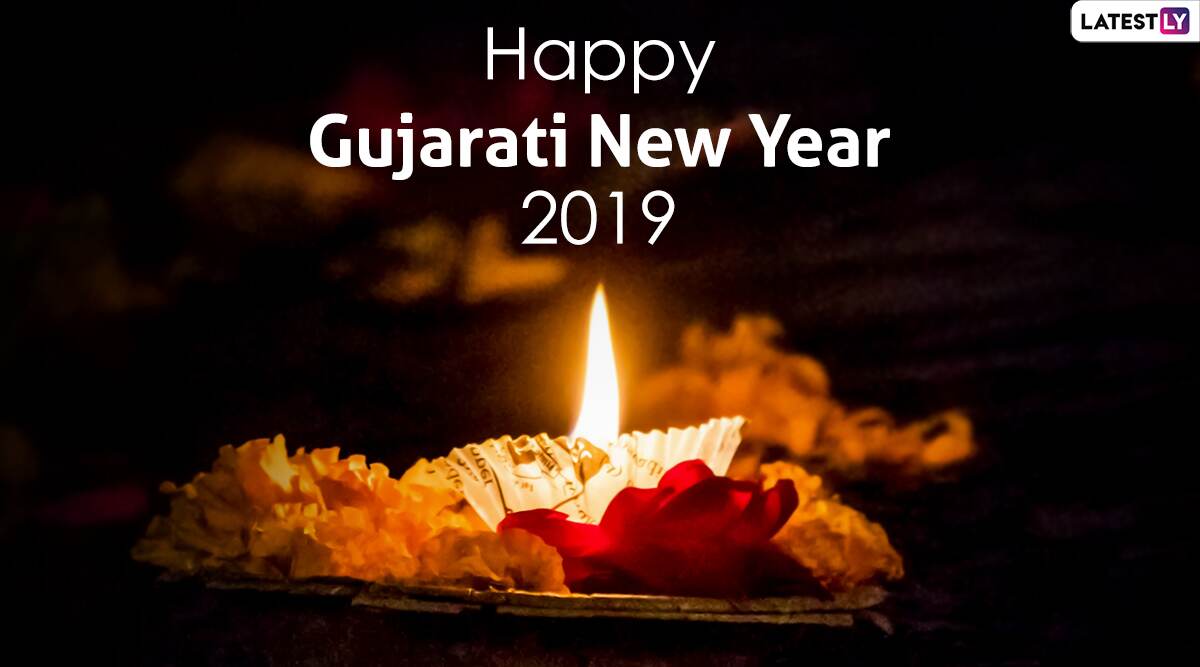 WhatsApp Message Reads: હું મારી નવી યર્સ 'ઇવ્ઝ પસાર કરવા માગો, એકાંત માં, નમ્ર પ્રાર્થના, દરેક વર્ષ માટે આભાર ઈંચ, નહીં તરીકે, માતાનો ભગવાન મીઠી કાળજી વધુ એક વર્ષ માટે …હેપી ન્યૂ યર!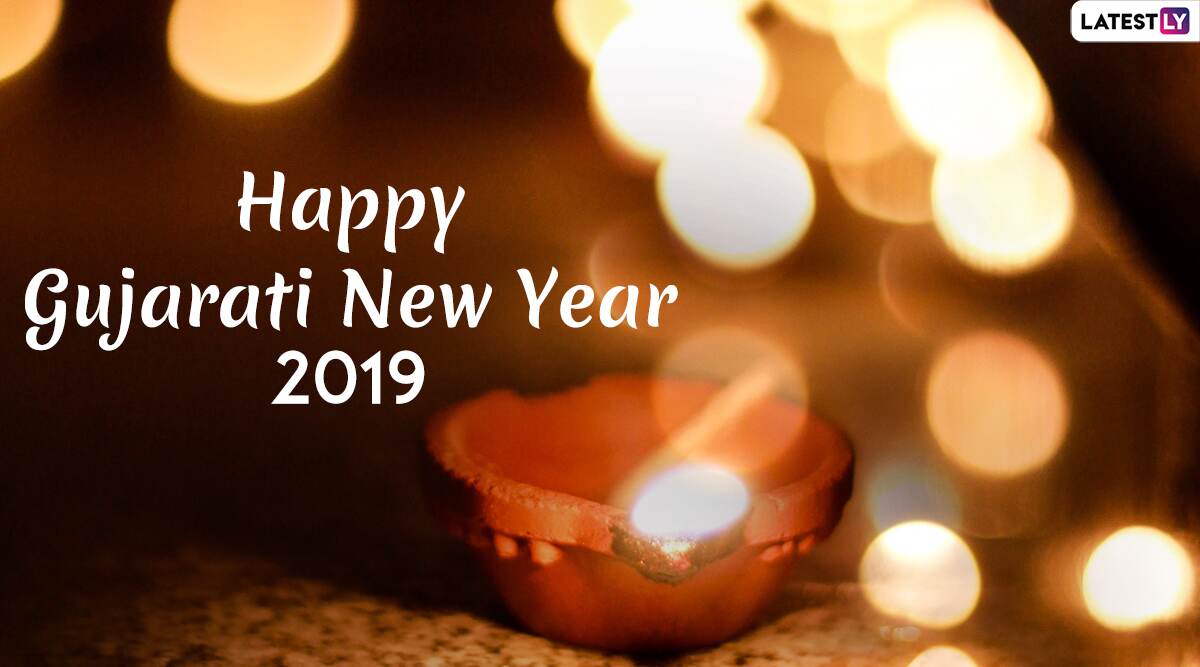 WhatsApp Message Reads: Tmara Badha Dukh Khushi Ma Tolu, Tmara Badha Raz Tmara Same Kholu, Koi Mara Pehla Na Bole, Happy New Year!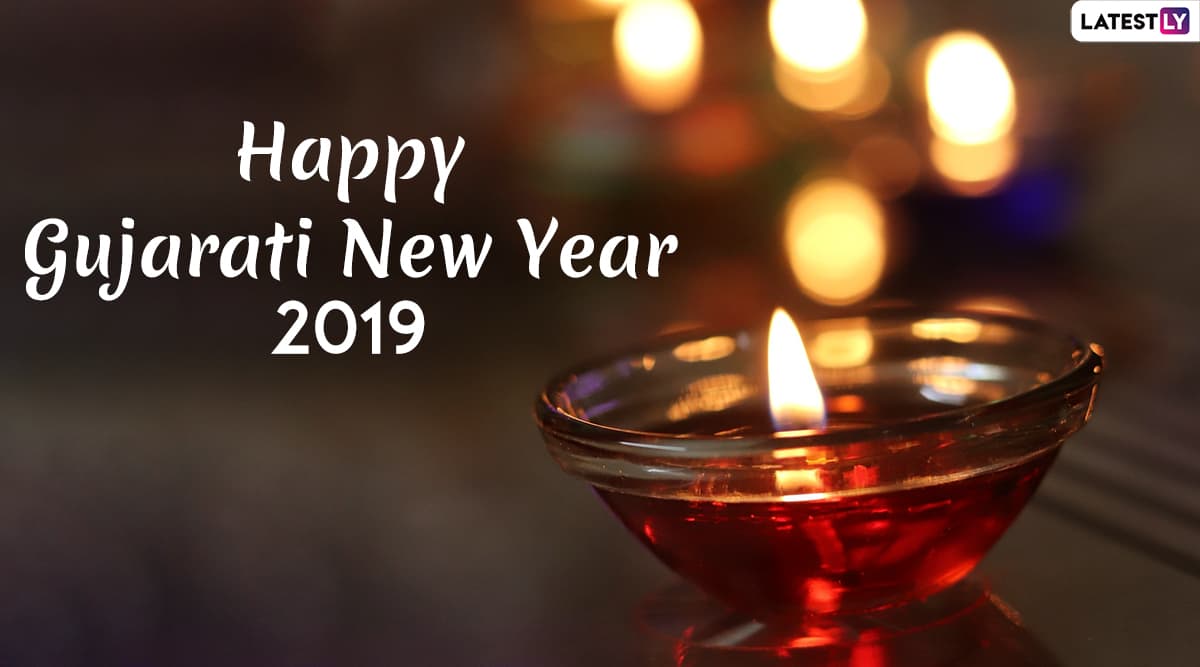 WhatsApp Message Reads: बीत गया जो साल, भूल जाए; बीत गया जो साल, भूल जाए; इस नए साल को गले लगाये! करते है दुआ हम रब से सर झुका के; इस साल के सारे सपने पूरे हो आपके! नव वर्ष की हार्दिक शुभकामनायें!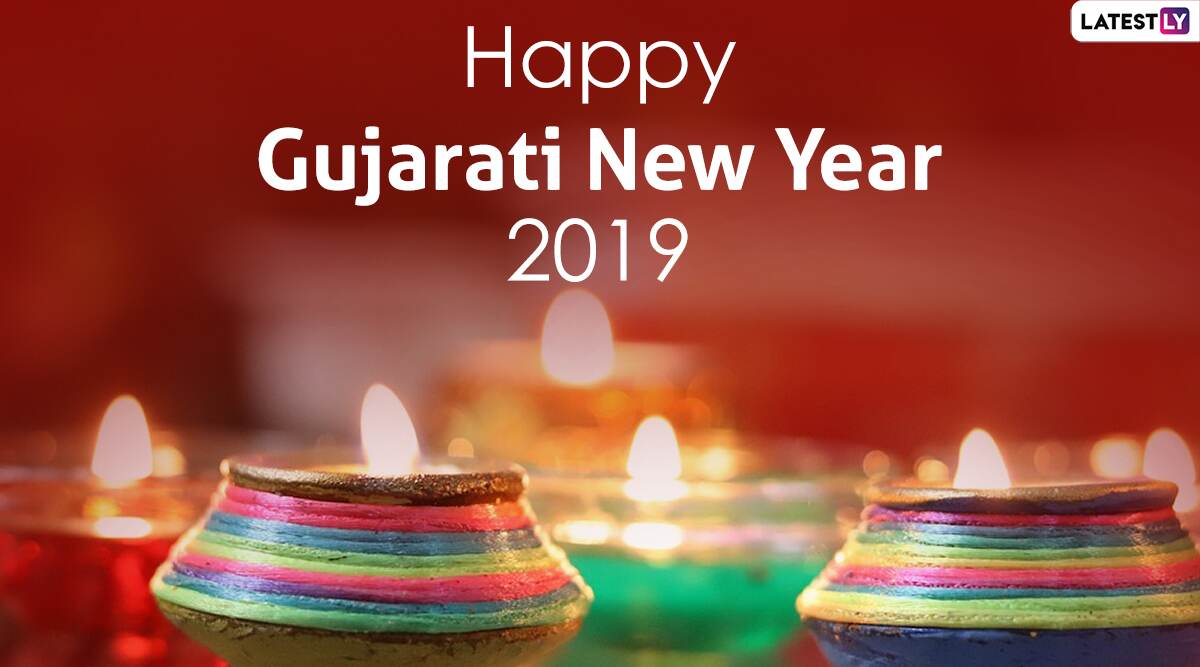 WhatsApp Message Reads: Sagar Ni Pele Par Koi Radtu Hase, Tamne Yad Kari Ne Koi Tadaptu Hase, Jara Dil Par Hath Rakhi Vichari to Juo, Tamara Mate Pan Koi Jivatu Hase. Happy New Year 2019!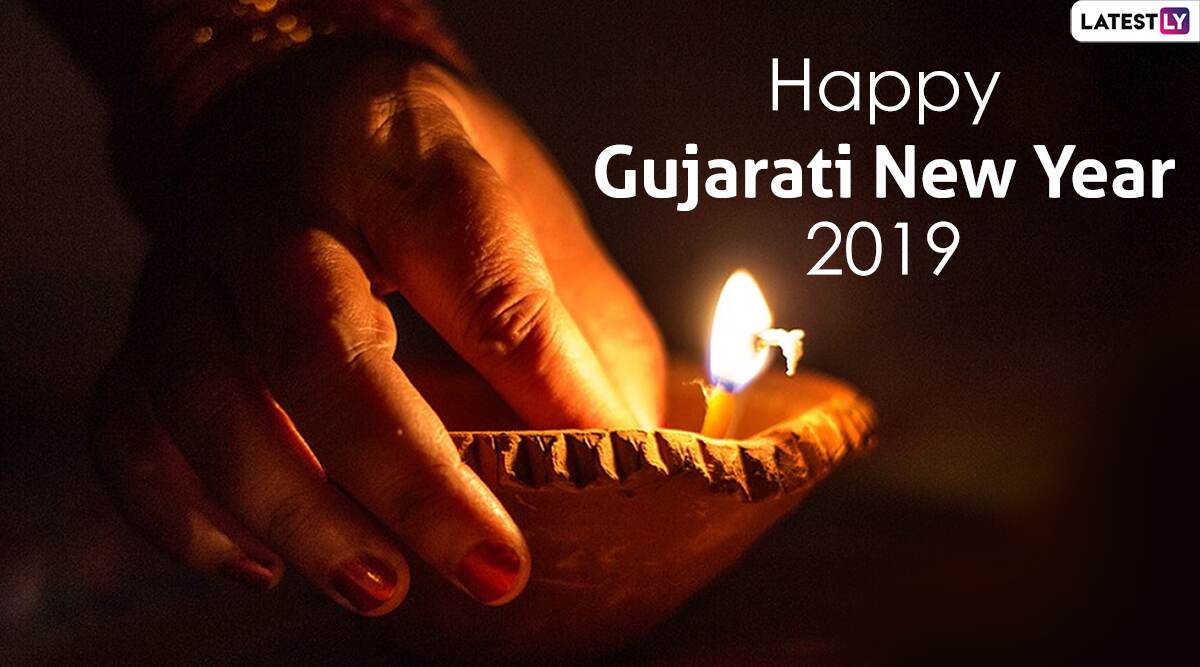 WhatsApp Message Reads: Wishing That Bad Times Wilt Away, Wishing That Your Smiles Are Doubled With Joy, Wishing You an Auspicious Happy New Year!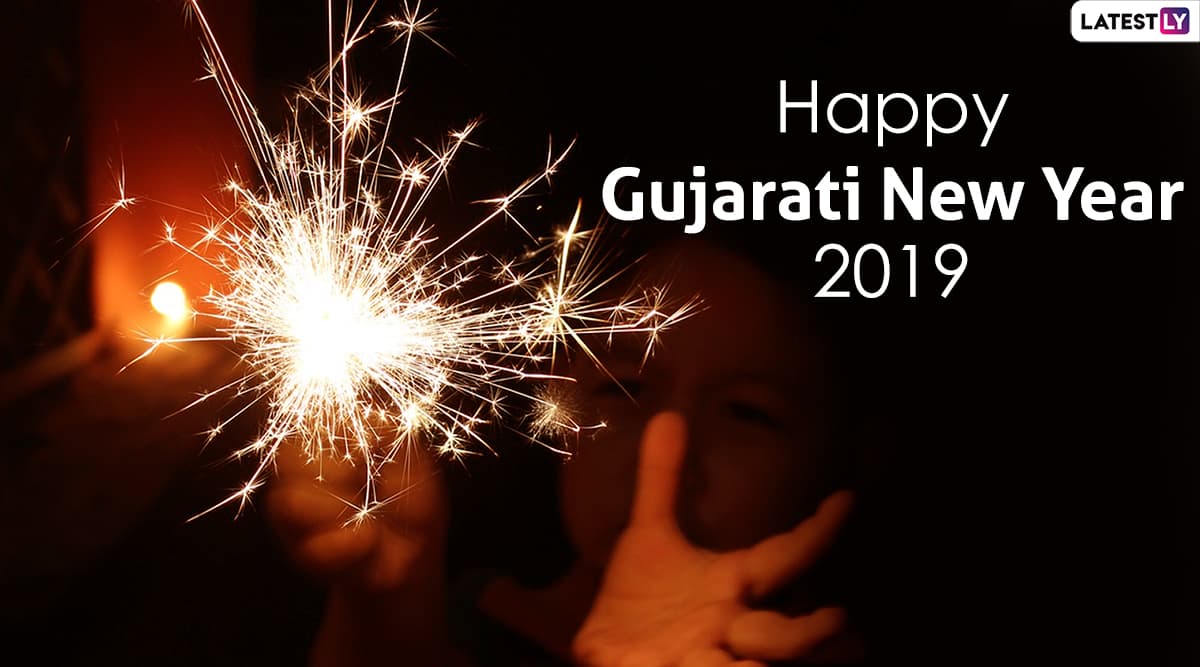 WhatsApp Message Reads: Navu Varsh! Aap Sau Ne Sukh, Santi, Samrudhi, Ane Swastya Bakse, Ane Aap Pragati Na Tamam Sikharo Sar Karo, Evi Subhecha! Navu Varsh!
Gujarati New Year 2019 Wishes: WhatsApp Messages, SMS, Quotes To Send On Fourth Day Of Diwali
How to Download Gujarati New Year WhatsApp Stickers?
You can download Gujarati New Year WhatsApp Stickers from the Play Store app. Here's the link to download Nutan Varshabhinandan/Gujarati New Year stickers. You can also download the Gujarati New Year calendar. There are festive packs providing greetings, wishes in Gujarati, GIF greetings, quotes and messages. We wish everyone a very Happy Gujarati New Year 2019!