September 14 is celebrated as Hindi Diwas in India. According to history, on this day in 1949, the Hindi language was accepted as the official language of the country. Government institutions, school, colleges mark the celebrations of this day. Hindi is a very important language in our country as it is the only language that connects all multi-lingual states. The need for one common language is immensely felt and Hindi does the needful.
The advocates of Hindi, poets, writers, essayists, linguists celebrate this day and appreciate the beauty of the language. Every language is a beautiful way of communication. From North to South, people may not be fluent in Hindi but at least can understand the basic words and we can carry on with the conversation. So we may underestimate the language or not pay heed to it on other days but the importance of Hindi needs to be acknowledged on Hindi Diwas. Hindi Diwas 2018 Special: These Common English Words Translated Into Hindi Are 'Literally Funny!'
On this day, people forward Hindi Diwas messages, images, greetings to their friends and family. WhatsApp messages, SMSes, images, all are curated to wish everyone on the eve of Hindi Diwas. And to make it comfortable for you readers, we have made a list of Hindi Diwas messages and greetings, which you send across to your friends, family, relatives or colleagues. Hindi Diwas 2018 Poems: Best Heart Touching Lines on Matrabhasha Hindi to Celebrate the Day. 
Here is the list of Hindi Diwas Messages: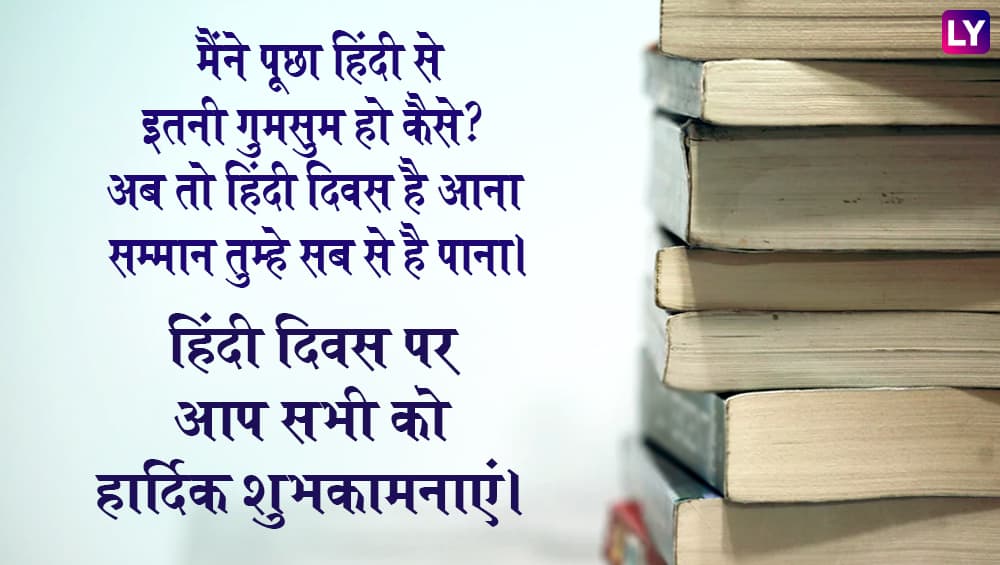 Message reads:  मैंने पूछा हिंदी से, इतनी गुमसुम हो कैसे? अब तो हिंदी दिवस है आना, सम्मान तुम्हे सब से है पाना।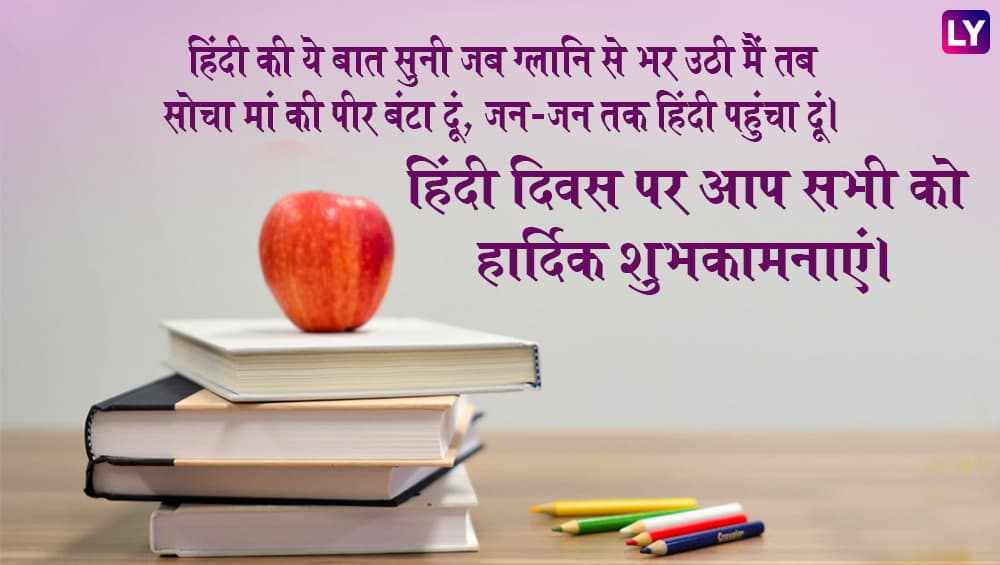 Message reads: हिंदी की ये बात सुनी जब , ग्लानि से भर उठी मैं तब , सोचा मां की पीर बंटा दूं, जन-जन तक हिंदी पहुंचा दूं। हिंदी दिवस पर आप सभी को हार्दिक शुभकामनाएं।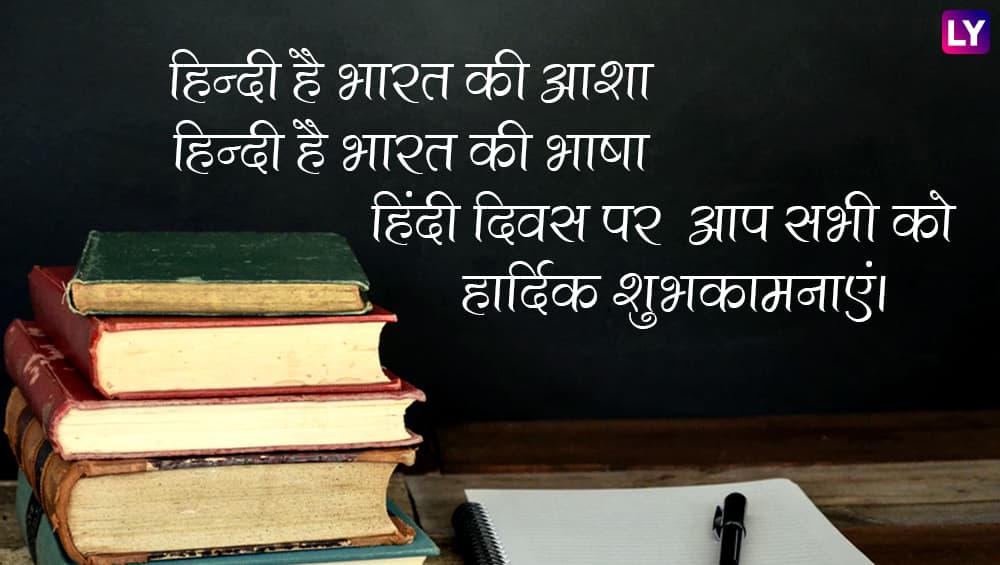 Message reads: हिन्दी है भारत की आशा, हिन्दी है भारत की भाषा, हिंदी दिवस पर आप सभी को हार्दिक शुभकामनाएं।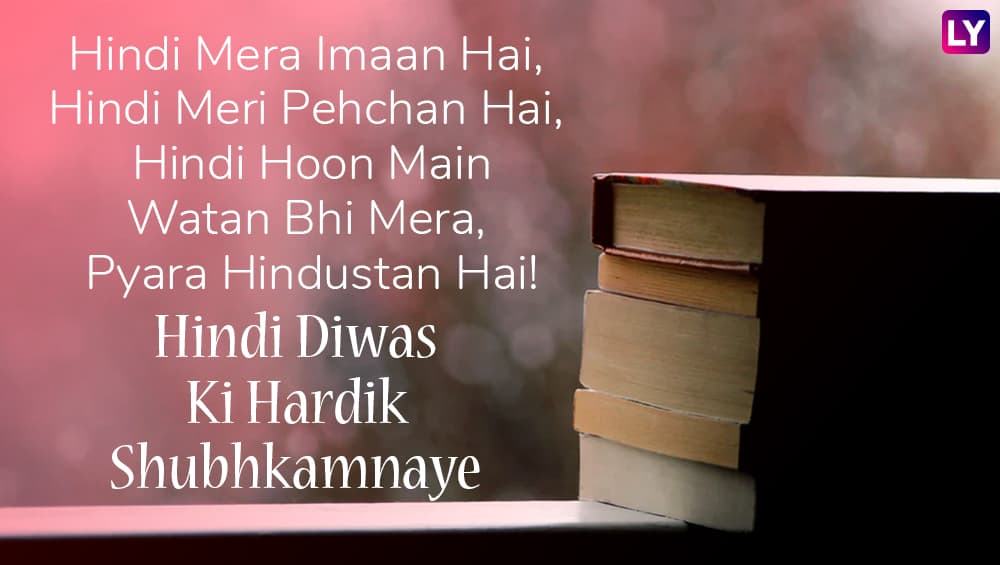 Message reads: Hindi Mera Imaan Hai, Hindi Meri Pehchan Hai, Hindi Hoon Main Watan Bhi Mera, Pyara Hindustan Hai! Hindi Diwas Ki Hardik Shubhkamnaye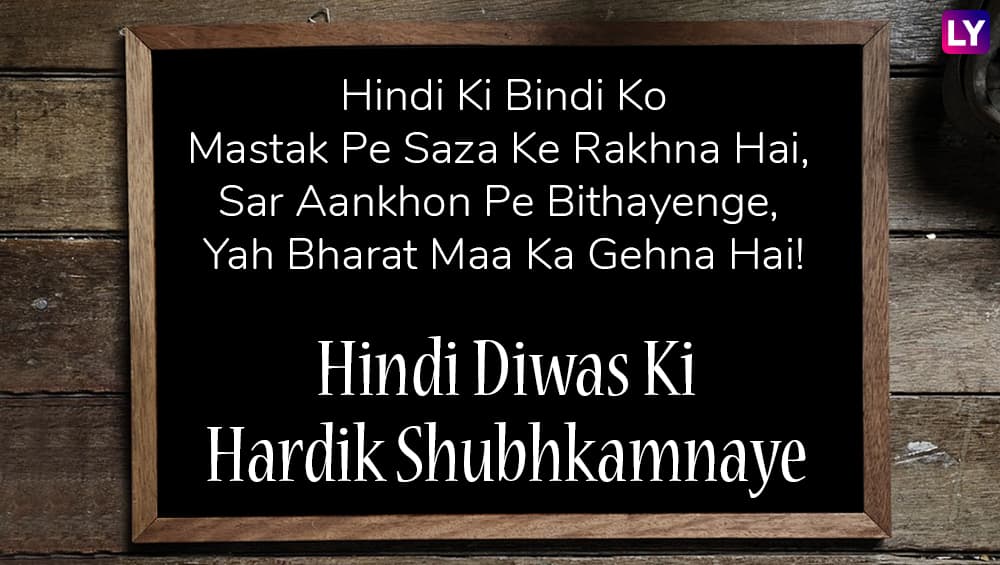 Message reads: Hindi Ki Bindi Ko Mastak Pe Saza Ke Rakhna Hai, Sar Aankhon Pe Bithayenge, Yah Bharat Maa Ka Gehna Hai! Hindi Diwas Ki Hardik Shubhkamnaye
Happy Hindi Diwas everyone!
In 1949, the Constituent Assembly of India adopted Hindi as the official language of the country which was written in Devanagari script. This day also marks the birthday of Beohar Rajendra Simha, an Indian writer, who is known for his efforts in making Hindi as the official language. How are you planning to celebrate National Hindi Diwas? Do let us know in the comments section below.