Kojagiri Purnima is a Hindu harvest festival observed with fasting and various other rituals and ceremonies. The observance falls on the full moon day of the lunar month of Ashwin, as per the Hindu calendar. Kojagiri Purnima falls on October 13 according to the Gregorian calendar. While Purnima or Full Moon Day holds great significance in the Hindu beliefs, Sharad Purnima is believed to be quite auspicious. People pray to Goddess Lakshmi and Lord Vishnu on this day. As we celebrate Kojagiri Purnima 2019 today, we have compiled a list of Sharad Poonam wishes in Gujarati, Kojagiri Purnima greetings in Hindi and Marathi. You can set these Sharad Purnima messages in Hindi as your WhatsApp status too. We also bring to you Sharad Poornima WhatsApp Messages in Marathi,  Sharad Poonam WhatsApp Stickers, Lakshmi Puja SMS, Quotes on Moon, GIF Greetings to celebrate the day. Kojagiri Purnima 2019 Messages in Hindi: WhatsApp Stickers, GIF Image Greetings, Quotes, SMS and Wishes to Send on Sharad Purnima.
Sharad Purnima Kheer is a popular sweet dish prepared on this day. Also known as Amrit Kheer the dish comes loaded with a lot of health benefits. It is believed that on this day the Moon rises with 16 qualities. Bengalis celebrated Kojagori Lokkhi Puja on this day. While in states like Bihar, Uttar Pradesh and Maharashtra, Kojagari Laxmi Puja is performed. On  Sharad Purnima, moonrise time is of great importance. You can check Sharad Kojagari Lakshmi Puja Vrat significance, vidhi (rituals) and benefits of Sharad Purnima Kheer or Amrit Kheer which is prepared on this day here.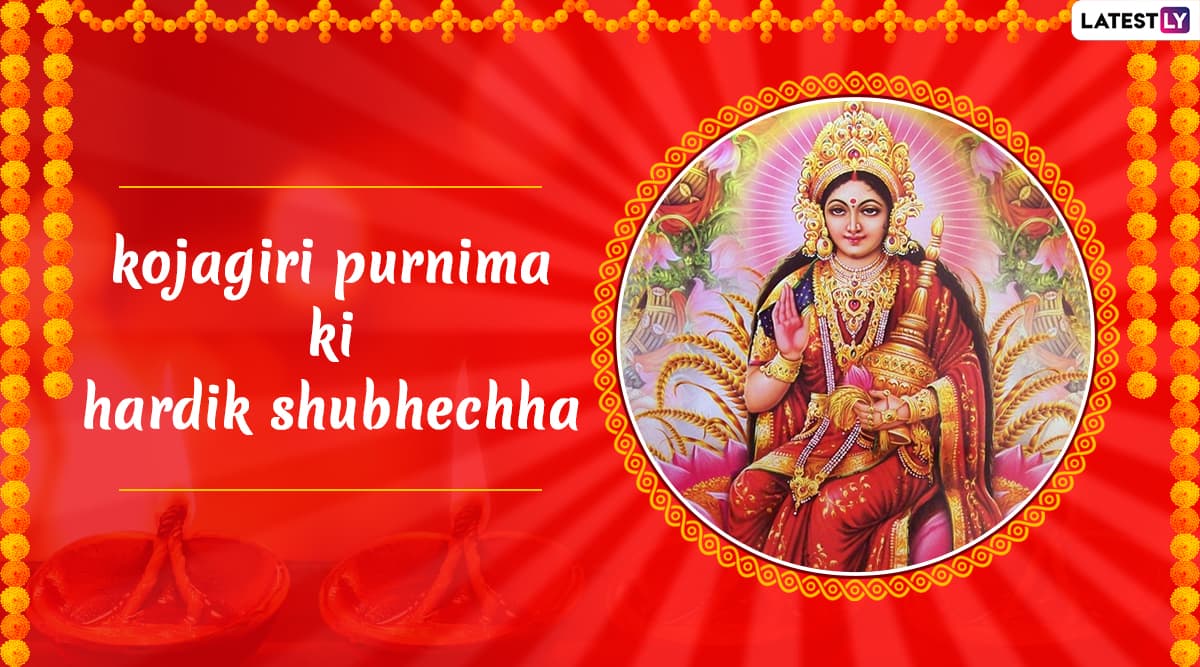 Kojagiri Purnima WhatsApp Message in Marathi: Kojagiri Purnima Ki Hardik Shubhechha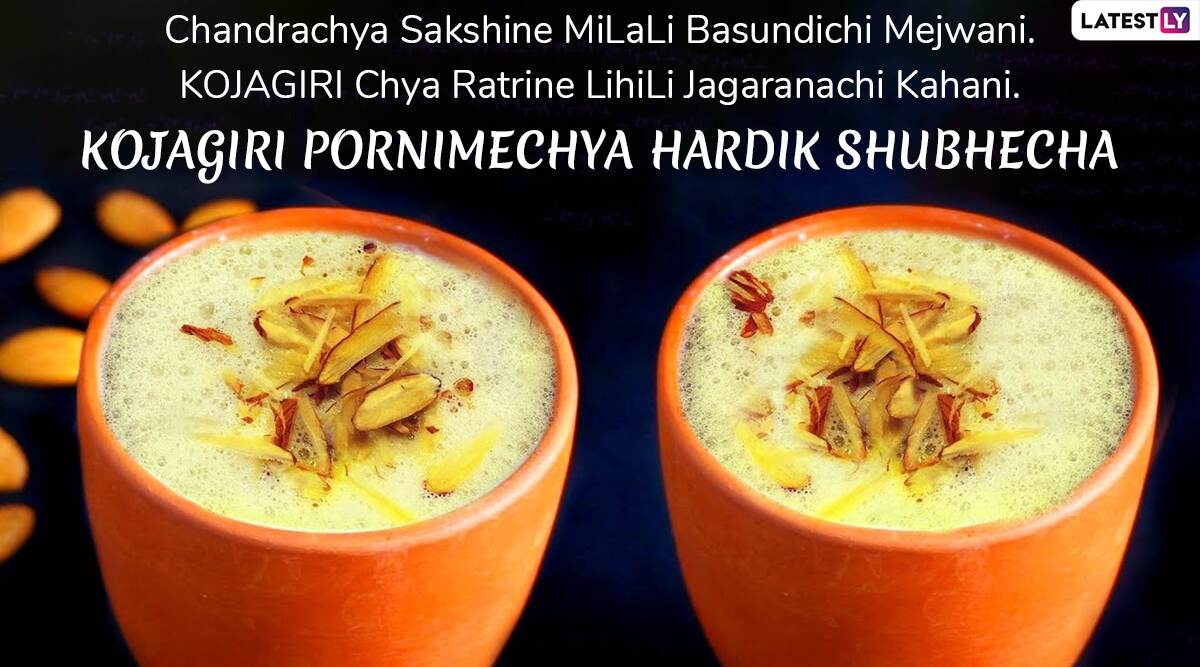 Sharad Poonam WhatsApp Message in Gujarati: Chandrachya Sakshine MiLaLi Basundichi Mejwani. KOJAGIRI Chya Ratrine LihiLi Jagaranachi Kahani. KOJAGIRI PORNIMECHYA HARDIK SHUBHECHA
Lakshmi Puja GIF!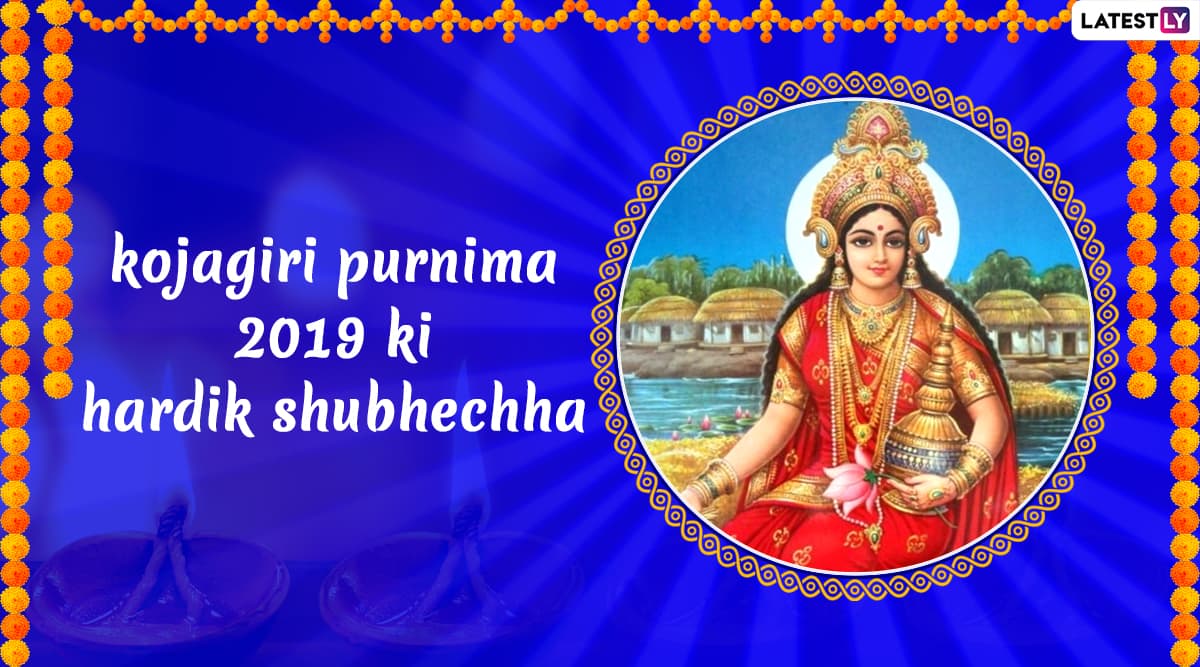 Kojagiri Purnima WhatsApp Message in Marathi: Kojagiri Purnima 2019 Ki Hardik Shubhechha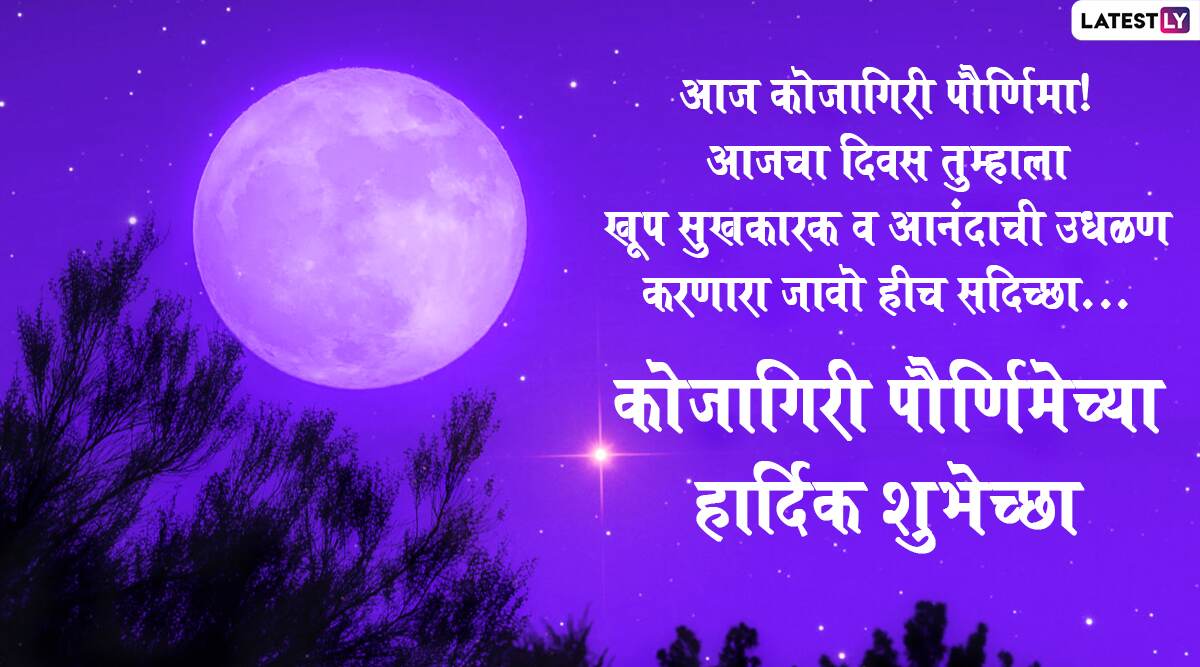 Sharad Purnima WhatsApp Message in Marathi: आज कोजागिरी पौर्णिमा! आजचा दिवस तुम्हाला खूप सुखकारक व आनंदाची उधळण करणारा जावो हीच सदिच्छा…कोजागिरी पौर्णिमेच्या हार्दिक शुभेच्छा
Sharad Purnima WhatsApp Message in Marathi: Garba Dance Chi Kamaal,
Ani Sagale Aapan Karuya Dhamal, Durga Puja karuya Sajari Jorat, Karuya Sajari Purnima Devichya Darat. Happy Kojagiri Pornima.
Kojagiri Purnima 2019 Wishes And Greetings:
How to Download Sharad Poornima and Kojagiri Purnima WhatsApp Stickers
WhatsApp being widely used as an instant messaging platform, its popularity has grown manifold. People also use the medium to send festival and birthday greetings. You can check and download Kojagiri Purnima WhatsApp Stickers for free from PlayStore.
According to Hindu legends, the day is observed with high reverence as Lord Krishna is believed to have performed Maha-Raas, the dance of divine love. It is said that Gopis of Vrindavan danced to Lord Krishna's flute all night long on this day. Sharad Purnima is known as Raas Purnima in Brij and other parts of North India. According to Hindu mythology, Lord Krishna was born with all 16 Kalas, and he was the complete incarnation of Lord Vishnu.  According to the Hindu mythology, Lord Krishna was born with all 16 Kalas and is believed to be a true incarnation of Lord Vishnu. Devotees also worship Lord Chandra Dev for heavenly blessings.
(The above story first appeared on LatestLY on Oct 13, 2019 11:27 AM IST. For more news and updates on politics, world, sports, entertainment and lifestyle, log on to our website latestly.com).