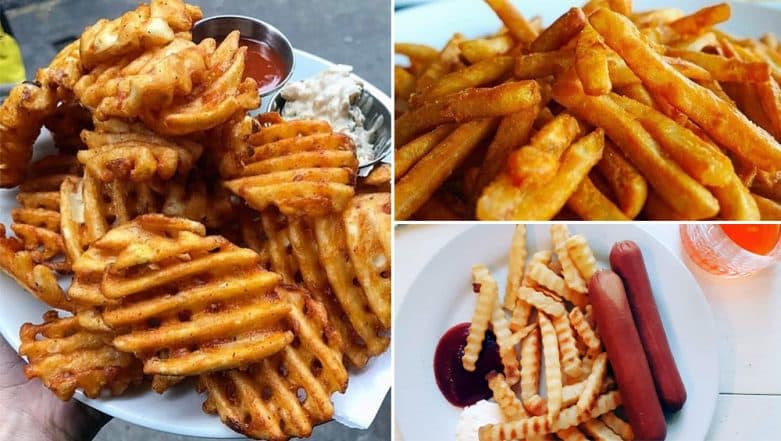 Happy National French Fries Day to one and all. Today we celebrate everyone's first love, French fries. French fries come in every shape and form and every shape is beautiful. Although the name says french fries, did you know they were invented in Belgian? Since the inventions, a tonne of variety of the salty crispy snack has been made. We have a list of some of these differently shaped fries that are equally as delicious as the regular ones you love so much. National Fries Day 2019: How to Make French Fries Healthy and Cut Down on Calories.
From curly to waffle, we have a list to make you crave the savoury goodness right now! Corn Benefits and Nutrition: Is it Healthy to Eat Bhutta? 5 Myths Busted.
Standard Fries
Simple and delish! Everyone's favourite. These are standard fries that you'll get in almost every deli and they're almost never disappointing.
Delish!
 

 

 

View this post on Instagram

 

 

 
Waffle Fries
Waffle Fries require a different cut in where there are bits of potatoes falling out. Those bits are further used to make hashbrowns. How did you like this delicious, crunchy piece of trivia?
I'd Like a Truckful of Those Please
 

 

 

View this post on Instagram

 

 

 
Shoestring Fries
Shoestring fries are the ideal fries for adding toppings such as gooey cheese and guacamole. These are usually eaten with a fork as they're very thin and long.
Happiness in a Plate
 

 

 

View this post on Instagram

 

 

 
Crinkle Fries
Crinkle fries are like your standard fries but a little more fun. Kids love this even though it doesn't really make a difference from the standard ones.
Crinkly Goodness
 

 

 

View this post on Instagram

 

 

 

Steak Fries

The thiccer version of standard fries. ( ͡° ͜ʖ ͡°) With a crispy exterior and a mushy interior, steak fries are an acquired taste for people who like crispier ones.

Bigger, Better, Thiccer

 

 

 

View this post on Instagram

 

 

 

Fries have been around since the late 1600s and have now become a staple in many restaurants. People have come up with different ways to make fries and customised them according to their likings. The versatility french fries show, prove there is no other vegetable that can beat potato!