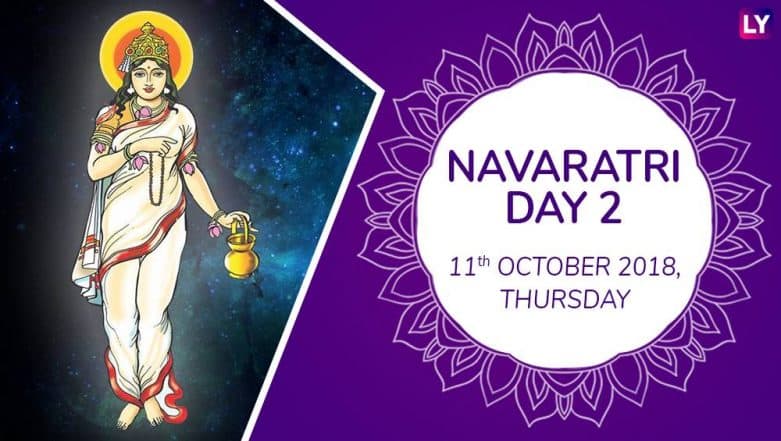 The second day of Navratri 2018 falls on October 11, Thursday. On this day, devotees worship the second form of Goddess Durga -- Maa Brahmacharini. The unmarried form of Maa Parvati is called Brahmacharini who lived an ascetic life, did penance to marry Lord Shiva. Let's know more about Goddess Brahmacharini, Brahmacharini Puja, Shubh Muhurat (auspicious timings), Puja Vidhi (rituals) mantras and aarti to begin the Navratri 2018 festival. On the additional note, the Navratri 2018 colour of day 2 is Yellow. Navratri 2018 Colours List for Free PDF Download Online: Dates, Day-Wise Nine Colours to Wear During Navdurga Festival With Images and Video!
The festive season of Navratri has begun where Goddess Durga is being worshipped with much grandeur across the country. According to the Hindu lunar calendar, Navaratri, also termed as Navratri falls in the month of Ashvin. This year, the nine-day festival where Goddess Parvati and her nine reincarnations are being worshipped, began on October 10 and will conclude on October 18. Navratri is the festival that celebrates Goddess Durga's victory over a demon in order to restore dharma. Navaratri 2018 Dates & Tithi Calendar: Shubh Muhurat & Time for Puja and Aarti During Nine-Day Sharad Navratri Festival.
Brahmacharini is the name of the second avatar of the Goddess Durga (Parvati) and is worshipped on the second day of Navratri. When the Goddess took birth as the daughter of Parvat Raj Himalaya or Himavat, Parvati realizes about her divine love toward Mahadev. Rishi Narad advises her to follow rigid Tapasya to get Lord Shiva as her divine consort. Navratri Colours 2018 for Nine Days: List of 9 Colours for Each Date to Wear During Sharad Navaratri Festival.
Due to her unearthly and difficult penance, she was glorified with the name 'Brahmacharini'. The Goddess spent thousands of years, only on fruits and beet-roots. Ultimately it was Lord Brahma who blessed her that she will get married to Lord Shiva. Sharad Navaratri 2018: Nine Avatars of Goddess Durga, Navdurga Pictures, Mantras & Celebration Dates of Navratri Festival.
Etymology and Iconography
Brahmacharini is derived from two words in Sanskrit words – Brahma, which means "the one self-existent Spirit, the Absolute Reality and charini is the feminine version of one who is a charya (चर्य), which means engaging, proceeding, behaviour, conduct, to follow, moving within, going after". In Vedic texts, the word Brahmacharini means a female who pursues the sacred religious knowledge.
The goddess Brahmacharini wears white clothes, holds a Rudrakshamala (japamala) in her right hand and Kamandal, a water utensil in her left hand. She is the unmarried form of Goddess Parvati who was born at the home of Daksha Prajapati. Goddess Brahmacharini is extremely radiant and majestic.
Brahmacharini Puja Vidhi - Brahmacharini Mantra and Prarthana or Prayer of Brahmacharini:
Brahmacharini Mantra - ॐ देवी ब्रह्मचारिण्यै नमः॥ Om Devi Brahmacharinyai Namah॥
Brahmacharini Prarthana - दधाना कर पद्माभ्यामक्षमाला कमण्डलू। देवी प्रसीदतु मयि ब्रह्मचारिण्यनुत्तमा॥ Dadhana Kara Padmabhyamakshamala Kamandalu। Devi Prasidatu Mayi Brahmacharinyanuttama॥
Brahmacharini Maa governs the Planet Mars. is believed that Lord Mangal, the provider of all fortunes, is governed by Goddess Brahmacharini. The favourite flower of the Goddess is Jasmine (चमेली). As per mythology, Brahmacharini Maa immolated herself by wishing to get a father in her next birth who can respect her husband Lord Shiva.