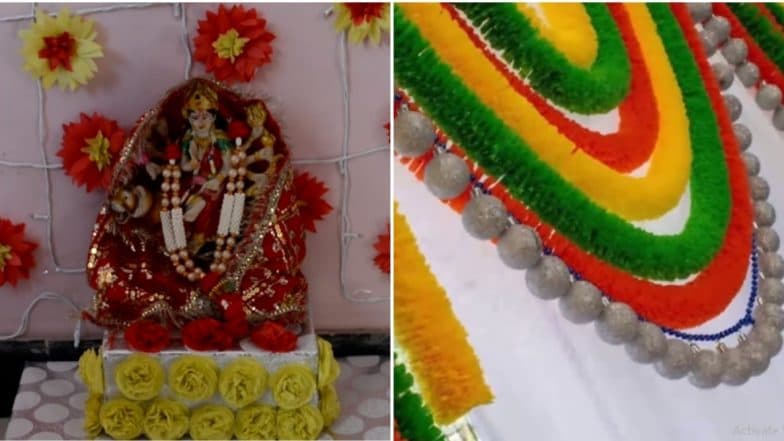 Sharad Navratri is one of the most important Hindu festivals which is celebrated with great pomp and fervour. While the festival is celebrated across the country, eastern and north-eastern states witnesses large scale celebrations. Over a period of nine days, various forms of Durga is worshipped. While pandals are set up at nook and corner of the streets, people also bring idols of the diety home. The idol is worshipped for nine days and is thereafter immersed in a water body. For the auspicious festival, people clean their homes and decorate them. From ornamental flowers, ferry lights, colourful curtains, people adorn their houses beautifully for the occasion. And as the festival approaches, we have compiled a list of home decoration ideas for Navratri 2019. These easy DIY decor tips will help you make attractive pandals at home quickly
The Durga idol is traditionally dressed in bright coloured attire depending on the colour of the day other than golden jewellery. Sweets, fruits, incense sticks, flowers, lamps and other similar items are placed in front of the diety. People also brighten up their homes with flowers such as marigolds, lilies and jasmines which instantly brings in the festive mood. Meanwhile, check out the list of Navratri home decoration ideas to make your home look attractive this festive season.
1. DIY Pandal At Home
This is one of the easiest ways to make a DIY pandal at home. Made from unused cardboard boxes and coloured paper, it is easy to make and a money saver. You can add in your own creativity and make it look even cooler.
2. Brighten The Walls of Your House
Throwing in a little colour to your walls will immediately brighten your home. Using coloured paper rolls you can make these thoran at home easily. You can make it using different colours or by just keeping it to one.
3. Easy DIY Pandal at Home
You can easily make a Durga pandal at home watching this video. Decorated with flowers, colourful clothes and things easily found at home, it is not only quick to make but also gives the look and feel of a professionally made one.
4. Navratri Kalash Decoration
Kalasam is an important part of most Indian festivals. You can incorporate this idea of kalasam decoration during Navratri pooja. This DIY Kalasam Alankaram can be done at home quite easily.
Sharad Navratri is observed on the Pratipada tithi of Ashwin Shukla Paksha that falls during the Gregorian month of September and October. Navratri 2019 will be celebrated from September 29 to October 7. Goddess Shailputri, Brahmacharini, Chandraghanta, Kushmandal, Skandmata, Katyayani, Kalratri, Mahagauri and Siddhatri are worshipped during this period of nine days. People observe fast and perform rituals worshipping the forms of Goddess.